Greener garages: Changes in mobility are reshaping structures
November 12, 2018
by Sarah Stanley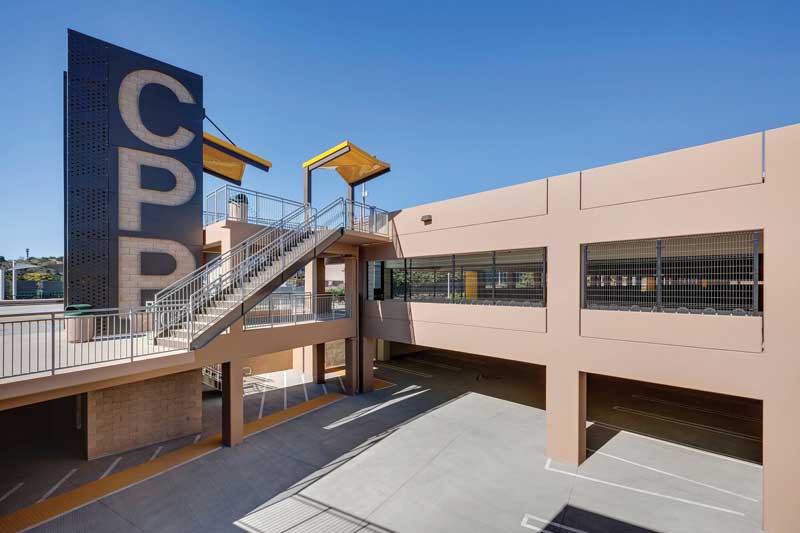 When it comes to commuting, there are more choices than ever. From ride-sharing services to sustainable modes of travel such as biking and mass transit, a growing menu of options is changing how people move. The result? These options are reshaping the way consultants, architects, and planners approach the role of parking structures.
As the mobility network continues to shift, companies see an opportunity to align these changes with sustainability targets. Buildings and transportation remain two of the largest emitters of greenhouse gases (GHG) and as building owners and managers work toward sustainability goals, parking structure design and operations play an increasing part in improving energy efficiency and encouraging more sustainable transportation.1
The International Parking and Mobility Institute (IPMI), comprised of parking, transportation, and mobility professionals, released results from a survey of its members on emerging trends in parking.2 The results point to a shift in priorities, supporting a growing desire for more livable and walkable communities. They reflect a need to expand the idea of a parking structure, transforming it from strictly a place to park to a more modern transportation hub, thereby making it easier for tenants and visitors to access buildings and spaces.
This process starts with greater collaboration between parking, transportation, and building decision-makers to reach the best ways to meet the needs of customers.
"Successful projects depend on collaboration," said Shawn Conrad, CEO, IPMI. "Too often, challenges that could have been avoided by tapping into parking expertise early in the planning process create headaches down the road."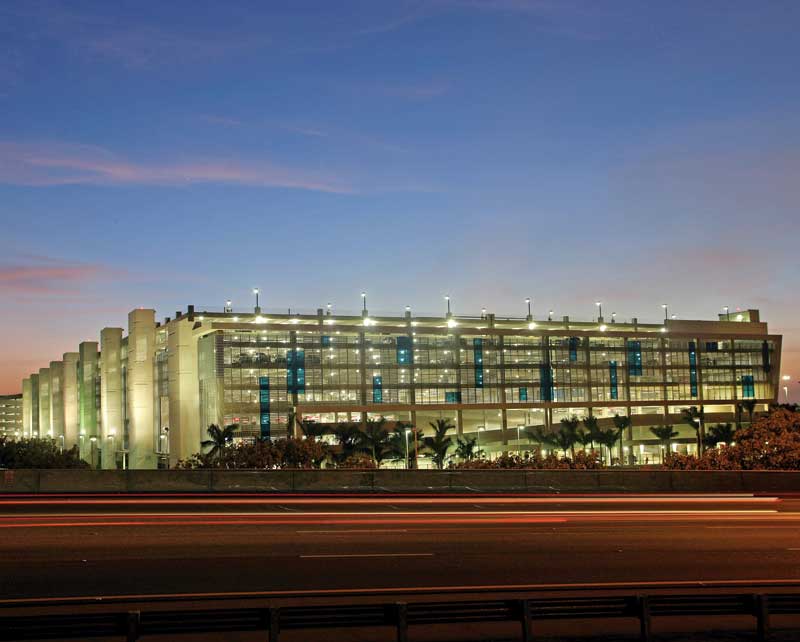 From parking professional to transportation expert
According to the IPMI survey, the shift in mobility practices is also changing the role of parking professionals. Traditionally, those in the parking industry were concerned with one mode of transportation and how to manage the flow of cars in and out of a garage. Now, there is a need to expand beyond the parking spaces and think about overall transportation to and from a building or space. It requires owners and managers to understand how people prefer to travel and design structures to best meet those needs. From employee shuttles, like the ones Apple and Facebook offer, to improved access for cyclists, parking structures showing evidence of thought beyond the parking space can increase the value of the structure.
The changing role for professionals also means considering a more service-oriented approach. The University of Southern California's (USC's) safe-ride-home program has continuously evolved since it began in 1978. As demand grew, the university reached capacity with its own fleet vehicles. The university then decided to partner with Lyft to extend its service and ensure students can get where they need to go quickly and safely. Students register for the Safe Rides program, giving access to Lyft services, at the beginning of each semester; the cost is covered by the university. According to USC, the partnership cut the cost per ride in half to an average of $4, and eliminated ride shortages. In addition, the wait time for students shrank from 15 to about 3.7 minutes. The added capacity has increased rides from 8000 per week to 30,000 per week. The success and innovation of the program earned USC a 2018 Award of Excellence from IPMI.
The popularity of ride-sharing services and alternative modes of transportation, such as scooters and bikes, are relatively new design factors architects and managers are considering when it comes to parking structures. Developing effective ways to incorporate these trends, not only into design, but also as a part of the service offering of a parking garage, is an evolving process.
Emphasis on efficiency
While integrating the latest mobility choices and developing innovative transportation programs can improve access and the customer experience, the preferred method of travel for many is still a personal car. It is widely known the average car is parked 95 percent of the time, indicating the traditional role of 
a parking garage is still relevant.
The efficiency of parking structures, however, presents a major opportunity for architects and building owners, particularly when integrated as a part of sustainability plans. When garages are factored into the planning phase it can help extend a building's sustainability story beyond the four walls. Efficiency improvements in the form of HVAC and lighting can help cut operational costs and reduce energy use, while wayfinding systems can streamline the parking experience for drivers and reduce idling and emissions within the garage.
Parksmart, a certification program administered by the Green Business Certification Inc. (GBCI) and supported by the U.S. Green Building Council (USGBC), is a consensus-driven standard recognizing high-performing parking garages for taking steps to improve efficiency and overall sustainability. Similar to the way Leadership in Energy and Environmental Design (LEED) sets the standard for green buildings, Parksmart outlines guidelines addressing the unique aspects of parking structures.3
At California State Polytechnic University in Pomona (Cal Poly Pomona), the new 1800-space Parking Structure 2 was designed to support the university's sustainability practices. The garage, which was certified Parksmart Bronze and received a 2018 Award of Excellence from IPMI for its sustainability strategies, incorporated green building practices from construction to operation. The structure features solar panels on the top level, a bicycle storage room to support alternative modes of transportation, dimmable light-emitting diode (LED) lighting, and drought-tolerant landscaping. It also employed recycled content and ensured labor and materials were sourced locally. The Parksmart certification complements other green certifications the university has achieved, including LEED for the Bronco Recreation and Intramural Center, The Collins College, and the College of Business Administration complex.
The Parksmart program emphasizes innovative, solution-oriented strategies that benefit tenants, drivers, building owners, and property managers. Its integrative approach is designed to:
cut operational costs by up to 25 percent;
increase energy efficiency;
offer better lighting and ventilation;
promote diverse modes of transportation;
reduce environmental effects;
integrate the latest technologies; and
create stronger community relationships.
There are nearly 100 new construction projects or existing garages participating in Parksmart around the world. Fort Lauderdale-Hollywood International Airport (FLL) in Florida has certified three garages to date. In one structure, a 176,516-m2 (1.9-million-sf) space owned by Broward County and operated by SP+, the building was optimized using an advanced building management system to monitor and control the HVAC, fire suppression, air quality, elevators, and lighting for improved efficiency. These system retrofits or upgrades help conserve energy.
The airport also turned to wayfinding technology to offer drivers a more efficient experience. Single-space wayfinding systems direct drivers to levels, rows, and available spaces, reducing circling and congestion. This significantly reduces fuel use, cuts emissions, and relieves stress on travelers who might be rushing to catch a flight. The wayfinding system at FLL also reads the license plates of parked vehicles and displays a vehicle finder interface on video kiosks and on the airport's app, enabling patrons to easily locate their cars when they return.
Energy-efficient HVAC and lighting systems combined with wayfinding technology provide cost savings for garage owners and create a better environment for drivers using the structure.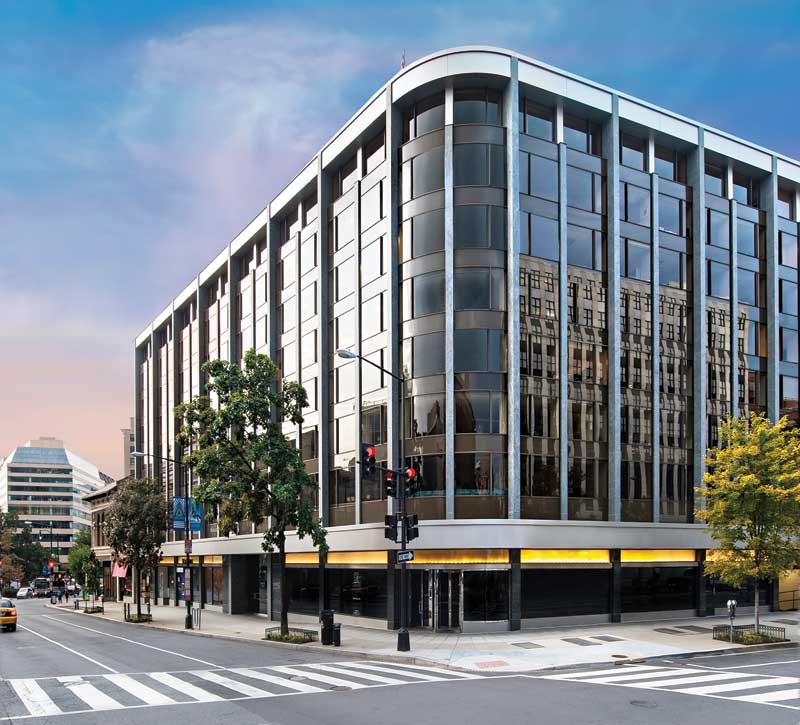 In Washington, D.C., an underground parking structure supports Brookfield's 1250 Connecticut Avenue LEED Gold building. Operated by Impark, the garage includes a demand-controlled ventilation system with variable drive fans for monitoring and detecting carbon dioxide (CO2) levels with the intent of improving air quality. Well-designed and properly maintained ventilation systems can mitigate the impact of vehicle exhaust on human health. In North America, parking garages are subject to ventilation standards set by the International Mechanical Code (IMC) and American Society of Heating, Refrigeration and Air Conditioning (ASHRAE).
The use of sensor-based ventilation controls can also significantly reduce energy consumption, thereby improving efficiency for the structure. Nagle Energy Solutions, which has tracked energy costs associated with ventilation for more than eight years, has produced case studies showing a 90 percent reduction in energy costs associated with retrofitting ventilation controls. In these cases, the substantial savings meant payback occurred in less than two years.4
In addition, a full LED lighting retrofit controlled by occupancy sensors contributes to improved efficiency for parking structures.
"People are at the heart of buildings and as we assess better ways to create more sustainable spaces that should also include a strategy around parking," said Paul Wessel, director of Parksmart. "Whether it is creating a structure that encourages alternative forms of transportation or finding ways to improve energy efficiency, there are opportunities for parking structures to contribute to green building plans."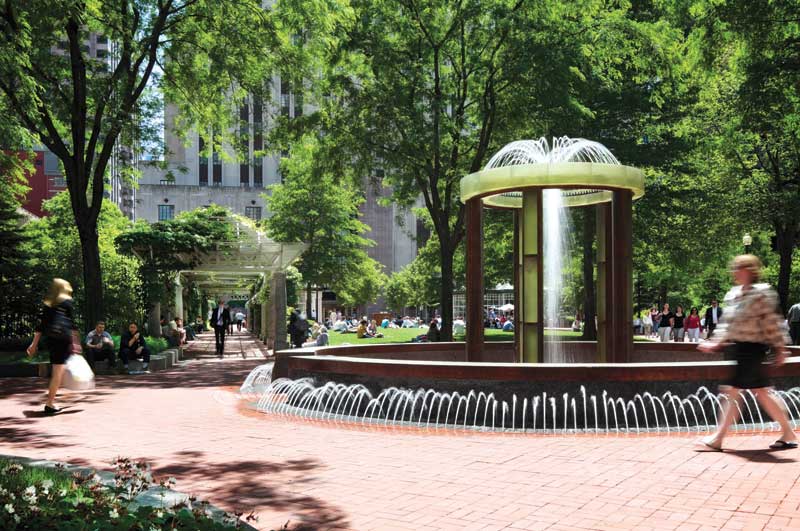 Placemaking and extending structure use
Parking structures have traditionally played a transient role, enabling tenants and visitors to get to their desired location. Yet, architects and planners are starting to reimagine how the space can create additional experiences for visitors and better serve customer needs.
A popular way of extending the use of parking structures today is finding ways to integrate green spaces. One of the best examples of this can be found in Boston at the Parksmart-certified Garage at Post Office Square. In the 1980s, civic corporation Friends of Post Office Square reimagined what was a poorly maintained parking garage on city land. The organization commissioned a new below-ground parking facility with a 0.7-ha (1.7-acre) park above it. Since then, the garage and park have been thoughtfully maintained to best serve the community.
"We are a parking garage, that is where we make our money, but that does not mean we are exempt from caring about trying to make our property's footprint as small as possible," said Pam Messenger, general manager at Friends of Post Office Square.
The park vision called for a new downtown green space open to the public, recognizing the area's architectural heritage and providing welcome relief and contrast to the surrounding dense urban fabric. The park's most prominent feature is an open lawn surrounded by large deciduous trees.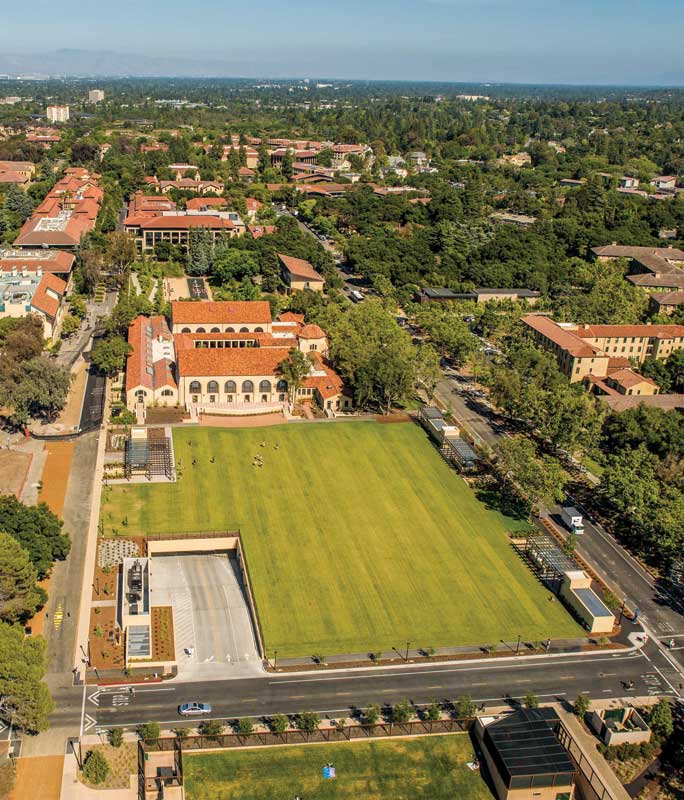 Keeping pace
With a growing appetite for electric vehicles (EVs), customers are expecting parking garages to support the new wave of automotive technology, including EV charging stations. A popular way of extending the use of parking structures today is finding ways to integrate green spaces.
InsideEVs tracks all plug-in EV sales and deliveries in the United States and said in a report there was a 45 percent increase in EV sales from July 2016 to June 2017.5 The EV market is no longer niche and parking garage owners see it as an opportunity to better demonstrate a commitment to cleaner fuel types and to support the latest mobility trends. EV charging stations are therefore becoming the norm.
Providing EV stations contributes to the overall value of these spaces and is a part of meeting the needs of visitors and tenants.
Stanford University in Stanford, California, continues to densify to meet the needs of a growing student population. The university balanced its need for parking while preserving green space by building a new structure under Roble Field, an open grass space for students to gather and enjoy recreational sports.
The growth of EVs factored into the initial design, which was completed in February 2017. The five-level, below-grade structure—currently pursuing Parksmart certification—provides 52 EV charging stations on the first level. In anticipation of future demand, the second and fifth levels are prepared for 84 charging stations. The structure received a design Award of Excellence from IPMI this year.
The U.S. Department of Energy's (DOE's) Clean Cities coalition published a guide to help project teams evaluate and plan for EV charging infrastructure.6 Incentives are often available to help reduce the costs associated with installing charging stations. The guide outlines some key considerations when it comes to installing the infrastructure and includes ventilation and accessibility to electrical services. Depending on the speed of charging and number of charging ports desired, a larger electrical service and additional conduit may be required.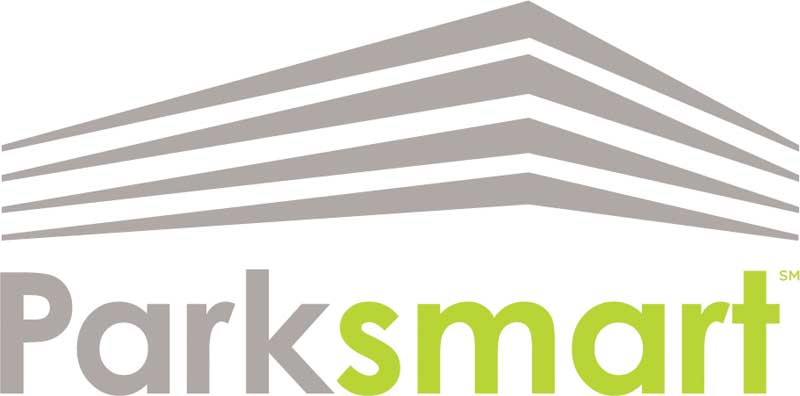 An electrical contractor will play a major role in the installation and planning for a garage being equipped with EV infrastructure, addressing any necessary permitting, coordinating inspections, and working with utilities in case upgrades are necessary. According to the DOE, a full transition to EVs could help reduce GHG emissions by more than 60 percent and provides an opportunity for planners and building owners to contribute to those efforts.
Some cities, including New York City, Denver, and Salt Lake City, are beginning to create "EV ready" building codes requiring building capacity and conduit for future EV charging in both new construction and major renovations.7
EVs are just one example of how technology is playing a bigger role in parking design and operation. Connectivity inside garages is an ongoing discussion as planners find ways to support Wi-Fi functionality, lighting sensors, ventilation, and wayfinding systems. The rollout of 5G connectivity[7] promises to be a game changer. In a constantly connected world, parking garages are exploring ways to keep pace with industry changes and customer expectations.
Programs such as Parksmart are helping building owners and managers take a fresh look at the parking asset and its operations to support these emerging trends, and to understand how the structure can play a role in encouraging sustainable mobility. How people access buildings of all types is changing rapidly, and today's parking assets must evolve in order to keep up with demands.
Sarah Stanley is media and communications manager for the U.S. Green Building Council (USGBC). She manages the development and execution of communications activities for the council and its programs. Prior to joining USGBC, Stanley spent nearly 10 years in Los Angeles supporting marketing and outreach efforts for nonprofit, corporate, and consumer brands. She has coordinated local, regional, and national programs that have focused on issues relating to the environment, nutrition, and healthy living. Stanley graduated from Miami University in Ohio with a Bachelor of Arts in Strategic Communications and she received a Master of Arts in Strategic Public Relations from University of Southern California, Annenberg School of Journalism. She can be reached at sstanley@usgbc.org[8].
Endnotes:
[Image]: https://www.constructionspecifier.com/wp-content/uploads/2018/11/Cal-Poly-PS-Images_Page_1_low.jpg
[Image]: https://www.constructionspecifier.com/wp-content/uploads/2018/11/Cypress-garage-at-FLL-Airport.jpg
[Image]: https://www.constructionspecifier.com/wp-content/uploads/2018/11/Brookfields-1250-Connecticut-Avenue.jpg
[Image]: https://www.constructionspecifier.com/wp-content/uploads/2018/11/Park-at-Post-Office-Garage.jpg
[Image]: https://www.constructionspecifier.com/wp-content/uploads/2018/11/Stanford-Roble-PS-10_1.jpg
[Image]: https://www.constructionspecifier.com/wp-content/uploads/2018/11/parksmart-logo.jpg
5G connectivity: https://www.getparkplus.com/single-post/2018/02/02/5G-and-Parking

sstanley@usgbc.org

: mailto:sstanley@usgbc.org
Source URL: https://www.constructionspecifier.com/greener-garages-changes-in-mobility-are-reshaping-structures/
---