Harvard GSD establishes R. Buckminster Fuller design scholarship
May 10, 2021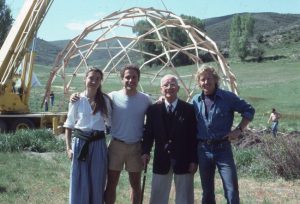 The Harvard Graduate School of Design[2] (Harvard GSD) has established the R. Buckminster Fuller Professorship of Design Science.
The professorship was created with the generosity of Amy C. Edmondson and George Q. Daley, Harvard GSD said in a press release.
Edmondson and Daley have long-standing ties to Harvard University. Edmondson is the Novartis Professor of Leadership and Management at Harvard Business School (HBS) and worked with Fuller after her graduation from Harvard College. Daley is the Harvard Medical School dean and the Caroline Shields Walker Professor of Medicine. Harvard GSD will begin a search for a scholar to serve as the inaugural R. Buckminster Fuller Professor of Design Science.
Buckminster Fuller (1895–1983) was a 20th-century inventor, designer, engineer, and philosopher, and a member of the Harvard College Class of 1917. Through a design-science approach, he worked to solve global problems related to energy, transportation, and education, among other fields. Fuller has influenced generations of designers, architects, scientists, and artists working to create a more sustainable planet, Harvard GSD said. His most well-known artifact is the geodesic dome.
Edmondson came to know Fuller's work through the Harvard course "Synergetics: The Structure of Ordered Space" along with a lecture Fuller presented at the Massachusetts Institute of Technology (MIT). After corresponding with him, he offered her a job as his chief engineer. This experience shaped Edmondson's career and led her to her work at HBS, studying people and teams who seek to make a positive difference through their work. She describes Fuller as "an inspirational, joyful, brilliant, and invitingly inclusive person," and she was influenced by his way of thinking that centrally involved design.
Edmondson and Daley connect with Fuller's belief that designers can make a difference through their work and celebrate the role of responsible design for making a difference in the world.
"Buckminster Fuller was interested in making a better world through the power of design. There is no more fitting place to honor his legacy than at the GSD by creating the R. Buckminster Fuller Professorship of Design Science," said Edmondson and Daley. "Bucky's spirit of innovation and invention lives on to inspire others to forge new discoveries and to take better care of each other and our planet for future generations."
Named, endowed chairs are among the highest honors bestowed at Harvard. At Harvard GSD, they attract respected leaders in their respective design disciplines, support academic inquiries and innovative research, and ensure the position in perpetuity.
"Amy and George are championing a legacy of world-class scholarship at the GSD. I am grateful for their generosity to sustain a thriving academic community at the school," said Sarah M. Whiting, Harvard GSD's dean. "Through their commitment, the R. Buckminster Fuller Professorship of Design Science will help the GSD to attract the best faculty and students and serve as a perpetual reminder of Fuller's legacy in design innovation and sustainability."
Endnotes:
[Image]: https://www.constructionspecifier.com/wp-content/uploads/2021/05/Opener-11.jpg
Harvard Graduate School of Design: https://www.gsd.harvard.edu/
Source URL: https://www.constructionspecifier.com/harvard-gsd-establishes-r-buckminster-fuller-design-scholarship/
---