Healthcare Design Awards promote projects that heal
October 15, 2020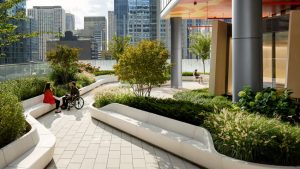 The American Institute of Architects[2] (AIA) Academy of Architecture for Health (AAH) is recognizing eight projects with its 2020 Healthcare Design Awards.
The awards recognize cutting-edge designs that help solve aesthetic, civic, urban, and social problems while also being functional and sustainable. Recipients can include healthcare building design, healthcare planning, and healthcare design-oriented research. This year's projects were awarded by a seven-person jury in the following categories.
Category A
Built: Less than $25 million (construction cost):
Hampton County Health Clinic (Varnville, South Carolina) by Liollio Architecture[3];
Mountain Park Health Center Tempe (Tempe, Arizona) by SMITHGROUP[4];
Mount Sinai Kyabirwa Ambulatory Surgical Facility (Kyabirwa, Jinja, Uganda ) by Kliment Halsband Architects[5];
Shirley Ryan AbilityLab (Chicago) by HDR[6] and Gensler[7] in association with Clive Wilkinson Architects[8]; and
Warren Clinic (Tulsa, Oklahoma) by CallisonRTKL[9].
Category B
Built: More than $25 million (construction cost):
Duke Student Wellness Center (Durham, North Carolina) by Duda|Paine Architects[10]; and
MSK Nassau (Uniondale, New York) by EwingCole[11].
Category F
Master planning urban design for healthcare settings:
Saving Main Street: Haxtun Hospital District (Haxton, Colorado) by HDR[6].
Click here[12] for more information on the AIA/AAH Healthcare Design Awards.
Endnotes:
[Image]: https://www.constructionspecifier.com/wp-content/uploads/2020/10/Opener-14.jpg
American Institute of Architects: https://www.aia.org/
Liollio Architecture: https://www.liollio.com/
SMITHGROUP: https://www.smithgroup.com/
Kliment Halsband Architects: https://kliment-halsband.com/
HDR: https://www.hdrinc.com/
Gensler: https://www.gensler.com/
Clive Wilkinson Architects: https://clivewilkinson.com/
CallisonRTKL: https://www.callisonrtkl.com/
Duda|Paine Architects: http://www.dudapaine.com/
EwingCole: https://www.ewingcole.com/
here: https://www.aia.org/awards/7906-aia-healthcare-design-awards
Source URL: https://www.constructionspecifier.com/healthcare-design-awards-promote-projects-that-heal/
---