High expectations for new Las Vegas research park
by Samantha Ashenhurst | August 10, 2018 11:33 am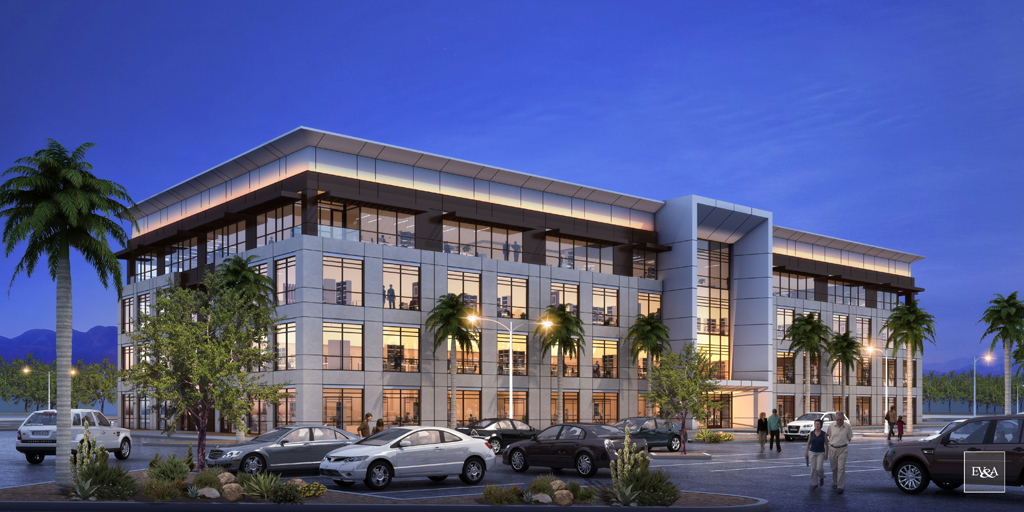 Construction has begun on the first of many buildings planned for a new 122-acre (49-ha) research complex at the University of Nevada, Las Vegas (UNLV) campus.
The four-story office building will incorporate steel and concrete structural elements, and exterior insulation and finish system (EIFS) cladding.
A ceremony was held at the construction site of the UNLV Harry Reid Research & Technology Park to recognize the official groundbreaking of the 10,312-m2 (111,000-sf) innovation building. Members of the park's managing and operating firm, Gardner Company[2], were in attendance, along with representatives from UNLV, the UNLV Research Foundation[3] (UNLV RF), and general contractor Burke Construction Group[4].
"Research parks encourage more direct collaboration between industry and university research than is often possible on college campuses," said Zachary Miles, UNLV associate vice-president for economic development and executive director of UNLV RF. "This initial building will serve as a testing ground for new ideas, driving innovation through the creation of new products and businesses that will make both our university and community stronger."
When fully complete, the complex is expected to create up to 25,000 new jobs, according to Gardner.
"A campus of this magnitude will foster collaboration and innovation across businesses, UNLV students, innovators, and entrepreneurs and we look forward to seeing our vision come to fruition," said Dan Stewart, vice-president of development at Gardner.
Endnotes:
[Image]: https://www.constructionspecifier.com/wp-content/uploads/2018/08/resize-1.jpg
Gardner Company: http://gardnercompany.net/
UNLV Research Foundation: https://www.unlv.edu/research/foundation
Burke Construction Group: http://www.burkecgi.com/
Source URL: https://www.constructionspecifier.com/high-expectations-for-new-las-vegas-research-park/
---