Historic California army base resculpted into art institute
by brittney_cutler | May 31, 2022 8:51 am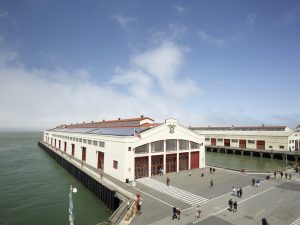 The new San Francisco Art Institute (SFAI) at Fort Mason, structured by Leddy Maytum Stacy Architects, has beat swords into paintbrushes by restoring the historic military base's Pier 2 into a nonprofit arts and community center.
The new institute will now act as a hub for both undergraduate and graduate studios and provide public engagement with the arts.
The reuse preserved the industrial integrity of the landmark structure, supported the school's pedagogical goals, and integrated sustainable building systems. The project integrated student studios, public exhibition galleries, flexible teaching spaces, a black box theater, and a workshop/maker space, while supporting SFAI's commitment to positioning artists at the center of public life.
SFAI prepares students for a life in the arts through a studio environment, an integrated interdisciplinary curriculum, and critical engagement with the world. To meet their mission, the institute set out to expand their facilities and curriculum for their graduate program, build a cohesive urban campus near the historic main campus, and find a new creative space.
SFAI found their ideal space in the historic warehouse pier at the edge of San Francisco Bay. A public/private partnership was formed with Fort Mason Center for Arts & Culture (FMCAC) and the National Park Service (NPS) to create a new campus at Pier 2 in the Golden Gate National Recreation Area (GGNRA).
The first phase of the project included the complete rehabilitation of the historic pier shed, with structural and building systems upgrades, building envelope restoration, and integration of sustainable systems including a large photovoltaic solar system. Phase two of the project focused on the interior transformation of the warehouse into the new SFAI art facilities and public galleries.
The design team actively supported a complex funding program, which included the National Park Service Save America Treasures Program, Federal Historic Preservation Tax Incentives Program, and a grant from the Department of Energy.
Endnotes:
[Image]: https://www.constructionspecifier.com/wp-content/uploads/2022/05/BC_ArtInstitute.jpg
Source URL: https://www.constructionspecifier.com/historic-california-army-base-resculpted-into-art-institute/
---