Hohmann & Barnard, Inc.'s innovative solutions for masonry
by arslan_ahmed | August 16, 2022 7:00 am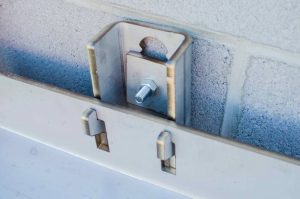 For over 89 years, Hohmann & Barnard, Inc., a Berkshire Hathaway Company, has delivered innovative solutions for the masonry industry. We are a global leader in manufacturing construction materials for the building envelope. We offer anchors and reinforcement, moisture protection, restoration anchors, thermally efficient systems, air/vapor barrier systems, and custom-engineered solutions for the mason contractor.
Among the products we provide to both the commercial and residential markets are our unmatched thermal performance products. Our groundbreaking Thermal Brick Support (TBS) system reduces thermal bridging in shelf angles to improve the energy efficiency of your building. The innovative bracket system features job-specific engineering to move the shelf angle away from the wall. This allows for continuous insulation behind the shelf angle, further increasing energy efficiency and reducing labor costs.
Our 2-SEALTM Thermal Wing Nut Anchor uses a steel-reinforced, UL94-rated wing to create a thermal break at the insulation, while maintaining the integrity of the wall system, in case of a fire. Create a custom look on any building with our Arched Concealed Lintel. We offer an innovative line of Repair and Restoration systems as well as our line of Diedrich Technologies products.
Visit h-b.com[3] for more information or call 800-645-0616.
Endnotes:
[Image]: https://www.constructionspecifier.com/wp-content/uploads/2022/08/AA_HohmannBarnard_1.jpg
[Image]: https://www.constructionspecifier.com/wp-content/uploads/2022/08/AA_HohmannBarnard_2.jpg
h-b.com: https://www.h-b.com/
Source URL: https://www.constructionspecifier.com/hohmann-barnard-inc-s-innovative-solutions-for-masonry/
---