How does TPO stand up to accelerated weathering?
August 24, 2015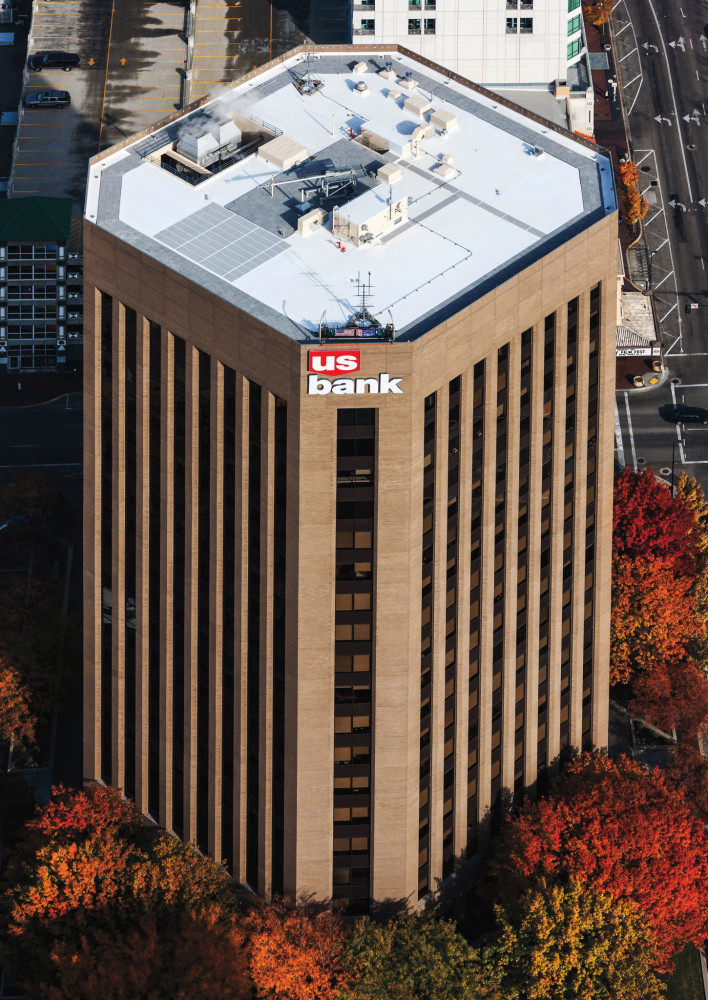 [1]By Thomas J. Taylor, PhD
When it comes to roofing material, it is helpful to know the length of its lifespan—after all, no one can afford to put on a new membrane and simply wait to see how long it lasts. Building owners need assurance of roof lifespan so they can determine when a replacement might be needed, and manufacturers need to determine membrane warranty. Like building owners, manufacturers cannot wait and build a test roof to determine its longevity. If a test roof were built, where would it be located? In a hot, sunny environment like Arizona or a wet, damp environment like Washington?
This is why an accelerated weathering test is needed. Weathering is when a material shows the effects of sunlight, ultraviolet (UV), heat, and rain on its exposed surface. Accelerated weathering is the simulation of these conditions using special environmental chambers and instruments to speed up the process and measure its effects. Many industries use accelerated weathering, such as paint producers, automobile suppliers, and construction product manufacturers. For example, paint manufacturers employ accelerated weathering to see if a color fades during aging, if the paint peels and cracks, or if any gloss is retained. These are all important characteristics for consumers to know before they make a purchase.
Thermoplastic polyolefin (TPO) is known to be very resistant to standing water. It is even used as a pond and pool liner because it is not affected by repeated freeze and thaw cycles. However, TPO weathers from the effects of UV and heat. Simulating this kind of heat is simple, and an oven is used. There are many options available to simulate UV testing, including indoor and outdoor techniques.
Weathering affects the field of the membrane. In TPO assemblies, the top layer cracks, eventually down to the scrim. The second potential issue with TPO roofs is erosion of the top layer, which can lead to exposure of large areas of reinforcing fabric. During accelerated weathering testing, inspectors look for surface cracking and weight loss. Any significant weight loss signifies the membrane is eroding away.
Natural sunlight testing
Since building a roof sample and leaving it in the natural sunlight for 20 to 30 years is not an efficient or practical means of testing, a new testing method using mirrors and natural sunlight was developed. For example, if 10 mirrors are used, only two years of exposure may be needed to simulate 20 years of sun.
The Q-Lab Corporation's Q-Trac sunlight concentrator located in Buckeye, Arizona, uses 10 mirrors that track the sun, exposing samples to almost year-round concentrated sunlight. The samples are sprayed with water once per day. This is known as the EMMAQUA test (equatorial mount with mirrors for acceleration with water). However, this method of testing can still take too long for some manufacturers.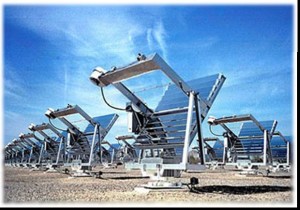 Ultra-accelerated outdoor weathering test
The Ultra-accelerated Weathering System (UAWS) was developed by National Renewable Energy Laboratory (NREL) and collaborators from the Institute of Laser Optic Technology and Atlas Material Testing Technology. It uses 29 reflective facets, which initially caused samples to melt during early development work. Each facet has a 96-layer vacuum-deposited coating on the surface, concentrating the UV portion of natural sunlight, but filtering out some of the infrared rays.
UAWS is capable of collecting approximately 17,000 MJ/m2 total ultraviolet radiation (TUV) annually in Arizona. This is about the same amount of UV deposited over 60 years of Florida exposure (i.e.16,800 MJ/m2).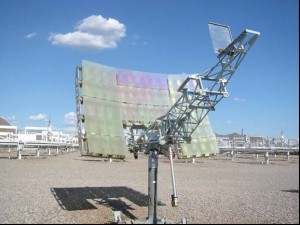 Accelerated indoor weathering
The issue with indoor weathering is simulating natural sunlight in a way intense enough to accurately represent real sunlight. Xenon-arc lamps do a very good job of this in the UV, visible light, and parts of the infrared regions. Additionally, they are very intense and can operate 24-7, so months of exposure in this simulation can equate to years in the real world.
The xenon-arc units used by the roofing industry are equipped with water sprays. Every 12 hour period has 30 minutes when the sprays are turned on. This testing is part of the ASTM D6878, Standard Specification for Thermoplastic Polyolefin-based Sheet Roofing, which requires TPO to be capable of surviving 10,080 MJ/m2 of UV energy without showing any surface cracking. Today, all TPO produced in the United States exceeds the standard, with regular products measuring twice that level, and some up to four times the level.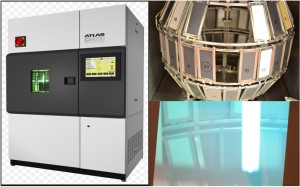 Accelerated weathering test with fluorescent UV light
Some industries view the xenon arc test as too severe and prefer to use a different light source. The most popular of these tests is based on the use of fluorescent lamps tuned to produce UV light. As with the xenon-arc equipment, these can be fitted with water sprays to function for 30 minutes every 12 hours. The units can be useful for initial screening of formulations, as well as benchmarking of competitive products. However, for rigorous testing, the xenon arc is the most severe.
Heat aging
As stated earlier, heat aging is relatively easy to do using a scientific oven capable of holding a temperature such as 115 or 135 C ± 2 C (240 or 275 F ± 3.6 F) for months. To achieve accurate results, the temperature must be even throughout the oven. ASTM D6878 requires the heat aging TPO membranes to be 90 percent tensile strength retention after aging at 115 C (240 F) for 32 weeks. All available commercial membranes pass this requirement, despite there being heat-related failures.
Some companies use a higher temperature of 135 C (275 F) and require their membranes to go through 90 days without cracking or weight loss above 1.5 percent. This equates to 490 days at 115 C (240 F)! In the most extreme cases, some require membranes to survive more than 190 days at 135 C (275 F), which is equivalent to 750 days at 115 C (240 F).
Conclusion
Although manufacturers may not be able to wait 20 to 30 years to test membranes' lifespans in real-life conditions, there are plenty of options to help extrapolate how a product may perform against weathering. The best TPO manufactures often rely on multiple methods when developing products.
[5]Tom Taylor has more than 20 years of experience in the building products industry, working for manufacturing organizations. He is the executive director of building science for GAF and received his PhD in chemistry from the University of Salford, England. He holds approximately 35 patents. Taylor's main focus at GAF is thermoplastic polyolefin (TPO) and iso polyisocyanurate foam development, as well as all the associated accessories and adhesives. He can be reached at TTaylor@gaf.com.
Endnotes:
[Image]: http://www.constructionspecifier.com/wp-content/uploads/2015/08/US-Bank-Idaho-EG-Extreme-TPO_DG3.jpg
[Image]: http://www.constructionspecifier.com/wp-content/uploads/2015/08/Photo-3.jpg
[Image]: http://www.constructionspecifier.com/wp-content/uploads/2015/08/Photo-2.jpg
[Image]: http://www.constructionspecifier.com/wp-content/uploads/2015/08/Photo-1.jpg
[Image]: http://www.constructionspecifier.com/wp-content/uploads/2015/08/Tom-Taylor-Head-shot2.jpg
Source URL: https://www.constructionspecifier.com/how-does-tpo-stand-up-to-accelerated-weathering/
---