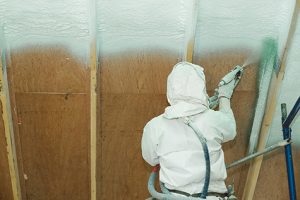 Huntsman Building Solutions, a global leader in high performance and sustainable building envelope solutions, recently announced an environmental product declaration (EPD) for the company's Heatlok HFO closed-cell spray foam systems.
The independent, third-party document, completed by Sphera and certified by Underwriters Laboratories (UL), provides objective and comparable information about Heatlok HFO's life cycle impacts and emissions. Heatlok HFO leverages fourth-generation blowing agents.
Completed in accordance with strict ISO standards, the new EPD is based on the spray foam system's Life Cycle Assessment (LCA), which evaluates the product's impact in six key environmental impact categories, one of which is Global Warming Potential (GWP).
As demonstrated by the EPD, Heatlok HFO's GWP performance, compared to other insulation options, is 39 percent lower than the spray foam industry average, up to 96 percent lower than HFO extruded polystyrene, and 77 percent lower than heavy density mineral wool. The foam systems' GWP performance is also 52 percent lower than light density mineral wool and 55 percent lower than unbonded loose fill and blown-in mineral wool.
These comparisons account for embodied carbon before consideration of additional building energy savings and the resulting operation carbon-emission saving made possible with spray foam.
To learn more about Huntsman Building Solutions and the company's complete suite of energy efficient building solutions, visit HuntsmanBuildingSolutions.com.
All information listed in this section was submitted by Huntsman Building Solutions.
Kenilworth Media Inc. cannot assume responsibility for errors of relevance,
fact or omission. The publisher does not endorse any products featured in this article.