Important parameters for effective insulation of HVAC systems
by Katie Daniel | March 8, 2018 3:25 pm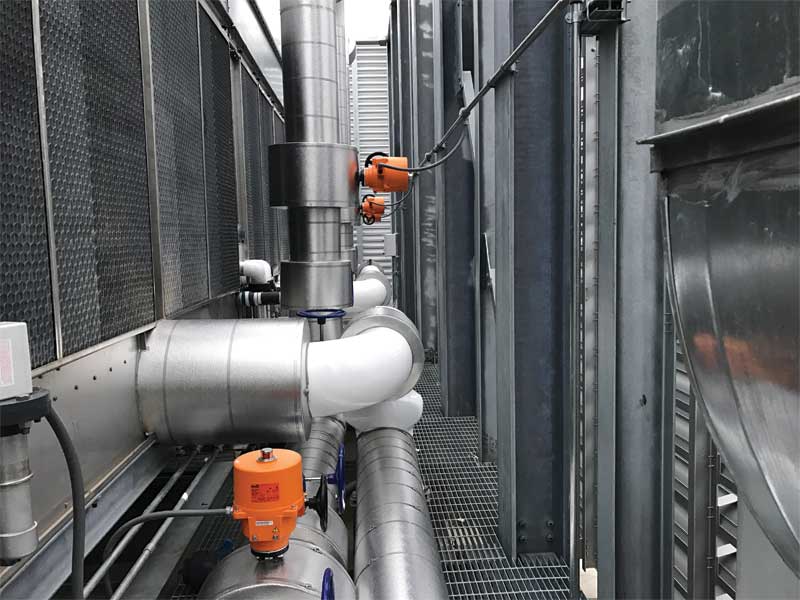 by Nick Eaton
Updating a commercial mechanical insulation system is essential to keeping various operations in a building running comfortably. Any Water damage, mold growth, tears, or rips can necessitate updates. Therefore, it is important the materials are regularly examined and assessed by a mechanical insulation contractor to identify any areas of concern and properly specify the correct type of mechanical insulation, based on the surrounding environment.
The main purpose of a HVAC system is to help maintain good indoor air quality (IAQ) through adequate ventilation and filtration, while also providing thermal comfort to the building occupants. These mechanical systems are one of the largest energy-consumers in commercial buildings. Therefore, mechanical insulation must be properly installed on several parts of the HVAC system, including pipes, tanks, vessels, ducts, and equipment.
Types of insulation
Fiberglass insulation is intended as a thermal insulation that best serves steam and heating hot-water piping. The pipe insulation is a molded, heavy-density insulation that is made from inorganic glass strands that are bonded. The fiberglass insulation is used to insulate both iron and copper piping
in industrial applications and commercial buildings. It is suitable for hot, concealed, and exposed piping systems operating at temperatures from -17 C (0 F) to 537 C (1000 F). Additional weather protection is needed for outdoor piping.
A closed-cell foam insulation is recommended for operating temperatures from -182 C (-297 F) to 104 C (+220 F). This becomes hard and brittle and begins deteriorating if installed in an environment with temperatures exceeding 104 C or if incorrectly installed in an area exposed to prolonged sunlight or high outdoor temperatures.
If the piping is moving chilled water, ANSI/American Society of Heating, Refrigerating and Air-conditioning Engineers (ASHRAE)/Illuminating Engineering Society (IES) Standard 90.1-10, Energy Standard for Buildings Except Low-rise Residential Buildings, requires a layer of vapor retardant material to be installed on the outside of the insulating material without the use of adhesive tapes as shielding. Several insulation solutions are best suited for specific process cooling applications:
For chilled-water and refrigeration systems that have active condensation or water leaks, a mold-resistant flexible elastomeric thermal insulation with an expanded closed-cell structure is recommended. This type of pipe insulation is particularly useful for preventing heat transfer and condensation drip in these systems.
In process cooling systems experiencing extremely low temperatures, a blend of several materials to create a hybrid insulation is sometimes necessary. One example is choosing a polyurethane-modified polyisocyanurate cellular plastic insulation that is used for multiple applications with extreme temperature differences.
If sustainability is a concern, new innovations in thermal insulation have provided environmentally friendly, high-density molded insulation that is suitable for process cooling and other applications ranging from -17 C to 537 C. This advanced type of insulation is formaldehyde-free, mold-resistant and made from inorganic glass fibers, providing both life-cycle longevity and high-performance for low- and high-temperature applications.
Section 64.4.1 of ASHRAE 90.1-2010 requires HVAC system insulation on heating hot-water pipes, steam pipes, and steam condensate pipes. According to the 2012 International Energy Conservation Code (IECC) Section C404.5, hot water piping should be insulated with at least 25 mm (1 in.) of insulation having a conductivity not exceeding 0.27 Btu per inch/(h-sf-f).
One example of mechanical insulation product is a pre-formed, high-temperature, abuse-resistant pipe and block insulation with increased structural strength. Composed of hydrous calcium silicate, this type of insulation is intended for use on systems operating up to 648 C (1200 F). Its low thermal conductivity, high durability, dependable structural strength and corrosion-reducing features make it ideal for high-temperature pipes or equipment.
When it comes to specifying the mechanical insulation on a HVAC system, some common missteps must be considered—inadequate insulation can result in loss of energy and insulation value, corrosion underneath the insulation, mold growth, unsafe conditions for personnel, and some system downtime for repair.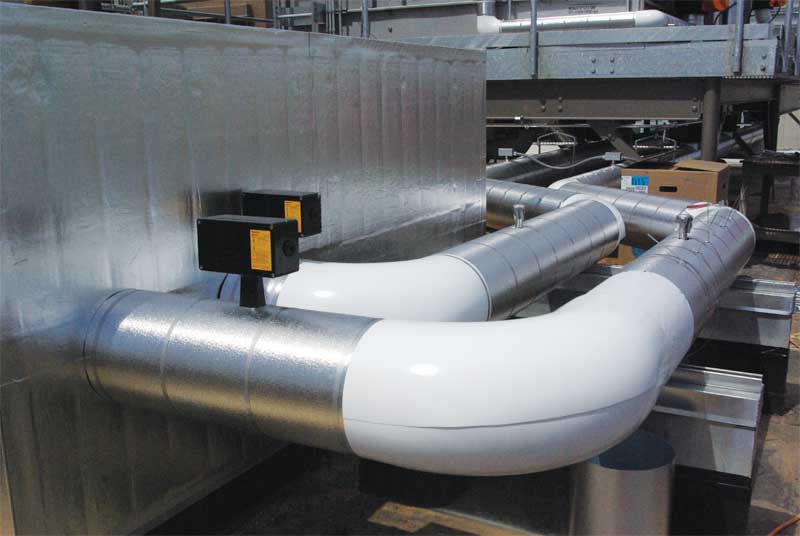 Specification missteps
The construction of a new building is a major financial undertaking for owners. For this reason, they want to ensure they are getting the most for their money—not just during the bidding and construction phases, but also during the design process.
The design team must develop a coordinated set of construction documents. At the center of these documents are the drawings, which usually receive the most attention from the building owner, and specifications—commonly ignored by the owner as they are viewed as technical, legal documents only important to the architect and contractor during the course of construction. In reality, the specification documents are equally as important as the drawings or renderings.
For some design professionals, the preparation of specifications—often drafted close to or following the completion of drawings—is a secondary concern. This can be problematic as it likely creates coordination errors between trades. Also, personnel assigned to specifying the HVAC system should understand construction materials and methods, as well as codes, regulations, and specification standards. Qualified specifiers have extensive knowledge on specifying various systems and can correctly translate a project's requirements to all of the trades and managers involved.
Mistakes occur when engineers and contractors are under pressure to optimize system performance for cost and efficiency. To accommodate external pressures and meet financial goals as well as project deliverables, value-engineering commonly occurs with commercial projects, especially when specifying mechanical insulation for HVAC systems. When projects run over budget, mechanical insulation contractors are first asked to step in and 'value engineer' the insulation to help reduce installation cost. As such, the term 'value engineering' in the mechanical insulation industry has come to mean reduce insulation thickness or even eliminate mechanical insulation on complete systems.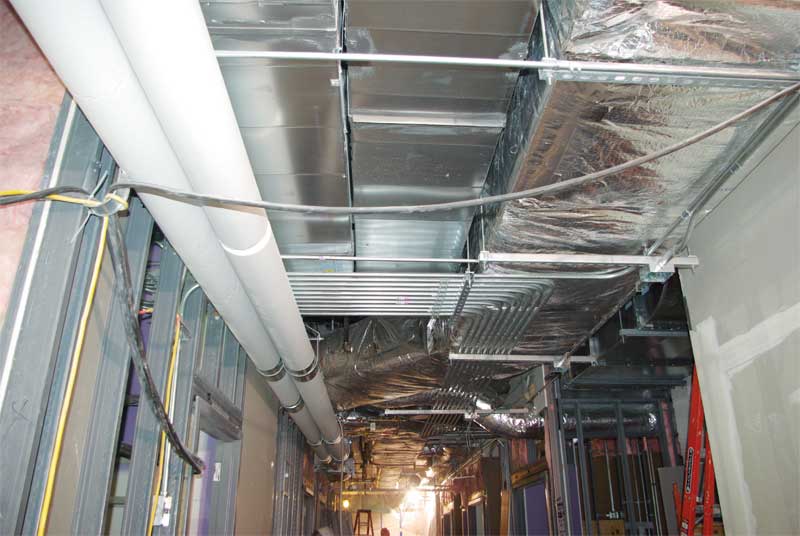 This approach may seem appealing, but the results for the building owner or manager include increases in operation cost and carbon footprint, wear and tear of equipment, possible mold growth on cold systems, and unsafe conditions for tradesmen and employees. (If the insulation thickness is below the manufacturer's recommendation or improperly installed, then the equipment is prone to wear and tear.) For example, if the insulation thickness on a hot-water pipe is below the manufacturer's recommendation or improperly installed, then the tradesmen or employees are at risk of burning themselves. Additionally, if the thickness or quality of insulation is reduced, the system does not offer the performance the application requires, causes long-term issues, and fails code requirements and regulations. If a refrigeration system is too cold and insulation was not specified to the right thickness, the insulation will condensate or freeze. If the wrong insulation is specified for a system, it will deteriorate.
Another common mistake engineers make during the specification process is the lack of communication. It is important for all design and construction team members to communicate throughout the process. With open dialogue right from the start, mechanical insulation contractors can catch specifications that may not meet code requirements and regulations during schematic design.
Lastly, specifiers should continue their education on the required codes and regulations, which vary according to the city, county, or state. Specifying can be viewed as routine, and proper consideration is often overlooked for each individual project. With every project-specific design being different, it can be risky to assume specifications are the same when working on commercial projects. Specifications should be in accordance with manufacturer recommendations along with codes and regulations. These recommendations
are regularly updated in order to meet current industry standards. It is important for specifiers to be aware of the updates as soon as they are available.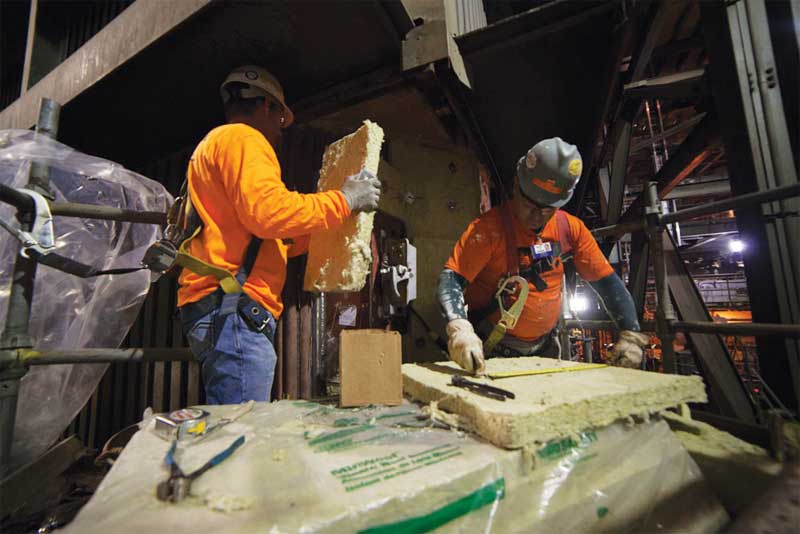 Why improper installation happens
Every decision that is made during the design and construction phases has an impact on a project's bottom line. Insulation must not begin until an appropriate specification has been prepared and agreed to by all the involved parties. Unfortunately, the mechanical insulation contractor is not always involved from the beginning and, as a result, may not have the chance to review the specifications and notify the designer of contract requirements that are non-compliant with codes or standards.
In cases when the mechanical insulation contractor is not involved from the start, the owner may suffer consequences like increased energy use, large-scale corrosion underneath the insulation, physically or chemically damaged insulation, wet insulation, and mold growth on insulation, as well as incurring a high-cost for removing insulation and subsequent insulation with new materials.
Further, many common mistakes can occur when installing mechanical insulation. Improper installation can be caused by factors including:
inadequate clearance between pipes to allow for the proper insulation thickness;
insulation installed before the building is protected from the weather;
valves and circuit setters installed too close to adjacent piping and equipment; and
equipment designed with connections too close to allow for proper insulation.
Insufficient clearance for mechanical insulation is a major issue. Thus, adequate clearance must be provided for all mechanical systems to allow for the specified installation of the mechanical insulation's recommended thickness. If proper clearance is not provided, the mechanical insulation contractor is unable to guarantee its effectiveness.
Adequate clearance is particularly important on cold systems. Vapor retarders must be provided on all insulated areas to prevent condensation and vapor drive into the insulation. When duct, pipes, conduits, walls, ceilings, and other items are too close to an insulated system, it becomes difficult or impossible to complete the vapor seal. Vapor seals are vital for a system's quality performance. Since labor is the largest portion of installation field costs, the financial consequences of inadequate clearance must be considered by all parties.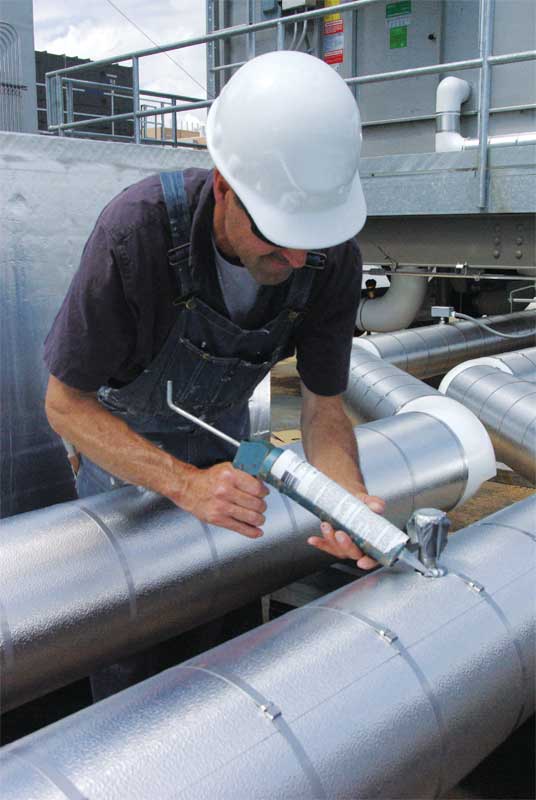 Steps for improvement
When making a large investment on a commercial HVAC system, facility managers should always be aware of the causes and negative effects of improperly specified mechanical insulation, as well as how to prevent damage through correct installation and maintenance techniques. With the many different types of mechanical insulation available and varying environments (including indoor and outdoor systems), determining the cause of damage can be a complex process requiring intimate knowledge of the materials used. Due to a wide variety of pipe insulation options available, mechanical system engineers are in the unique position to choose the specific type of insulation system that is best suited for the needs of the individual application. Common mechanical insulation materials include fiberglass, mineral wool, rigid or flexible foam, polyethylene or other polyurethane-based insulation types, calcium silicate, cellular glass, and aerogel.
Fiberglass pipe insulation is intended as a thermal insulation and best serves steam and heating hot-water piping. The pipe insulation is molded, heavy-density insulation made from inorganic glass strands that are bonded. The fiberglass insulation is used to insulate iron and copper piping found in industrial applications and in commercial buildings. The insulation is suitable for hot, concealed, and exposed piping systems operating at temperatures from -17 C to 537 C (0 F to 1000 F).
Duct wrap insulation offers thermal properties that reduce any unwanted heat loss or gain and condensation during system operation. This blanket-type insulation is used to insulate rectangular and round HVAC ductwork. Further, it is employed as external insulation on commercial HVAC ducts and controls condensation. Duct wrap is lightweight, flexible, and easily conforms to flat or irregular surfaces, and its roll style qualities allow for faster installation at lower labor costs.
If mechanical insulation is not properly installed and maintained, the facility runs the risk of being exposed to a myriad of issues—this could be avoided with a knowledgeable and thorough mechanical insulation contractor.
Architects, engineers, and specifiers should be able to identify the parameters, which must be addressed through the materials selection process. Thus, a well-prepared and well-written specification document is critical to the success of any project. The National Insulation Association's (NIA's) Insulation Training Program (NITP) spends a considerable amount of time on specifications and the design process, and how it supports the creation of a highly effective specification. The specifier should be familiar with the codes and regulations for each type of project. Codes for basic mechanical insulation needs— from National Insulation Association's (NIA's) Process Industry Practice (PIP)—include heat conservation (HC), process stability (PS), personnel protection (PP), prevent from freezing (PF), cold conservation (CC), and condensation prevention (CP). The type of code establishes the basic reason for mechanical insulation of a system.
Resources are readily available to the design and construction teams, and the building owner. These resources include many standards, including:
2009 American Society of Heating, Refrigerating and Air-conditioning Engineers' ASHRAE Handbook: Fundamentals;
ASHRAE 90.1-201, Energy Standard for Buildings Except Low-rise Residential Buildings;
the online Mechanical Insulation Design Guide by the National Mechanical Insulation Committee (NMIC); and
National Commercial and Industrial Insulation Standards Manual, also known as the MICA Manual, was developed by the Midwest Insulation Contractors Association (MICA).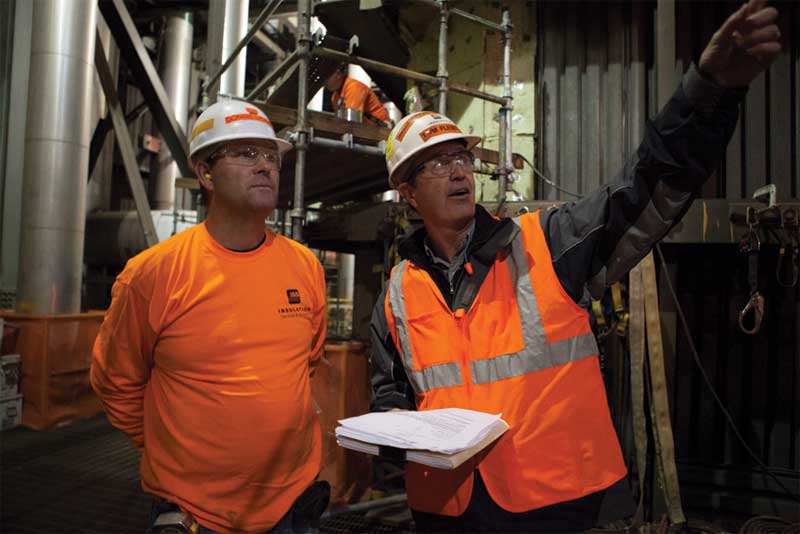 Installation of mechanical insulation is typically managed by experienced contractors who specialize in mechanical insulation of commercial and HVAC sectors. As with any successful project, the mechanical insulation contractor should be involved from the beginning. The contractor can understand project specifications and drawings, review objectives of the insulation job, and be prepared to highlight and resolve any inconsistencies or errors in the specification.
Additionally, the building owner should know whether special design conditions have been addressed. Working with the building's maintenance staff to ascertain necessary requirements, the design professional should be aware of the following:
sufficient clearance for installation and maintenance of the insulation;
whether insulation systems are exposed to corrosive chemicals and the systems have chemically resistant materials;
any frequent maintenance needs for certain insulated components;
requirements for proper high-compressive strength insulation materials for horizontal pipes located close to the ground and at risk of foot traffic; and
indications that the below-ambient pipe and equipment located in humid, unconditioned spaces have been insulated with materials not conducive for mold growth.
After installation, facility managers and building owners are responsible for scheduling regular inspections of the mechanical insulation on HVAC systems so as to detect any damage early on and reduce the costs of an otherwise preventable large-scale repair. Damaged insulation should be replaced immediately to prevent further damage and avoid the negative effects it can cause.
Initial inspections can be performed visually by looking for water damage, mold growth, tears or rips, sagging, or any other deterioration. However, during a full inspection performed by a professional mechanical insulation contractor, the contractor will verify the mechanical insulation on pipes, ducts, tanks, and equipment on the HVAC system have been insulated to the specified R-value in accordance with the approved mechanical plans, and that they have been installed and sealed in accordance with approved design document code requirements. The professional inspection typically involves spot checks to confirm the seams and connections are sealed properly. Testing the duct system for airtightness provides the final confirmation of proper installation and sealing. The lifespan of materials depends on its usage and location.
Conclusion
If a mechanical insulation system is properly installed, sustains little damage, and is routinely inspected and maintained, it can last 20 years or more. Often, this valuable asset to a building's infrastructure is neglected, leading to avoidable damage and sometimes harmful conditions as well as increased energy costs. These negative effects are easily avoided when using correct specification, installation, and maintenance techniques.
Systems are usually labeled by the mechanical contractor. Sometimes they may require systems to be color-coded, which can be done with either paint or colored PVC jacket.
Nick Eaton is general manager of ISS Insulation Services and Solutions. With more than 15 years of experience in commercial construction and insulation fields, he has managed several difficult and labor-intensive projects, providing turnkey insulation and sheet metal lagging services. Eaton can be reached at neaton@insulationsands.com[7].
Endnotes:
[Image]: https://www.constructionspecifier.com/wp-content/uploads/2018/03/pipes.jpg
[Image]: https://www.constructionspecifier.com/wp-content/uploads/2018/03/HVAC.jpg
[Image]: https://www.constructionspecifier.com/wp-content/uploads/2018/03/duct.jpg
[Image]: https://www.constructionspecifier.com/wp-content/uploads/2018/03/contractor.jpg
[Image]: https://www.constructionspecifier.com/wp-content/uploads/2018/03/insulation.jpg
[Image]: https://www.constructionspecifier.com/wp-content/uploads/2018/03/trade.jpg
neaton@insulationsands.com: mailto:neaton@insulationsands.com
Source URL: https://www.constructionspecifier.com/important-parameters-effective-insulation-hvac-systems/
---