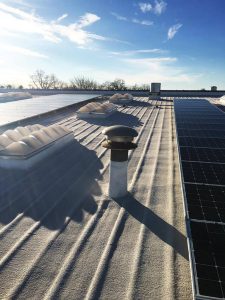 More architects and roofing contractors are recommending closed-cell spray foam insulation (ccSPF) formulated with Honeywell Solstice® Liquid Blowing Agent. It provides an all-in-one thermal, air and moisture barrier, conforms easily to all shapes, and provides long-lasting insulation performance. It is also designed to protect buildings against severe weather.
Lower energy costs
Because ccSPF seals well, delivers excellent thermal performance, and can provide a reflective surface that limits absorbed heat, building owners see significant energy savings. Plus, the outstanding energy-efficiency of ccSPF and the low-GWP of Solstice LBA can contribute to earning credits toward LEED and other certifications.
Easy to install
CcSPF installs quickly to reduce labor costs. It adheres in a single layer without any fasteners needed, seals around rooftop equipment, and has no seams to cover. In addition, there is no need for tear-offs or trimming, greatly reducing waste.
Get more information
Although ccSPF has been proven for more than four decades, its popularity is rising as more building owners seek energy savings and are committed to sustainability. Download this flyer to learn more about ccSPF for roofs, and visit here to learn more about the sustainable benefits of Solstice LBA.
All information listed in this section was submitted by Honeywell.
Kenilworth Media Inc. cannot assume responsibility for errors of relevance,
fact or omission. The publisher does not endorse any products featured in this article.