Innovations in ceiling grids: An unexpected tool for keeping projects on time and budget
May 1, 2018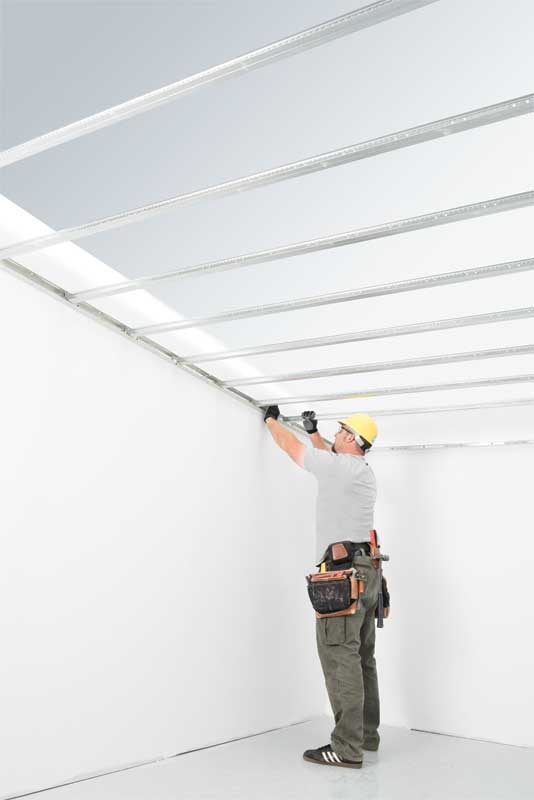 by Tom Murray, CSI, CDT
Just about everyone has a routine. Whether at work or home, we find ways to make our lives easier, simpler, or more comfortable by repeating habits. We buy the same brands and products, take the same route to the office, and also vacation in the same beach house year after year.
When it comes to specifying building products, old habits can lead to missed opportunities. It is easy for familiar brands and products to become the go-to choice for nearly every project. Master specs rarely change once the "right" product is found, yet client needs, budgets, and installation methods are constantly shifting alongside evolving trends.
One reality has not changed: time is money for architects, designers, builders, and construction professionals. This is especially true when it comes to ceiling installations—a labor-intensive task that is typically completed at the very end of a project when time has all but run out.
In response to these industry needs, manufacturers are producing ceiling systems and accessories that install quickly and easily for better value and maximum productivity. There are more options than ever before.
It is important for architecture and design professionals to know their specification for ceilings can contribute to the on-time delivery of the overall project. As new products continue to come on the market, it is also pertinent for contractors and subcontractors to be aware of new ceiling solutions and systems combining fast, efficient installation with strength and stability.
This article explores key trends, available time-saving solutions, and a relevant case study exploring how 1494 m (4900 ft) of corridor drywall grid was completed in just four hours. It is clear these specialty products directly impact a project's bottom line.
Industry demands are creating real change
The modern suspended ceiling with an interlocking grid system was first employed in the 1950s and has changed very little since then. (For more information, visit media.cleveland.com/metro/other/brown-patent.pdf[2].) New materials have provided enhanced acoustic performance, while design-forward finishes, sizes, and applications have transformed the use of grid ceilings in commercial interiors, but the basic design remains the same.
One major drawback of both traditional grid systems for suspended ceilings as well as drywall ceiling grid becomes evident during installation. Time-consuming and tedious, installation involves multiple steps including securing wall molding and utilizing fasteners and hanger wires to install the suspension system. In addition, time for hanging main runners and cross tees, squaring off the grid, cutting border panels and then installing panels, must be considered. The process requires a significant amount of labor—far outpacing the cost of materials.
Say goodbye to hanger wires
One way to speed up a ceiling project is by minimizing hanger wires and simplifying the installation process. Within the last decade, major industry players introduced new systems that allow for large unsupported spans of flat drywall.
Engineered and designed to offer quicker, easier installation in hallways, corridors, and small spaces (e.g. offices, meeting rooms, and copy rooms), these products can be installed without hanger wires for unsupported spans up to 2489 mm (98 in.) with 16-mm (5/8-in.) drywall. The reduction in the number of hangers required is a boon to contractors because it decreases installation time.
Designed mainly for new construction applications, systems like these generally will not integrate with older grid systems in repair or renovation projects. In addition, specifiers should be aware that wall-to-wall gypsum assemblies are exempt from seismic codes.
These technological advancements represent a larger movement by major ceiling and drywall manufacturers to provide products that assist contractors. One of these advancements, for example, is a locking system for solid cross tees. The tees audibly click into place for a positive lock. The system comprises a heavy-duty metal material for maximum rigidity, with knurled flange faces for screw grip. Greater strength and stability in this system is achieved with a meticulously constructed double-stitched web.
While industry standard places studs every 406 mm (16 in.) on center (o.c.) spacing for drywall, new systems have pre-engineered tabs spaced every 203 mm (8 in.) o.c., providing installers with more starting points. The locking tabs, which quickly twist and click into place, prevent lateral and upward movement or deflection, providing installers with assurance the layout is accurate and the channel is set.
Easily accommodate fixtures
In addition to new grid systems, manufacturers are beginning to offer accessories accommodating fixtures. This includes pre-cut acoustic panels, which can help cut down on labor and installation headaches on the jobsite, as well as grid accessories designed to help installers quickly and easily accommodate space for HVAC systems, lighting, and other mechanicals.
While some new systems have a slightly higher material cost than traditional grid systems, the additional expense is greatly offset by labor savings, which may provide architects and designers with the ability to reduce project costs. Labor typically makes up more than 70 percent of the total cost of a drywall ceiling installation, so a 10 to 20 percent higher cost for premium materials is compensated by labor savings from faster installation.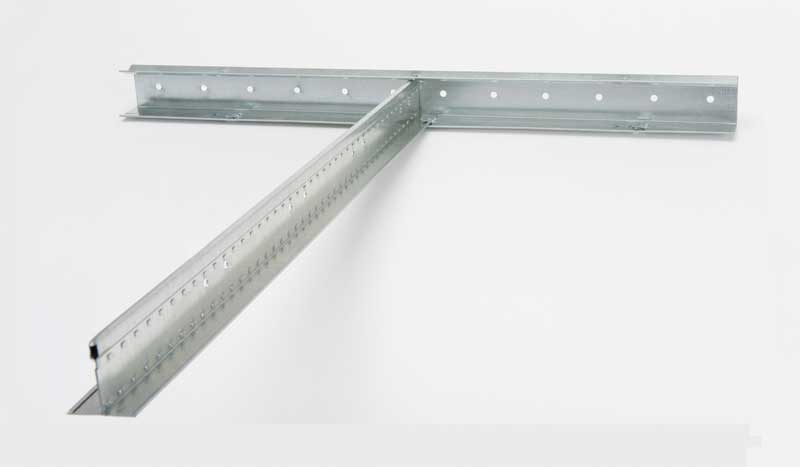 Beating the clock in Dallas
The tangible advantages of product advancements are evident in a recently completed apartment complex in suburban Dallas, Texas.
When developer Kroenke Group had the opportunity to create new living spaces near the historic Katy Trail in the Dallas suburbs, their vision was to construct
a building that would complement the nearby shops and restaurants, and also enhance the surrounding neighborhood.
Like all construction projects, Kroenke knew the job would be disruptive to local residents and businesses, and they made it a priority to get the job done quickly. The work called for completely replacing an existing 78-unit two- and three-story apartment complex with a new luxury complex offering 214 one- and two-bedroom apartments. The apartment complex opened in October 2017.
From the outset, the project goals were aggressive: to complete an average of four apartments per day once drywall installation started. One particular challenge was finishing out the hallways and corridors. In the new complex, hallways and corridors make up more than 1494 m (4900 ft) of the overall structure. This is a significant portion of the space.
In order to manage the project, the development team brought in Marek Brothers. Marek looked at a variety of different product offerings from a range of manufacturers and, after doing comparative testing regarding quality, speed of installation, and cost, selected a locking grid system. The selected product provided one of the industry's longest unsupported spans for flat drywall, and was specifically engineered to offer faster, easier installation in narrow room applications.
"With the increased demand for fast turnaround on these kinds of projects, and taking into consideration time is always money in the construction business,
it is important that everything, from the installers to the products used, are working at maximum efficiency," said Jeff Reeves, estimator and project manager, Marek Brothers.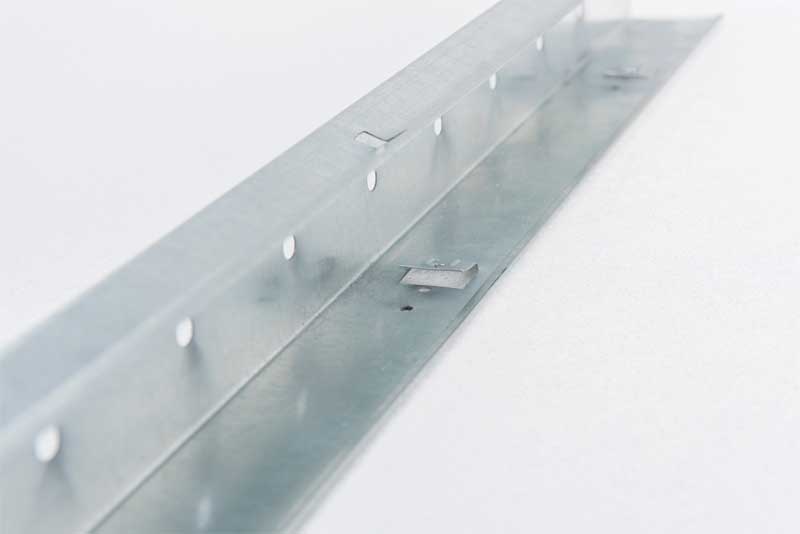 "Using a new, locking grid system we were able to frame ceilings more quickly and only use a fraction of the ceiling wires originally estimated, saving labor, time, and the cost of additional ceiling wires," he added.
According to Marek Brothers, a typical corridor ceiling installation generally takes two or more days to frame out completely. In the case of the Dallas project, a similar area was completed in only four hours.
The same system was also used in soffit applications. Marek employees were able to build a bulkhead measuring 762 mm (30 in.) x 25.4 mm (1 in.) x 3.5 m (11 ft. 6 in.) in only 17 minutes.
Conclusion
Familiar brands and products often become a go-to choice for many architects, designers, and specifiers because of positive experiences with them on past projects. It is important for specifiers to know the impact new products and systems can have on the overall budget. By specifying ceiling systems with technically advanced and easy-to-install components, decision-makers can dramatically reduce installation times, saving money and hassle for one of the last trades on the jobsite. Whether the scope is renovating an existing residential facility or building out a brand new commercial space, considering a different ceiling suspension system is an opportunity to make an impactful change to the project.
Tom Murray, CSI, CST, LEED GA, is the product manager for suspension systems at CertainTeed Ceilings. Murray has worked in technical services, product management, and new product development for the construction product industry for a decade. He is LEED Green Associate and CSI CDT accredited. Murray can be contacted by e-mail at Tom.Murray@saint-gobain.com[6].
Endnotes:
[Image]: https://www.constructionspecifier.com/wp-content/uploads/2018/05/QS-InstallerWide-ESF1211-cgt.jpg
media.cleveland.com/metro/other/brown-patent.pdf: http://media.cleveland.com/metro/other/brown-patent.pdf
[Image]: https://www.constructionspecifier.com/wp-content/uploads/2018/05/QS-T-WRKR-Close_ESF1258.jpg
[Image]: https://www.constructionspecifier.com/wp-content/uploads/2018/05/QS-ChannelTee2_ESF1000.jpg
[Image]: https://www.constructionspecifier.com/wp-content/uploads/2018/05/QS-Channel2-Close_ESF1269.jpg
Tom.Murray@saint-gobain.com: mailto:Tom.Murray@saint-gobain.com
Source URL: https://www.constructionspecifier.com/innovations-in-ceiling-grids-an-unexpected-tool-for-keeping-projects-on-time-and-budget/
---