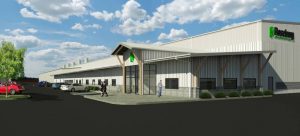 Roseburg's new Chester, South Carolina, engineered wood plant will be a manufacturing marvel when construction ends and production begins later this year. The greenfield project, which broke ground in late 2017 on a 82-ha (203-acre) site east of Rock Hill, South Carolina, will produce Roseburg's RigidLam® laminated veneer lumber (LVL) headers and beams. A better choice than solid sawn lumber pieces, Roseburg's RigidLam® LVL headers and beams are a stronger, stiffer, more consistent, and more predictable building material that can support heavier loads over greater spans than conventional lumber.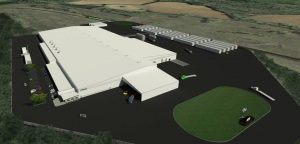 Chester-made RigidLam® LVL will be produced with locally sourced southern pine. The new plant is the most technologically advanced of its kind, and features the highest-capacity continuous press in the world (283,168 m3 [10 million cf]). The Chester plant will complement the company's Riddle Engineered Wood plant in Oregon, which currently manufactures RFPI® Joists, RigidLam® LVL and RigidRim® rimboard. Expanding Roseburg's manufacturing capacity with this new state-of-the-art plant allows the company to meet growing customer demand for a versatile product combining the best of modern processing technology and structural capability.
More information about Roseburg engineered wood products is available on the Roseburg website.
All information listed in this section was submitted by Roseburg Forest Products.
Kenilworth Media Inc. cannot assume responsibility for errors of relevance,
fact or omission. The publisher does not endorse any products featured in this article.