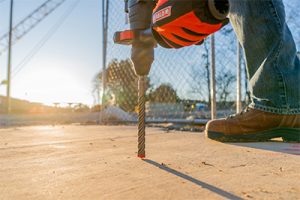 Diablo's Rebar Demon is the total solution for drilling concrete and reinforced concrete, offering the most complete range in the industry.
Diablo's revolutionary, most complete range of SDS-Plus and SDS-Max Rebar Demon™ four-cutter, full-carbide head hammer bits are the only bits designed to be the most durable, fastest, and coolest solutions on the market. The Rebar Demon bits feature up to two times more dura-carbide to withstand up to 982 C (1800 F) of intense heat whereas standard bits fail at 427 C (800 F). Diablo's impact-resistant, four-cutter, full-carbide head withstands the stress of high-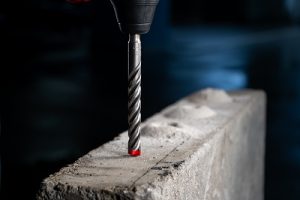 powered hammer drills and the impact of rebar by taking small bites of rebar to deliver controlled carbide wear, reduced vibration, and up to seven times longer life. Produced with tri-metal fusion welding, the full-carbide head resists heat and prevents breakage in extreme impact situations. Precision tip delivers the stability and accuracy required to produce fast, precise holes in reinforced concrete for anchor setting.
The Diablo difference, with up to seven times more life performance across a full range of over 70 hammer drill bits, you can be sure you are getting superior performance, reducing labor hours and dollars for any application. Watch the video to see the Rebar Demon in action or learn more by visiting Diablotools.com/TakesTheHeat.
All information listed in this section was submitted by Freud America Inc.
Kenilworth Media Inc. cannot assume responsibility for errors of relevance,
fact or omission. The publisher does not endorse any products featured in this article.