Kansas university library offers active learning space
by sadia_badhon | April 15, 2019 11:21 am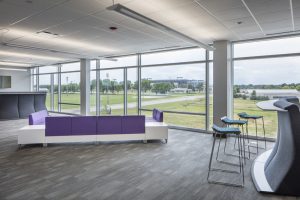 Designed by Hoefer Wysocki[2], the new common area for Kansas State University[3]'s (KSU's) Hale Library in Manhattan, Kansas, aims to provide a flexible and inspiring learning environment, focused on collaboration, hands-on digital fabrication, and digital media.
The Dave and Elle Learning Commons, a 3809-m2 (41,000-sf) active learning space will include 20 collaboration spaces, a digital innovation center, a 100-seat auditorium, a café, open seating, a large classroom, and two seminar rooms.
Driven by the notion of creating a library without books, the learning space offers students' five uniquely designed zones to meet, study, relax, invent, and share ideas.
"A significant aspect of the design concept is to create a library with the future generation in mind," said Hosam Habib, AIA, Hoefer Wysocki's lead designer. "The library is no longer the quiet, silent space, but rather a place to debate, collaborate, and create. Inspiring noise is welcome. The physical space is intentionally designed to be a work in progress to allow students to make the space their own and adapt it as they see fit."
The learning space was originally designed to fit a traditional library layout with little room for seminars and large events due to the closely spaced structural columns. The design team at Hoefer Wysocki visually reorganized the rigid order of the library and placed collaboration spaces on a more organic organization, shaped by student activity instead of the inflexible form of the space.
Another concern was accessibility of the library entrance. The design team created a more functional and well-defined entrance, which will allow access to the learning commons from the main entrance.
Endnotes:
[Image]: https://www.constructionspecifier.com/wp-content/uploads/2019/04/Opener-9.jpg
Hoefer Wysocki: https://hoeferwysocki.com/
Kansas State University: https://www.k-state.edu/
Source URL: https://www.constructionspecifier.com/kansas-university-library-offers-active-learning-space/
---