LMN Architects designs new Classroom Building at California university
April 9, 2021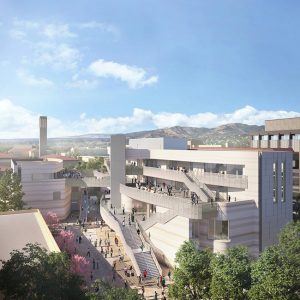 The University of California Santa Barbara[2] (UCSB) began construction on a new 8361-m2 (90,000-sf) Classroom Building designed by LMN Architects[3] on a central site adjacent to the library along its Library Mall.
The project will be the first new classroom building on campus since 1967 and will provide additional active learning space with 2000 seats in five lecture halls, three active learning flat-floor rooms, and 20 flexible classrooms. The Classroom Building is designed to be a porous structure opening at every face to welcome the university community, intertwining the life of the building with the surrounding campus and the natural environment.
"The building's site and design represent a major step forward towards the goals of the university's long range development plan, anticipating the eventual extension of Library Mall to the south and realizing the eastward extension of Pardall Mall, ultimately linking several of the campus' most significant shared buildings along these major public spaces," said Stephen Van Dyck, partner, LMN Architects.
The project comprises two main volumes surrounding a central circulation corridor running east-west, linking the extension of Library Mall to the university's Science Walk. This open-air paseo interconnects the functions of the two buildings' masses, providing outdoor terraces, stairs, bridges, and collaboration spaces designed to encourage interactions and collaboration among students and faculty. The intensity of use of the building's many instructional spaces will activate the building throughout the day, extending the social and academic cultures of UCSB throughout the building's vertically arranged public spaces.
On the exterior, the building presents two characters of expression. A taught, vertical façade system comprised of high-performance concrete panels and vertical windows clads the outward-facing elevations, establishing the building massing as clear framing elements along the adjacent campus spaces of Library Mall and Pardall Mall. Facing the building's internal public spaces, the building takes a different form by sculpting the shared exterior terraces with a looser, organic formal language, driven by the efficient planning of the lecture halls within. The resulting formal and material qualities of these spaces take inspiration from the local vernacular architecture and the adjacent seaside cliffs, recalling the sedimentary sandstone in its curvilinear, polished concrete block walls.
"The experience of the building is intended to be an extension of the campus experience. Taking advantage of the central coast of California climate and the views to the Pacific Ocean, the building acts almost as a vertical extension of the adjacent campus spaces," said Jennifer Milliron, principal, LMN Architects. "This same thinking is brought inward to the building's teaching spaces, featuring material and color palettes inspired by the campus' unique natural setting.
The four-story ensemble broke ground in February 2021 and is expected to be completed in 2023.
Endnotes:
[Image]: https://www.constructionspecifier.com/wp-content/uploads/2021/04/Opener-11.jpg
University of California Santa Barbara: https://www.ucsb.edu/
LMN Architects: http://www.lmnarchitects.com/
Source URL: https://www.constructionspecifier.com/lmn-architects-designs-new-classroom-building-at-california-university/
---