"Is this chicken or fish?": Making the right coatings choice can be complicated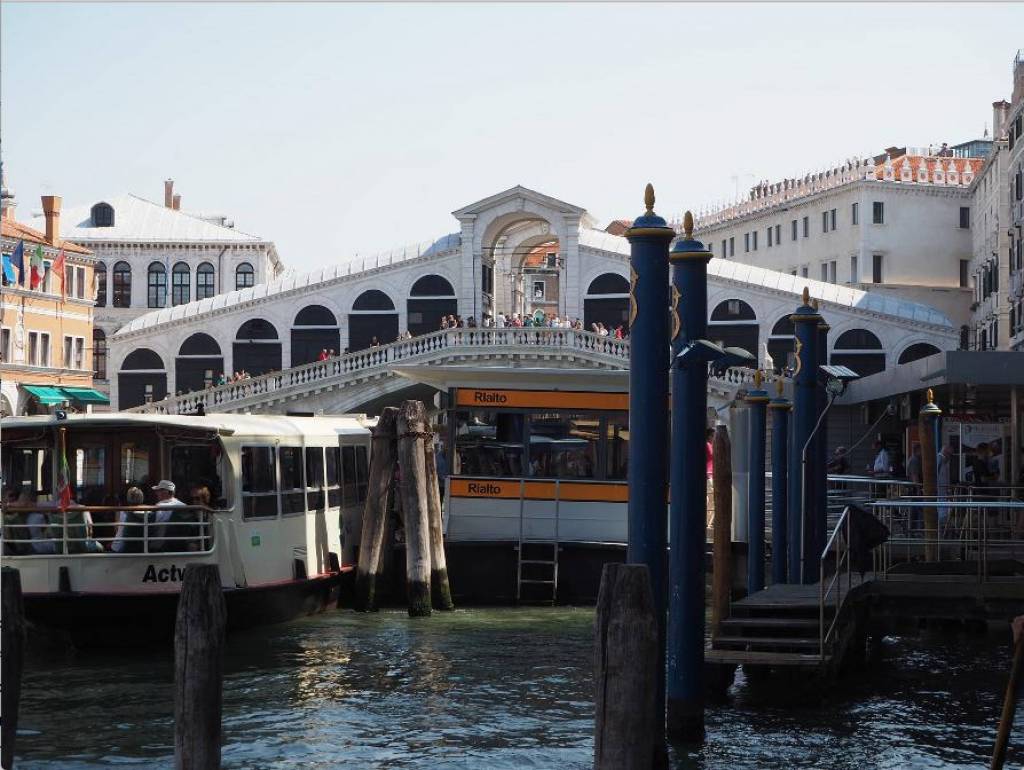 by Rankin Jays, business development leader, Elastocolor Coatings, MAPEI
"Is this chicken that I have or is this fish?" the reality TV starlet infamously asked. She was confused as to why tuna would be called "chicken of the sea." Similarly, designations can be puzzling for many of the building products on the market today, especially paints and coatings. Aren't paints and coatings the same thing? Few discernable differences in the outward appearance of such materials would lead you to believe that they are different. Then again, as our starlet discovered, outward appearances can be deceiving.
Consolidation and commodities
There has been a healthy pace of mergers and acquisitions in the decorative paint industry with the result that well-known, home-grown regional brands have been consumed by the ever-growing multinationals in the pursuit of market share or hedging against shifts in distribution trends, consumer preferences, or as a response to the market dynamics within the construction market.
Inevitably, these mergers and acquisitions have resulted in staff layoffs and/or store and factory closures as the economies of scale are realized. It is then an easy transition to question the need to sustain all of these brands with their individual formulations and raw material needs, when a manufacturer can economize further by consolidating formulas to reduce finished goods and raw material inventories, increase manufacturing efficiency and leverage suppliers on larger consolidated volumes of raw materials.
Traditional brand names, like Martin-Senour, Pratt & Lambert, and Glidden and Olympic, to name a few, have long since been consumed by Sherwin-Williams and PPG. You have to wonder if they are distinguished by more than just their brand name and label anymore. Inside the can, how different are these products from the name-brand corporate product lines? I will leave that for you to decide.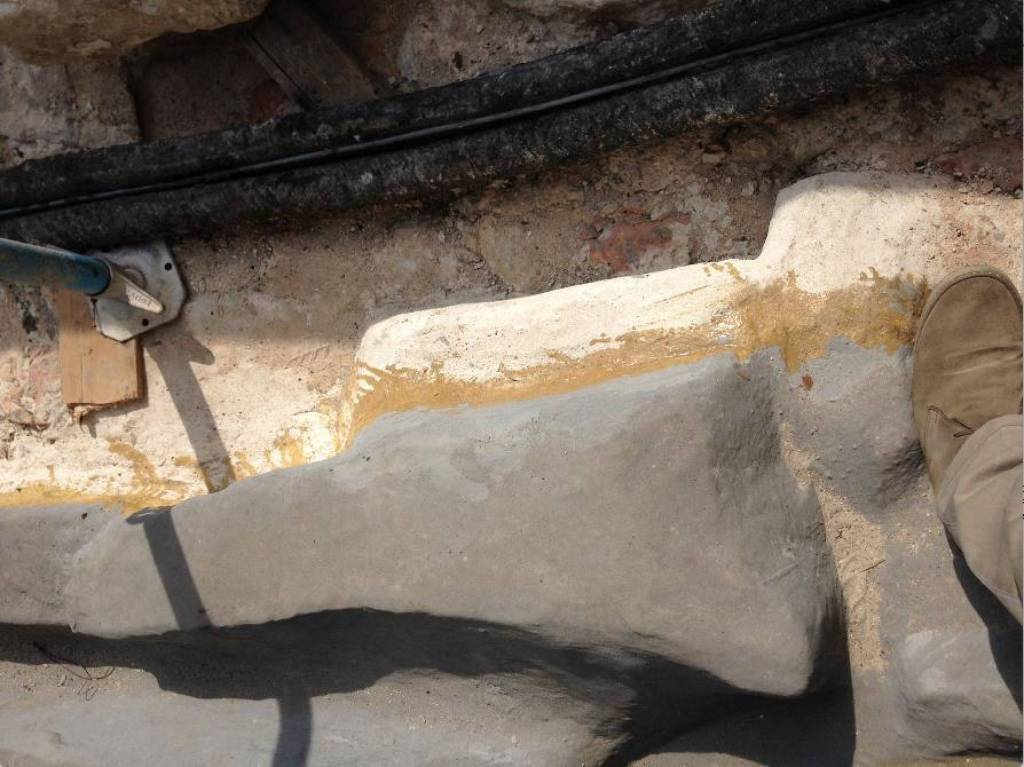 It is now estimated the three companies (Sherwin-Williams—now including Valspar, PPG, and Masco/Behr) are controlling more than 70 percent of the North American architectural coatings market.1
So, what is left for the "consumer," which includes DIY, professional contractors, and property owners? A homogenous market with a commodity product offering that has very little differentiation in brand or product performance.  Many of these manufacturers are quick to reinforce this position by offering fewer and fewer performance credentials. Customers are merely aligned by distribution channels and store types.
Fortunately, as the market consolidates, it also creates an opportunity for the emergence of new manufacturers as well as existing companies to position brands focused on providing key performance features and benefits in specific market segments. Niche marketing is obviously nothing new in terms of separating your products and services from the mainstream, but when we talk about segmenting the construction market, it survives as very sizable target market opportunities that do not necessarily fit within the literal definition of a niche.
The terms "paints" and "coatings" are used somewhat interchangeably, except that coatings have become more commonly associated with having specialized applications and possessing specific performance attributes such as corrosion protection or waterproofing. To take it a step further, "commercial coatings" satisfy a much higher performance standard than architectural paints and will have the testing credentials to differentiate their performance from paint.
Similarly, you will not find these coatings on the shelf at the big box store or in the paint store window, as they are separated from the DIY and residential paint products on the basis of performance. Commercial projects are driven by professional specifications and thin film architectural paints do not measure up to the performance demands—and, no; the "lifetime warranty" they promote does not apply to commercial projects.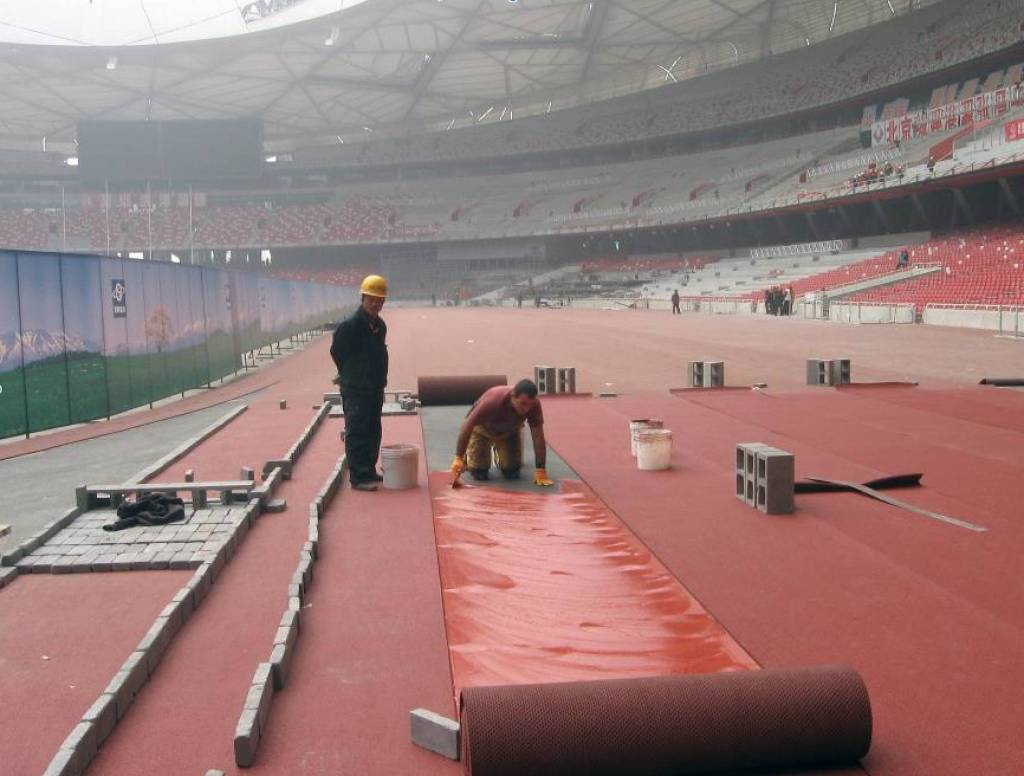 Exterior commercial coatings market
As current estimates on the size of the paint and coatings market vary considerably, we can look at more implicit construction data that identifies the magnitude of the opportunity as we discuss the "commercial coatings" market. The value of nonresidential construction has increased steadily since the bottom of the recession in 2011, a compound annual growth rate (CAGR) of 6.3 percent and is forecast to continue to grow at an estimated 4 to 6 percent in the next two years.2 3
Along with the buoyant new construction activity, existing buildings also need to be maintained, renovated, and upgraded to meet code as well as to satisfy existing tenants and attract new lessees in the face of more attractive inventory.  It is estimated between 7 and 9 percent of the total new construction spend is used for renovation.4
Taking a high-level analysis of the paint market, it is roughly a two-third to one-third split between interior and exterior applications, respectively.5 While there is substantially more interior surface area of a building to be coated, it is obvious that exterior coatings are subjected to a broader and more severe range of environmental weathering conditions. As such, it is easier to differentiate a performance product and distance it from a commodity interior paint that exists largely for decorative purposes.
In 2010, at least 39 percent of the U.S. population lived in counties bordering the coastline. Expand that to coastal states and the number jumps to 64 percent. So somewhere between one-third and two-thirds of the U.S. population resides in a severe coastal environment, characterized by high chloride precipitation from salt-laden sea air and wind-driven rain. As these are also major population centers, high concentrations of airborne pollutants and CO2 emissions contribute to the damaging environmental conditions.6 7 8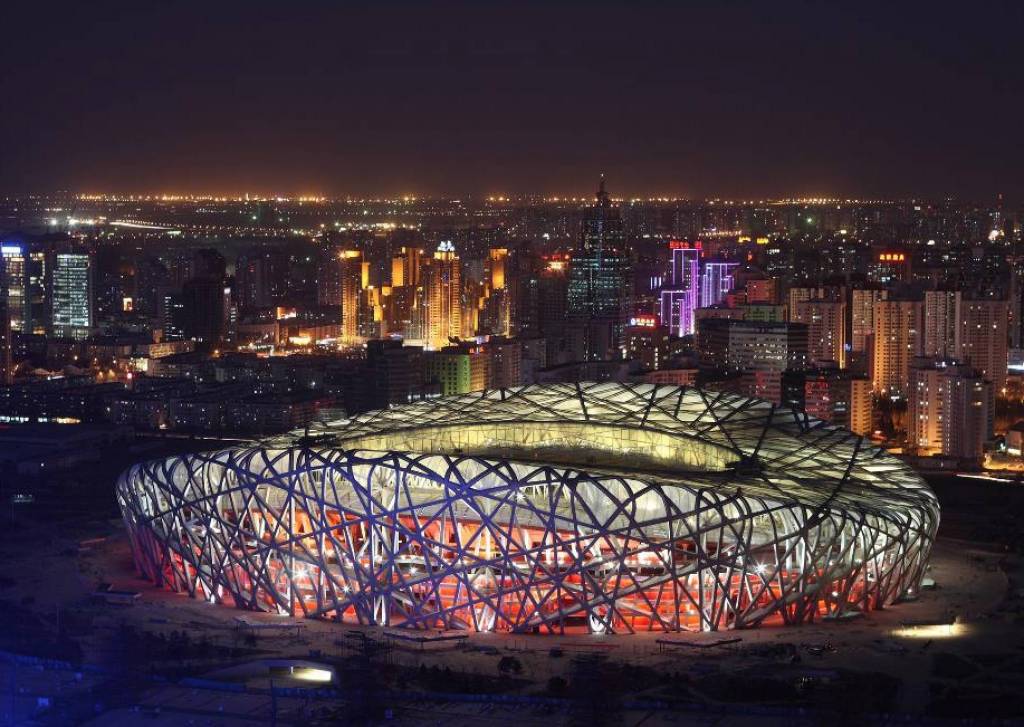 So, protecting our buildings and infrastructure takes more than three-thousandths-of-an-inch of paint. A robust, high-build coating system designed and tested to withstand these conditions is a necessity.
Product performance specs
For the specifier there are a limited number of resources from which they can make an informed decision on a product selection for a particular project. In the absence of a previously used in-house specification, guidance will generally just come from the manufacturers' published product and safety data sheets.
On the basis of a side-by-side product comparison, this decision could be made easier for the specifier by a manufacturer that is prepared to spend a little more time establishing some robust product performance credentials for their products on intended applications.
Such a side-by-side comparison of the data sheets for competing products quickly supports the argument that thin film architectural paints simply do not measure up in the commercial coatings segment. For example, review the data table below, which contains information drawn directly from three manufacturers' data sheets. Generically these represent the "best" of each company's exterior 100 percent acrylic flat paints. The comparative differences are obvious.
Why select a product that requires the application of three coats of material to pass ASTM 6904, Standard Practice for Resistance to Wind-driven Rain for Exterior Coatings Applied on Masonry, when the same performance result can be achieved with one coat of MAPEI's Elastocolor Coat? The contractor applying the product will appreciate the difference as the majority of their project cost is labor. A very clear choice, particularly as the third alternative is a product that has either never been put to the test or does not pass.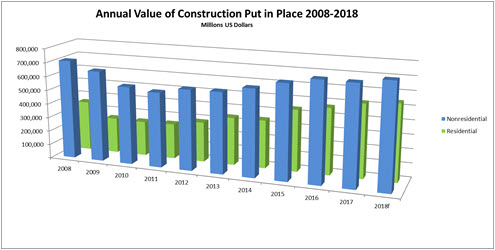 Understanding the deleterious effects of concrete carbonation, would an owner hope that one of these national brands is an effective anti-carbonation barrier or would they be more inclined to select a product that has actually been designed and tested for this purpose?
Although the choice should be obvious, old habits die hard and a considerable amount of effort still needs to be expended in the solicitation process with all the stakeholders—from the owner to the specifier and the contractor. Regardless of what may be visible shortcomings in the application and performance of a product, brand awareness, reputation, and availability create a lot of value and, along with a fair price, these still remain as the top sales drivers.9
Integrity of ASTM test reporting
When using a product data sheet to perform this analysis, it is important to understand there are also mitigating circumstances inherent in the ASTM methods that need to be considered in the analysis. For example, there is often more than one ASTM test for any particular performance measure, and manufacturers are at liberty to select their preference. For elongation and tensile strength, these three ASTM tests are cited on paint and coatings data sheets throughout the industry:
ASTM D2370-16, Standard Test Method for Tensile Properties of Organic Coatings;
ASTM D638-14, Standard Test Method for Tensile Properties of Plastics; and
ASTM D412-16, Standard Test Methods for Vulcanized Rubber and Thermoplastic Elastomers.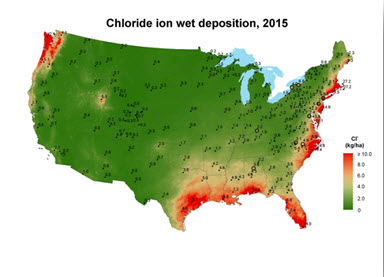 While the test methods may be similar, the results cannot be correlated or used as a basis of comparison. Even when the same test is used, results can vary depending on the applied film thickness, which does not necessarily reflect real-life applications. These important points are omitted from product data sheets.
Where just one test is available, as in the case of ASTM D4541-09, Standard Test Method for Pull-Off Strength of Coatings Using Portable Adhesion Testers, a test bias becomes a factor as a result of the various pull-off testing apparatus that is available. Depending on the apparatus, results can only be used if they fall within a predetermined range.
ASTM tests are periodically updated or removed from circulation, but manufacturers can be slow to respond and continue to publish outdated test results years after a test method has been withdrawn.
These two accelerated weathering tests were withdrawn in 2000 yet still are mentioned on international manufacturers' data sheets as current credentials:
ASTM G23-96, Practice for Operating Light-exposure Apparatus (Carbon-arc Type) With and Without Water for Exposure of Nonmetallic Materials; and
ASTM G26-96, Practice for Operating Light-exposure Apparatus (Xenon-arc Type) With and Without Water for Exposure of Nonmetallic Materials.
Logically, this would suggest that these manufacturers have not made any significant formula modifications in 17 years or that they continue to test using outdated test procedures. However, neither of these two scenarios seems very likely.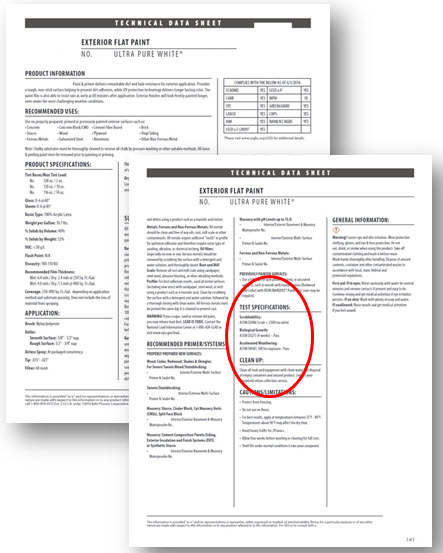 Unfortunately, without regulation there is little hope that an agreement between manufacturers on a standardized testing procedure could ever be achieved. That is why we see independent organizations like the Master Painters Institute (MPI) and Sealant Waterproofing & Restoration Institute (SWR Institute) developing their own standardized performance criteria and product validation programs. These have the effect of leveling the playing field to a certain degree, but membership is voluntary and, in the case of MPI, only establishes minimum criteria for a product listing rather than representing the product's true capability.
"Or approved equal"
Most coatings specifications will provide competing manufacturers with the opportunity to submit their product offering on a project via a substitution request. As I have demonstrated, it is relatively easy to separate paints from coatings and make the argument for a better performing product based on published credentials. The salesman's mantra that "people buy from people" continues to hold true and the selling process takes a lot more effort than just a data sheet edit.
While our product may surpass the "equal" in a specification's "or approved equal," it takes a concerted team effort from R&D, production, customer service, logistics, finance, marketing, and sales to convince the consumer they have exactly what they need when they ask for fish or chicken.
Notes
1 PCI Coatings – Race to The Top
2 FMI, Oxford Economics
3 U.S. Census Bureau
4 JLL Research
5 ACA Market Analysis 2010-2015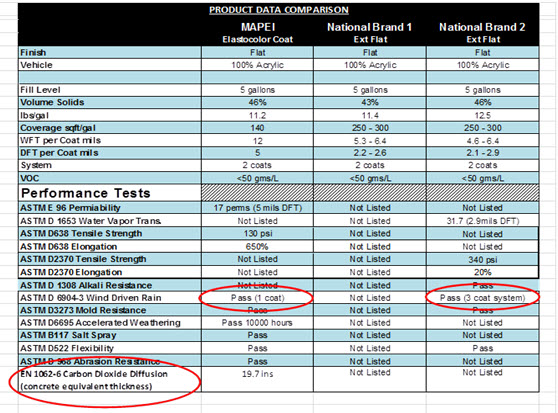 6 U.S. Census Bureau
7 NOAA.gov
8 National Atmospheric Deposition Program
9 The Nielsen Company (U.S.) LLC
About MAPEI
For more than 80 years, MAPEI has been manufacturing products to construct, restore, and protect buildings and structures around the world. You will find MAPEI systems and solutions everywhere. With manufacturing facilities in 34 countries and on five continents, there are few places on earth that do not have access to a MAPEI product.
Wherever they are made, MAPEI products adhere to the same performance standards the world over, creating a best-in-market global brand along with MAPEI's unyielding commitment to the environment and product safety.
MAPEI's Elastocolor coatings line is no exception. Its 100 percent acrylic high-build coatings have been engineered and tested to become a premiere coatings solution on the market today and can be found on major installations around the world.
As an integral part of the Concrete Restoration Systems line at MAPEI, the Elastocolor products' primary focus is for the restoration market, yet these products offer a versatility of application and performance that expands their utility to just about every type of facade construction, including new construction projects. They are designed to provide long-term protection against the damaging effects of ultraviolet rays, chloride ingress, carbonation, and moisture intrusion. The products also come with MAPEI's Best-Backed Warranty program for built-in confidence and peace of mind.
Rankin Jays is the business development leader for the Elastocolor coatings line for MAPEI operations in the U.S. and Canada. He has been in the paint and coatings industry since 1981 with experience across many facets of the industry, which includes paintmaking as well as sales and marketing management. As well as his lead role in new product development, Rankin can provide specification and application support to consultants, engineers, architects, owners, and contractors. He can be reached at rjays@mapei.com.
Comments and opinions expressed by the author are his own and do not necessarily reflect the views and opinions of MAPEI Corporation or any of its subsidiaries.
All information listed in this section was submitted by Mapei Inc..
Kenilworth Media Inc. cannot assume responsibility for errors of relevance,
fact or omission. The publisher does not endorse any products featured in this article.