Manhattan's Greenwich West tower tops out
by sadia_badhon | January 9, 2019 3:55 pm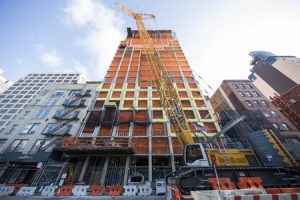 Earlier this month, West Soho's newest residential tower, Greenwich West[2], rose to its full 30-story height. Paris- and New York-based architects combined classic New York design and a French aesthetic to the building and wove it into the urban fabric of the historic streetscape.
"This moment marks a major milestone for Greenwich West, and we're proud to see the building take its place on the skyline," said Phillip Gesue, chief officer of development at Strategic Capital. "Plaza Construction has done an incredible job of bringing our team of Parisian designers' vision to life and the building's rapid progress is a direct result of their hard work and dedication."
Architecture firms Loci Anima[3] and Adamson Associates[4] designed a handmade brick façade with custom glazed brick accents and art deco-inspired curved corners, which lends softness to the tower. Industrial-style casement windows—framed by hand-laid brick patterns and custom brick borders—honor the neighborhood's heritage.
Designed by Sebastien Segers Architects[5], the interiors echo the curves of the exterior architecture, including deep undulating window-sills topped with Carrara marble inviting interaction with the windows and views. Botanist and landscape artist Patrick Blanc[6] designed a signature vertical green wall for the building's courtyard.
Endnotes:
[Image]: https://www.constructionspecifier.com/wp-content/uploads/2019/01/Opener-11.jpg
Greenwich West: https://greenwichwest.com/
Loci Anima: https://www.loci-anima.com/en
Adamson Associates: https://www.adamson-associates.com/
Sebastien Segers Architects: https://www.sebastiensegers.com/
Patrick Blanc: https://www.verticalgardenpatrickblanc.com/
Source URL: https://www.constructionspecifier.com/manhattans-greenwich-tower-on-west-side-tops-out/
---