Academy Museum of Motion Pictures gets remake with new 1000-seat theatre
by brittney_cutler | March 21, 2022 4:03 pm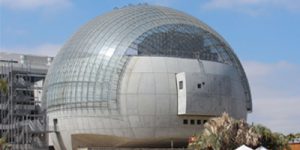 That's a wrap! Builders recently completed a project to restore the Academy Museum of Motion Pictures in Los Angeles, expanding the historic structure with a new 1000-seat theatre.
The project involved the exterior restoration and interior gut renovation of a 21,368 m2 (230,000 sf) historic landmark structure, with the addition of a 5574 m2 (60,000 sf) spherical glass and concrete structure to house the 1000-seat David Geffen theater. The 46 m (150 ft) diameter precast concrete sphere appears to float above ground, offering a whimsical counterbalance to the more sedate renovated historic structure.
The sphere was originally conceived as a cast-in-place concrete shell, but as the design evolved, it became clear that cast-in-place was not the right solution. The sphere features a consistent radius, the project required only 30 base molds, which could be reused many times with only minor adjustments of edge forms and blockouts. The use of precast concrete also allowed the large, column-free space, providing unobstructed sightlines for the theater in the round, as well as providing the physical mass necessary for acoustic isolation of the high-performance theater.
Initially, designers were concerned that precast concrete would not be able to deliver the desired variation in the finish. However, the precast concrete producer generated multiple samples and mock-ups to define the best technique to achieve the intended finish appearance. The final design used a standard gray cement and a single aggregate to produce all of the panels.
Endnotes:
[Image]: https://www.constructionspecifier.com/wp-content/uploads/2022/03/BC_AcademyAwards-F.jpg
Source URL: https://www.constructionspecifier.com/marquees-light-up-once-more-at-las-academy-museum-of-motion-pictures/
---