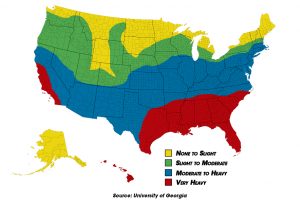 If you are designing mass timber projects in a hot and wet region, look at this map from the University of Georgia. The red highlights the steadily expanding range of the destructive Formosan termite.
Hot, wet, and termite-prone areas call for design with both waterproofing and termite protection.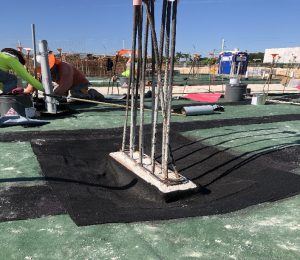 Polyguard has produced structural waterproofing for 49 years, almost a billion square foot of it. We first heard of the Formosan termite threat in the late 1990s. We met with Texas A&M entomology scientists and discussed upgrading our waterproofing/building envelope materials to incorporate a non-pesticide termite barrier.
The first lab test was done in February 2000. It was successful.
Now, more than 20 years later, we have completed dozens of lab tests and field trials with universities in termite intensive states and CSIRO (Australia's national research lab).
This research has led to the TERM Barrier System, which protects virtually the entire building envelope from water, termites, and other pests. Also, we found in the termite intensive Pacific Rim stone and screen accessory barriers. These protect vulnerable areas of drainage and ventilation.
See TERM research, materials, and accessories at www.polyguardbarriers.com.
See mass timber moisture and termite research at www.research.thinkwood.com/en/list?q=moisture&p=1&ps=20.
All information listed in this section was submitted by Polyguard Products.
Kenilworth Media Inc. cannot assume responsibility for errors of relevance,
fact or omission. The publisher does not endorse any products featured in this article.