Meet the most innovative precast floor system in the U.S.
by arslan_ahmed | August 9, 2022 7:00 am
Meet the most innovative precast floor system in the U.S.
When Tindall brought its new precast floor system from Denmark to the U.S. in 2020, the U.S. customers were not satisfied with accepting the system's historical performance and European test results. They needed to be certain Tindall Superior Lightweight All-Purpose Beam (T-SLAB®)[1] met International Building Code (IBC) requirements and would deliver the kind of performance Tindall customers have come to expect. To do that, Tindall decided to put T-SLAB to test by teaming up with experts at the University of North Carolina Charlotte (UNCC) to analyze the product.
What is T-SLAB®?
T-SLAB is a new, patented precast concrete floor system that leverages the time-tested principles of Roman arch design and multiple concrete types to deliver a stronger, lighter, and more versatile slab.
Inside each T-SLAB is a series of arch-shaped lightweight concrete blocks over which structural concrete is poured. This allows T-SLAB to leverage the arch effect for load distribution while capitalizing on longitudinal prestressing for total span capability. Multiple slab thicknesses enable T-SLAB to achieve optimal spans in the range of 9.1 to 13.7 m (30 to 45 ft), supporting both commercial and residential floor loads.
This new floor system delivers a wide range of inherent benefits, including superior fire resistance, improved sound insulation, greater design flexibility, and a collection of construction enhancements that competing systems simply cannot provide. Additionally, the T-SLAB production process enables the inclusion of conduits, solid zones (as structurally or functionally required), and holes for ducts and drains. When combined, these capabilities make T-SLAB a cost-effective and schedule-friendly system that is ideal for mixed-use buildings, dormitories, multi-family residential structures, office buildings, hotels, and more.
UNCC testing
After testing in the UNCC lab, the results were clear—T-SLAB exceeded expectations across the board. To reach this conclusion, UNCC performed a wide array of tests, including material properties, vibration, single-span, and continuous-span load tests.
Material properties test
T-SLAB consists of three different concrete mixes: A thin grout on the bottom to create a paint-ready surface, a lightweight block mix, and a high-strength, normal-weight concrete mix. The effective Modulus of Elasticity (MOE) for the combined system was verified through testing. The blocks and grout, along with the normal-weight mix, created a stiffer system than calculated. In general, because of composite action, the stiffness of the combined system increased by 30 percent. Thus, it became clear that the key to predicting and controlling both camber and deflection was understanding the properties of the combined system.
Single-span test
During the single-span test, UNCC load tested a 12.2-m (40-ft) simple-span T-SLAB for the purpose of comparing the calculated design data to the lab test data. The test data allowed Tindall to properly adjust the calculated stiffness of the section by roughly 30 percent and verify the values in the design program to complete the load tables. It is worth noting that these results were consistent with those produced in Europe. These load tables can be found on the resources page[2] of Tindall's Website.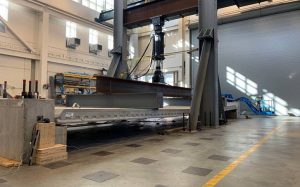 [3]Two-slab, continuous-span test
To verify continuity and load distribution, UNCC then load tested a 12.2-m (40-ft) span T-SLAB with grouted rebar over a support to a 6.35-m (20.8-ft) T-SLAB. Grouting rebar between the two spans creates continuity across the support. The main benefit of grouting two slabs together with rebar is to be able to provide longer spans that exceed the simple-span capacity by creating a continuous-span slab.
Vibration test
The UNCC lab test measured the fundamental frequency of a 305 mm x 12.2 m (12 in x 40 ft) long T-SLAB at 3.46 Hz. In addition, both one- and two-person walking tests were performed. It was found that the peak accelerations for walking exceeded recommended levels for a single slab that was not grouted to supports or adjacent members. The UNCC and Tindall team all agreed that the testing did not represent the true boundary conditions and that the testing would also need to be done for as-built conditions.
Understanding that vibration frequency is a key characteristic of T-SLAB since it will be utilized in living spaces and office buildings, Tindall knew what it had to do. It selected a 12-storey residential mid-rise tower the company was erecting in Richmond, VA, to be the subject of the site testing. The results speak for themselves.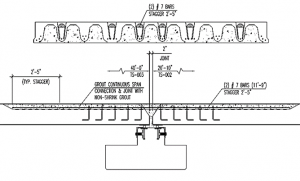 Prior to erection, the fundamental frequency of one of the members, a 356 mm x 13.7 m (14 in x 45 ft) T-SLAB, was measured for a simple span condition. With self-weight only, the frequency of the slab was measured at 3.26 Hz. During the on-site test, the frequency of the floor system in the final grouted condition was measured at 4.67 Hz. This represented an increase of nearly 50 percent over the single span condition, greatly surpassing the Precast Concrete Institute's (PCI) recommended minimum of 3 Hz.
Not only did the on-site walking frequency tests prove that the system was very robust, but they also found it was difficult to intentionally induce any accelerations from walking. The accelerometers had difficulty picking up measurable acceleration values during testing.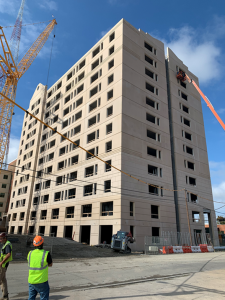 Fire rating
Typically, floor slabs for commercial use are required to have a minimum two-hour fire rating, per IBC Chapter 6 for Type 1-A construction. The International Building Code provides a prescriptive method in Chapter 7 to determine the fire resistance ratings for various assemblies.
The first provision for concrete slabs dictates a minimum slab thickness to limit heat transmission. The minimum T-SLAB thickness of 254 mm (10 in) provides four-hour fire resistance, regardless of aggregate.
The second provision is cover over prestressing strand for structural endpoint criteria compliance. Most T-SLAB layouts would be considered a Restrained Condition since the slabs are tied into walls with grouted joints. The minimum cover for a restrained slab to achieve a four-hour fire rating is three-quarters of an inch. T-SLAB meets this requirement regardless of strand locations.
For the rare situations where T-SLAB is not restrained, the minimum fire resistance available is two hours. A three- or four-hour rating is easily achieved by locating strands to provide a greater average cover.
Acoustical test
To deliver the airborne and impact sound transmission performance owners and developers require for multistory office and residential buildings, Tindall knew that exceeding the minimum sound transmission requirements was non-negotiable. Therefore, in addition to the UNCC testing, it also tested the acoustical performance of T-SLAB.
The IBC requires a sound transmission class of not less than 50 and an impact insulation class rating of not less than 50. These requirements apply to assemblies between dwelling units, including between dwelling units and public areas.
To gain a comprehensive understanding of the system's performance, Tindall also tested T-SLAB assemblies for the high-frequency impact insulation class. Although not required currently by code, many believe this test gives a more accurate evaluation of impact sound for various assemblies. The values below for 254-mm (10-in) slabs will be even greater with increased slab thickness.

[4]
T-SLAB constructability
Since T-SLAB is wet cast in a controlled plant environment, it can be readily adapted to handle a multitude of typical construction challenges. By reducing the height of the integral light aggregate concrete blocks, T-SLABs can be modified to create recesses for accommodating tile installation in bathroom and shower areas. Embeds can be cast in to connect complex exterior wall panels and façade elements or for something simple like attaching handrails on a balcony.
Understanding that many customers may desire to hide the exposed ceiling joints common with precast floor systems, T-SLAB can be produced with a 6.35-mm-deep x 254-mm-wide (0.25-in-deep x 10-in- wide) recess in the underside of the slab. This creates an approximately 508-mm (20-in) wide recess between the two slabs allowing for treatment much like a drywall joint. This gives the appearance of a smooth ceiling once it has been painted. Since T-SLAB is 3.66-m (12-ft) wide, there are fewer joints as compared to other types of precast slabs.
T-SLAB also addresses many of the concerns contractors face when working with a concrete floor system after the installation of the slabs is complete. T-SLAB does not require a structural topping, which means other trades can begin their work earlier in the construction schedule. For a finished floor, the system only requires the use of a cementitious or gypsum-based leveling compound. A cementitious topping can be installed prior to the interior build out, whereas a gypsum topping must be installed in a conditioned space.
Realizing that other trades will need to attach to T-SLABs, Tindall has already done the research for them. The company worked directly with multiple manufacturers to compile a list of approved anchors from common manufacturers, including selections from Hilti, Fisher, Simpson Strong-Tie, and Tapcon, that can be used for attaching to T-SLABs.
Milestones
Since the launch in June of 2020, T-SLAB has passed numerous milestones. It has provided a streamlined process for general contractors, project owners, and developers who were looking for a single-source supplier to provide a total precast building solution. This type of construction benefits customers through accelerated schedules with fewer trades on site, resulting in less congestion and easier coordination. At three times the width of typical hollow-core, and with greater span capability, T-SLAB also reduces installation times, further enhancing the benefit of prefabrication.
"Tindall can develop nearly every precast product imaginable, but T-SLAB was the missing piece in achieving our cost-competitive, total precast system," said Greg Force, president and CEO of Tindall. "The system's benefits ultimately reduce construction time and costs, crucial factors to consider when it comes to choosing a construction partner."
Starting in June of 2020, Tindall's South Carolina Division has supplied T-SLAB products to multiple Tindall location territories, including their own. Tindall is licensed to provide the T-SLAB flooring system in ten states: Alabama, Georgia, South Carolina, North Carolina, Virginia, Maryland, Tennessee, Louisiana, Mississippi, and the Florida Panhandle.
Tindall's Virginia and Mississippi Divisions are currently adapting production lines at their locations. These are scheduled to open before the end of 2022, making T-SLAB readily available for projects across Tindall's operational footprint.
Project applications to date include the use of T-SLAB as a roof system for 13 high school weight rooms. As part of a single contract, these buildings were to be completed simultaneously on an accelerated timeline. The choice of total precast construction using T-SLAB allowed Tindall to produce multiple buildings at one time, and erect them on site when the general contractor was ready.
Tindall saved time in the construction of four new dorm buildings for university campuses in North Carolina and Virginia by casting mechanical, electrical, and plumbing components into the slabs. Though it required more time and coordination on the front end, this approach allowed for rapid construction on site, providing a path for the general contractor to turn over the projects in less time than other conventional construction methods would have allowed.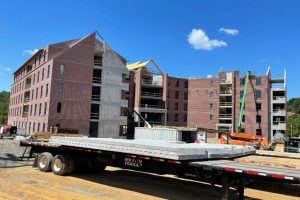 T-SLAB also created a path for Tindall to enter a new market segment—multistorey midrise construction. In October of 2021, Tindall completed the erection of a 12-storey midrise apartment tower in Richmond, Virginia. A majority of the project was produced in Tindall's Petersburg, Virginia, location, while the T-SLABs were manufactured in South Carolina. Precast production for the project began in May 2021 and continued through August of the same year. After the initial startup on site, the erection crew accelerated its pace, completing one level per week. The entire structure was erected in just under 16 weeks.
"With 'heads to beds' such a critical item for these types of projects, Tindall was able to get our building operational and we were generating revenue significantly faster than other systems we analyzed," said H. Louis Salomonsky, SWA Construction.
Conclusion
T-SLAB offers a wide range of benefits to both builders and architects alike, providing all the benefits of the industry's most effective building materials in a single, cost-effective, and 100 percent precast solution. With the flexibility of cast-in-place concrete and improved structural performance compared to hollow-core, T-SLAB is empowering Tindall to easily convert existing plans into total precast designs and enter new market segments. Now, armed with T-SLAB's impressive performance data from the University of North Carolina Charlotte, Tindall is looking to the future with confidence.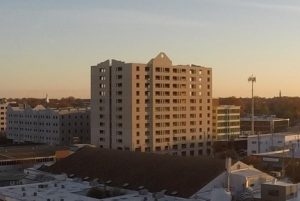 To learn more about Tindall's capabilities and dig into the details about T-SLAB, visit the Tindall[5] website.
About Tindall
Headquartered in Spartanburg, SC, Tindall Corporation is one of the largest precast concrete manufacturers in North America. With six production facilities located throughout the Mid-Atlantic, southeastern, and South-Central United States, Tindall provides engineering, manufacturing, shipping, and installation solutions for precast, prestressed concrete systems and underground infrastructure projects.
Endnotes:
Tindall Superior Lightweight All-Purpose Beam (T-SLAB®): https://tindallcorp.com/t-slab/
resources page: https://tindallcorp.com/resources/
[Image]: https://www.constructionspecifier.com/wp-content/uploads/2022/08/AA_Tindall_BF_1.jpg
[Image]: https://www.constructionspecifier.com/wp-content/uploads/2022/08/AA_Tindall_BF_4.jpg
Tindall: https://tindallcorp.com/
Source URL: https://www.constructionspecifier.com/meet-the-most-innovative-precast-floor-system-in-the-u-s/
---