Metal column solutions: structural elements with versatility
by arslan_ahmed | October 17, 2022 7:00 am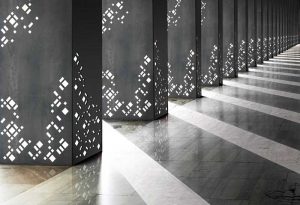 By Ernie Ngo
Structural elements such as columns are a key architectural component of every project. Equipping designers with column solutions that simultaneously meet design standards and building requirements enhance project outcomes. Metal column covers offer an innovative answer to both these standards, ranging from straightforward column covers intended for high-traffic environments, such as airports, to intricate design features in an architecturally significant space.
Various shapes and sizes
Available in various shapes and sizes, unique covers transform basic structural columns by creating dynamic visuals which echo the environment's architecture and stand out as design features. These column covers are adaptable for use in hospitals, corporate offices, hotels, restaurants, schools, and transit areas requiring the structural support needed for large commercial areas. The construction of these high-traffic spaces often includes rough structural concrete supports, steel beams covered in fireproofing, electrical conduits, plumbing, and highways of data management wiring that are essential, yet unsightly. Incorporating metal column covers in design-forward shapes and patterns conceals unattractive details while providing the aesthetic versatility to cater to the needs of every setting and environment.
When considering the shape of column covers within a space, angular or rounded installations have a dramatic impact on the disposition of an environment. Defined, geometric-shaped columns include hard lines and straight edges—offering a clean, modern feel. Striking and dynamic, these angular options evoke alignment and efficiency in commercial settings. For a softer, more calming environment, rounded columns create a greater sense of flow by melding into their surroundings, while providing opportunities for reflective light and seamless movement. Above all, the columns' silhouettes should connect with the design and enhance the architecture providing high visual impact which compliments the design.
While columns are simple to install, contractors and owners appreciate the ease of pre-assembled products. Maximizing durability of columns without compromising on quality design, the array of opportunities for column shapes demonstrates the range of metal and its architectural capabilities.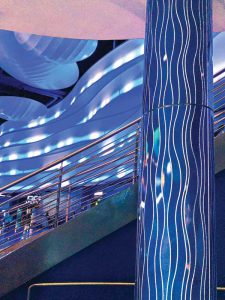 Patterns and colors
As column covers conceal unsightly structural details, they also add value to a setting. Incorporating intricate patterns and impactful colors, columns are an important element of the design intent. They develop the personality of an environment and create visual intrigue. Through the addition of colors and patterns breathing new life into columns, indispensable support beams turn into focal points, capturing texture, depth,
and movement as a defining feature of a space.
Communicating the tone of a design, the colors of columns enhance the mood of an environment with their ability to create the bright, airy feel of light colors within commercial environments, or the warm, refined sensation that comes from deep and moody hues. The colors of the columns also play a role in how the size of a space is perceived. Designers can specify calm, muted shades for an open, spacious atmosphere, and bold, darker shades for a dramatic, intimate look and feel. When choosing the shades of column covers, considering color choice is an important decision.
In addition to color, pattern specification choices play an important role in the character of a space. Transforming solid metal into a textural focal point, patterns suggest movement within an environment through intricate designs, organic textures, and gradient embellishments. Vertical linear patterns and gradient details can promote the height of a space, creating an illusion of taller columns that draw the visitor's attention upwards, opening the visual space. Incorporating reveals within the column covers at the seams allows for linear patterns to run smoothly from section to section. In contrast, patterns which are non-directional can create a unique visual texture that emphasizes the surroundings and adds to the complexity of the architecture.
Turning a structural element into a three-dimensional decorative metal surfacing feature, the patterns and colors of column covers not only deliver functional and space-defining form but also supply high quality, long-lasting durable designs for commercial spaces.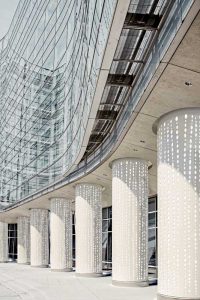 Material options and finishes
In high-traffic public spaces, material durability is a key concern in the design process. Finishes and materials crafted with hardwearing substances, such as stainless steel or solid-core-aluminum, can withstand the wear and tear of high occupancies and harsh disinfectants in commercial spaces. Two of the strongest and most sustainable materials in the world, stainless steel and aluminum column covers have the capability to merge thoughtful design and the resilience while providing the dependability the materials is known for.
Column covers have an array of finish possibilities to meet the versatile needs of commercial spaces. While stainless steel and aluminum are the ideal cover materials for interiors and exteriors alike, their look and feel can also be further enhanced. For example, selecting a grained or embossed stainless-steel column cover not only enhances durability, but also creates an eye-catching element within a space. When specifying aluminum columns in high-traffic areas, a finish is required. Topcoats on column covers provide a protective film for scuffing and scratching resistance and are important to consider, while gloss or matte qualities can impact the column cover's shine. Architectural-grade vinyl is another finish which increases longevity. If the columns support a building's exterior, selecting an abrasion-resistant finish formulated to withstand direct sun exposure supports the covers' durability as they endure these natural elements.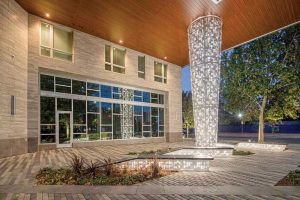 Case study: Hanover Diridon
Outside Hanover Diridon residential building in San Jose, California, a show-stopping backlit laser cut accent column serves as the project's statement feature. Finished in a white matte powder coat, it contrasts with the building's stone exterior, wood accents, and two-toned patio tiles. The backlit column's clean, modern design nods to the duality of San Jose: the traditional residential area and the emerging, technology-driven innovation district that intersects at Hanover Diridon. Complete with 18 stacked panels and backlit features, the column's dimensions and textures create a focal point for residents and passersby at any time of day.
Standing 8.5 m (28 ft) tall and beneath five stories of apartment balconies, the column is fabricated from 3.2 mm (0.125 in.), a slim but sturdy material known for its quality and durability.
Comprising three stacked sections, each with six rounded panels, the top of the column has a 2134 mm (84-in.) diameter and tapers down to 1219 mm (48 in.), creating an optical illusion of precariousness. The unique cone-like shape is an elevated alternative to traditional columns. Internal light-emitting diode (LED) lighting with drivers and white acrylic backing is also included within the column for added depth and luminance beneath the laser cut pattern. Complete with matching bench seating, the column doubles as an illuminated meeting point or gathering space for the building's residents and pedestrians.
Hanover Diridon residential building in San Jose, California, featuring an 8.5 m (28 ft) tall backlit laser cut accent column.
Offering a design-forward solution while maintaining a high standard of cleanliness and stability in large-scale, high-traffic areas is a crucial component of commercial design. Combatting the unique set of design challenges with high occupancy spaces and specifying reliable metal materials, such as stainless steel and aluminum, provides durable, long-lasting interior and exterior columns which blend with the design intent for the space.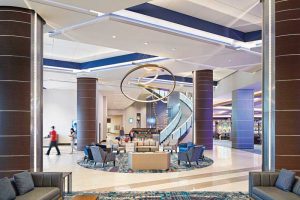 Case study: Choctaw Casino
A recent expansion at the Choctaw Casino in Durant, Oklahoma elevates the existing property into a sleek, contemporary destination for entertainment. Setting the tone and bringing meaningful details to the space, 10 statement columns feature throughout the lobby as a nod to the Choctaw Nation's underlying culture and heritage.
The columns also complement the wood tones and details in the new space. Optimizing movement through organic textures and gradient patterns, the columns dually serve as a point of connection. They create a rhythm throughout the lobby that guides towards other experiences and features within the resort.
Two different columns were designed for the Choctaw expansion: six custom, oblong columns wrapped in an architectural-grade vinyl finish that captures the depth and feel of authentic wood, and four square columns featuring a gradient design, bringing a modern and elevated feel to the casino. The combination of intentional details and upscale elements within the designs of the column covers bring grounded and sophisticated finishes into the shared space, while supplying high quality, durable decorative designs for high-traffic public areas.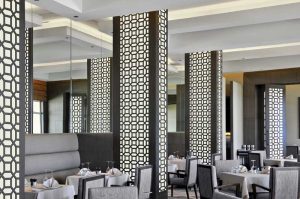 Elevated design features
In tandem with patterns, finishes, shapes, and sizes, metal column covers can incorporate upscale elements, such as backlit features and laser cut details, into their construction, allowing for a myriad of design options to support the integration of other features. Taking structural elements to a whole new level, these elevated design features tie the architectural elements of the surrounding environment together, while creating a focal point that sets the tone for a space's design.
The versatility of column covers allow them to take on the appearance of entirely different materials as well. Some examples include laminates that convey natural materials, such as stone or wood, custom opportunities that overlay images or graphics significant to the space, engravings of meaningful patterns, or an array of grains that add depth. Metal column covers capture the complexity and feel of these authentic forms while offering a lightweight, cost-efficient opportunity to bring design-forward elements into a shared space.
While these elements are impactful alone, coupling these details with light-emitting diode (LED) backlighting adds a new level of physical and visual depth. Lighting functional columns in a space provides a distinctive design feature while creating a unique glow, drawing visitors' eyes to the patterns and textures.
Bringing new layers of dimension, texture, and visual interest to a space, adding unique details to metal column covers highlight the surrounding architecture, anchoring the space while adding a unique expression. With an understanding of how prominent design features can transform a space, these covers can help make any column become a standout showpiece in any environment.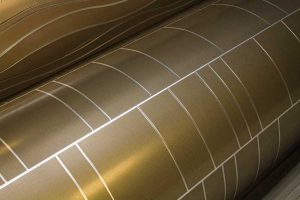 Conclusion
As people continue to re-enter the world of shared spaces, contractors need design materials that meet the moment. Metal column covers seamlessly blend design and function to create a design element that is as durable as it is aesthetic, offering an array of features that cater to contractors' needs for the individuality of each space. With a straightforward process from specification to installation, column covers offer contractors the ability to configure a solution which features the most desirable details within an environment, whether it be intricate design features for a commercial space's focal point, or a durable finish for high-traffic spaces that is as hard wearing as it is visually intriguing. No matter the project, metal column covers bring aesthetic versatility to structural elements and shine in commercial spaces.

Author
Ernie Ngo is the general manager at Móz Designs, a tenured employee of the metal manufacturer for 30 years. An architecture graduate from the University of California, Berkeley, Ngo has utilized his talents to inform the design and execution of architectural metal solutions for Móz projects across the country.
Endnotes:
[Image]: https://www.constructionspecifier.com/wp-content/uploads/2022/10/moz-desings_backlit-column-4.jpg
[Image]: https://www.constructionspecifier.com/wp-content/uploads/2022/10/moz-designs_georgia-aquarium-1.jpg
[Image]: https://www.constructionspecifier.com/wp-content/uploads/2022/10/moz-designs_backlit-column-1.jpg
[Image]: https://www.constructionspecifier.com/wp-content/uploads/2022/10/moz-designs_hanover-diridon-apartments-4.jpg
[Image]: https://www.constructionspecifier.com/wp-content/uploads/2022/10/moz-designs_choctaw-casino-1.jpg
[Image]: https://www.constructionspecifier.com/wp-content/uploads/2022/10/moz-designs_backlit-column-3.jpg
[Image]: https://www.constructionspecifier.com/wp-content/uploads/2022/10/moz-designs_engraved-column.jpg
Source URL: https://www.constructionspecifier.com/metal-column-solutions-structural-elements-with-versatility/
---