Metal melds the old with the new in Washington, D.C., market
December 24, 2019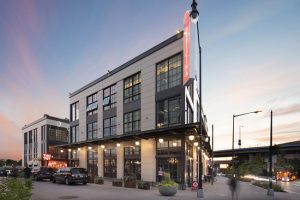 Washington, D.C. is known as a concrete town to many in the design world, but it is metal that is being used to make a statement at the historic Municipal Fish Market at the Wharf.
The Municipal Fish Market dates back to 1790 and is the oldest continuously operating fish market in the country. A challenge faced by StudioMB[2] in designing the market was incorporating new construction into a historic site, which had been significantly altered over time.
The Wharf is also home to a $25 million redevelopment project that includes six new buildings, all of which respond to a historic structure while balancing the character of the pier barges.
The design team used insulated metal panels (IMPs) to unify the metal barges with the remaining buildings and decided IMPs were the best option for five of the new buildings—a distillery and a bar, doughnut and coffee shops, two restaurant buildings, and an operations building.
Steel columns from one of the historic sheds were refurbished, and together with metal panels, define the architectural character of the new structures, connecting the old and new.
Performance was also an important factor in selecting materials for the Wharf. The owners are pursuing the Leadership in Energy and Environmental Design (LEED) Silver certification by taking a campus approach, which captures the economies of scale in the certification process. The campus approach allows an owner or developer to use the boundary of the entire site in pursuing a LEED certification.
The Municipal Fish Market utilizes more than 2323 m2 (25,000 sf) of IMPs, including a flat wall panel, and a universal barrier wall system. Some IMPs at the Fish Market are vinyl-wrapped, some have a granite finish, and some are painted with vendor murals to relate to the carnival-like neon signage of the barges.
Source URL: https://www.constructionspecifier.com/metal-melds-the-old-with-the-new-in-washington-d-c-market/
---