Mineral wool and the building exterior
by nithya_caleb | December 28, 2018 2:56 pm
by Karine Galla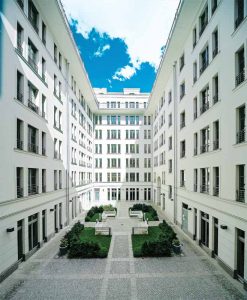 Building material manufacturers that have historically incorporated various insulations into their assemblies are beginning to include mineral wool as an option to provide continuous, exterior thermal performance.
According to industry lore, mineral wool was spawned by an accident of nature first observed in Hawaii in the 19th century, when molten volcanic lava was stirred by the wind into fluffy fibers the natives then used as blanketing for their huts. A method of manufacturing this natural mineral fiber was first patented in the United States in 1870 by John Player, whose process involved blowing a stream of air across a falling flow of liquid iron slag. In 1897, American engineer Charles Corydon Hall developed a technology to transform molten limestone into fibers, thus launching the 'rock wool' industry in America.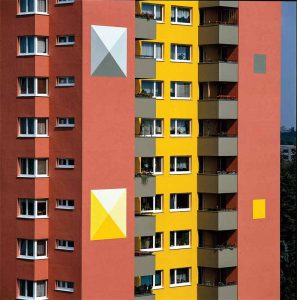 Today's mineral wool insulation is produced by cooking a molten mix of basalt or dolomite and slag derived from steel manufacturing in a furnace at a temperature of about 1426 C (2600 F). Through this mixture, a stream of air or steam is blown. More advanced production techniques involve whirling molten rock and a polymer binder using high-speed spinning heads (somewhat like the process used to produce cotton candy). The final product is a mass of fine, intertwined fibers with a diameter ranging from 2 to 6 µm (79 to 236 µin). It is composed of mostly inorganic material.
The individual fibers conduct heat very well, but when pressed into rolls and sheets, their ability to partition air makes them excellent insulators. The layered mat of fibers, which prevents the movement of air, provides a flexibility and versatility not found in most other insulations. Rock and slag wool can be produced in a wide variety of forms, shapes, and sizes, including board, batt, loose-fill, spray-applied, and pipe insulation for many common and specialized applications.
Mineral wool, for example, is widely used in industrial settings such as petroleum refineries and power plants to contain heat in pipes, tanks, and vessels. It is commonly employed for lofts, cavity walls, flat roofs, and heating systems. It also has been used as an insulation layer behind various claddings, especially curtain walls, spandrel panels, rainscreen façades, and now exterior insulation and finish systems (EIFS).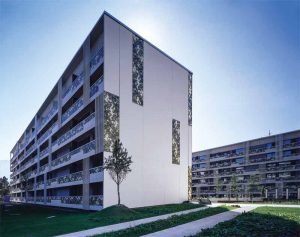 Attributes
The insulation's appeal to designers and specifiers is based on several key performance characteristics.
Thermal performance
Mineral wool provides a barrier for counteracting the natural tendency of heat to flow from warm to cold surfaces. This heat transfer can take three forms:
conduction;
convection; or
radiation.
Mineral wool insulation prevents convection by holding air static in the matrix of the wool. It also stops radiation (i.e. the migration of heat via electromagnetic waves) and limits the conduction of heat via adjacent molecules in the insulation material. As a result, the migration of heat is reduced.
The specific effectiveness of mineral wool in reducing heat transfer depends on structural properties such as density, thickness, composition, and fineness, as well as the mean temperature at which it is used. For exterior applications, the industry standard R-value for mineral wool is typically R-4.3 per inch and the thickness range of the board is 25 to 178 mm (1 to 7 in.). However, the precise requirements for a particular project depend on local variations in temperature, moisture, and humidity.
For example, one may choose a thin, high-density product to satisfy R-value requirements while reducing water absorption in hot, humid climates. On the other hand, one may opt for a thick, lower-density product to satisfy R-value requirements in a cold, dry climate where water absorption is less of a concern.
In terms of thermal performance, it is also important to know mineral wool is tested to ASTM C518, Standard Test Method for Steady-state Thermal Transmission Properties by Means of the Heat Flow Meter Apparatus, or ASTM C177, Standard Test Method for Steady-state Heat Flux Measurements and Thermal, post-manufacturing as part of the quality control (QC) process. Additionally, since mineral wool does not contain any blowing agents, it is not possible for air to diffuse into the material and replace agents that have already circulated out of it. In other words, it is a fibrous material, and its thermal conductivity will not deteriorate over time. Loose-fill rock and slag wool insulations resist settling, and batt products spring back after average compression, so installed thermal performance is maintained over the life of the product.
Fire resistance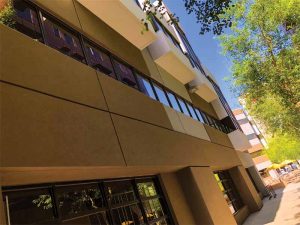 Since they are mostly inorganic, mineral wool insulations are naturally noncombustible, and will not burn or release harmful smoke and hot gases. The binder used within mineral wool is, however, organic and will thermally degrade around 260 C (500 F). At the same time, testing has shown binder release does not occur in high enough concentrations to be considered harmful. Per ASTM E119, Standard Test Methods for Fire Tests of Building Construction and Materials, the insulation can resist temperatures in excess of 1093 C (2000 F) for at least five hours, and because the products have a high melting point, they can be used in a wide variety of applications calling for these fire-resistive characteristics. Mineral wool insulations generally meet National Fire Protection Association (NFPA) 220, Standard on Types of Building Construction, and ASTM E136, Standard Test Method for Behavior of Materials in a Vertical Tube Furnace at 750 C. They are a Class A product tested per ASTM E84, Standard Test Method for Surface Burning Characteristics of Building Materials, and NFPA 101, Life Safety Code. Hence, mineral wool insulations are used as passive fire protection in many wall assemblies.
Since mineral wool is naturally fire-resistant and does not require a thermal barrier, it has been tested as a proven firestopping material in numerous perimeter fire containment designs through penetration, firestopping, and construction joints, including precast exterior wall structures and open-joint cladding systems such as rainscreen façades. There are many advantages to rainscreen systems in terms of aesthetics, durability, and ease of maintenance. However, the cavity wall integral to rainscreen systems also has the potential to act like a chimney that could allow the flames and smoke to move upward in the event of a fire. Mineral wool is typically used at floor lines as a fire break in such systems to eliminate this form of fire risk.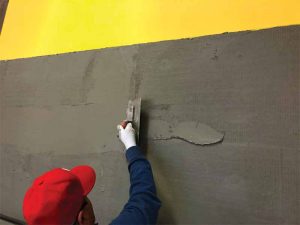 Permeability
Mineral wool is vapor permeable and has a permeance rating of up to 50, meaning water vapor can readily diffuse throughout the material. The insulation will not retain water, and stays intact even when wet. It is designed to handle condensation, driving rain, and any other moisture that may be introduced into the wall assembly, allowing it to drain and dry quickly and enabling the building to 'breathe.' This makes a difference in drained and ventilated wall systems in particular because they invariably allow some water to penetrate the cladding and come in contact with the insulation. Since the insulation is air/vapor permeable, it provides better control over humidity, condensation, and air quality.
Sustainability
Mineral wool products are typically made from more than 50 percent post-industrial recycled content and contribute to energy conservation and to the achievement of green building certifications. Slag wool earns additional kudos for sustainability because it is comprised of 70 percent or more recycled steel industry waste. Further, and similar to other insulation types used in exterior continuous insulation (ci) systems such as EIFS, mineral wool can help cut heating and cooling energy consumption and substantially reduce greenhouse gas (GHG) emissions over the life of the building.
Challenges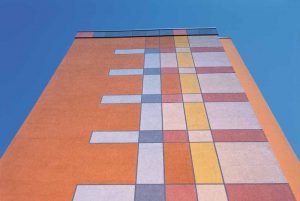 The collective virtues of mineral wool have influenced its increasing use in the exterior of the building, particularly when assessments of fire risk, noise intrusion, energy waste, and moisture control call for an all-in-one solution. ASTM C612-14, Standard Specification for Mineral Fiber Block and Board Thermal Insulation, classifies seven types, with two grades for Type V depending on whether they require a heat-up schedule. The classifications are based on the maximum ambient temperature, linear shrinkage, water vapor absorption, and specified surface burning characteristics of the installed insulation. Some mineral wool manufacturers have made great strides in refining and enhancing their range of products—for example, by compressing and crimping the wool for tensile strength and delivering batts to provide rigidity and consistent R-value. They also provide the opportunity to utilize a greater range of dark color options via the plaster finishes used in an EIFS assembly. Traditionally, EIFS has incorporated expanded or extruded polystyrene (EPS or XPS) as the insulating layer, and manufacturers of these boards have recommended a maximum sustained service temperature of no more than 75 C (167 F) because the board will begin to deform at high temperatures. Mineral wool EIFS, on the other hand, is capable of dark colors as heat absorption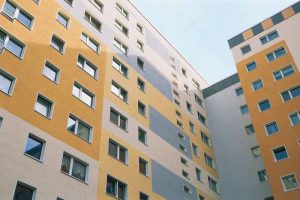 characteristics will not affect the insulation layer.
Still, applying mineral wool to the building exterior comes with some challenges. The standard practice for rainscreen façades is to attach the insulation with a combination of adhesive and rails. EIFS, on the other hand, uses a dowel fastening system in which a combination of washers and fasteners are face-mounted. These face-mounted fasteners can potentially 'read' through the finished wall surface if not mounted flush with the insulation board surface or, in extreme cases, if mounted on façades experiencing frequent wetting or condensing cycles.
Steps, therefore, need to be taken in the design and installation of any EIFS assembly to compensate for this. With 76-mm (3-in.) or thicker insulation, certain dowel systems can be countersunk, reducing effects of frequent wetting or condensing. A recent collaboration between wall system and mineral wool manufacturers has yielded a ci system with an integrated mineral wool component attached in a way designed to minimize thermal bridging. The dowel system holding the insulation in place is made from a material with extremely low thermal conductivity, and employs a plug or cap as a thermal break between the fasteners and the finished exterior wall surface. This results in reduced thermal transmission, thus preserving the superior insulating characteristics of the insulation itself.
Other considerations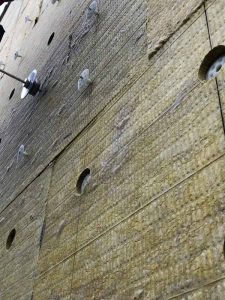 When contemplating the design of a wall assembly calling for mineral wool insulation, there are other factors to include in the equation.
Air and moisture control
Per ASTM C612-14, whatever cladding configuration is chosen, the system should include an effective air and moisture barrier, ideally with a secondary moisture protection plane. The dual function of the air and moisture barrier component prevents condensation caused by air leakage, protects the substrate from water damage, and prevents any migration of moisture to the interior.
Detailing solution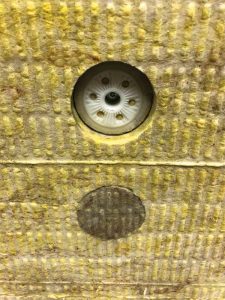 The mineral wool specified should include compatible products for detailing at joints, seams, and rough openings and for transitioning to other materials used in the wall's construction. Assuming the mineral wool edge is encased with a solid rigid material, such as a reinforced cementitious EIFS basecoat, a low modulus silicone joint sealant can serve as a transition material since it can accommodate movement without imposing high stress on the sealant-to-mineral wool interface. Tests such as ASTM E1382, Standard Test to Method for Determining Tensile Adhesion Properties of Sealants When Used in Exterior Insulation and Finish Systems (EIFS) Joints, should be conducted to verify compatibility of sealant and bond strength.
Wind load calculation
Since wind loads can determine the number of fasteners used, appropriate calculations should be made to determine the effects of wind pressure on the installed insulation.
Fastener longevity
Moisture cannot damage the hydrophobic insulation itself, but over time it can corrode non-protected fasteners. The fasteners chosen should either be stainless steel or come with a corrosion-resistant protective coating. Standards such as ASTM B117, Standard Practice for Operating Salt Spray (Fog) Apparatus, and Deutsches Institut für Normung (DIN) 50018, Sulfur Dioxide Corrosion Testing in a Saturated Atmosphere, may be used to evaluate the effectiveness of corrosion-resistant protective coatings.
Impact resistance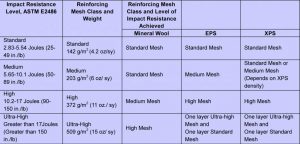 For EIFS, a heavy reinforcing mesh layer or other fortifying design enhancements are recommended for ground floors and other areas at risk from everyday impacts or abuse. The use of mineral wool in EIFS increases the impact resistance of this durable cladding when similar basecoat and mesh laminas are compared between mineral wool and traditional EIFS insulation layers. ASTM E2486, Standard Test Method for Impact Resistance of Class PB and PI Exterior Insulation and Finish Systems (EIFS), is customarily used to evaluate performance. Comparative results for mineral wool-, EPS-, and XPS-based systems are shown in Figure 1.
Adding enhanced fire protection to any façade system incorporating air, water, thermal, and vapor control layers makes mineral wool a logical value-add for exterior wall systems. Considering these additional benefits, it would make sense to investigate the integration of this highly capable insulation into the design of the façade.
Karine Galla is product manager for Sto Corp. She has more than 16 years of experience in product marketing regarding EIFS, stucco, air and moisture barriers, and other materials. Galla has a master's degree from the University of Lyon, France. She holds the Association of the Wall and Ceiling Industry's (AWCI's) EIFS Doing it Right and Building Envelope Doing it Right certifications, as well as the International Organization for Standardization (ISO) Internal Lead Auditor certification from Georgia Tech. She can be reached via e-mail at KGalla@StoCorp.com[11].
Endnotes:
[Image]: https://www.constructionspecifier.com/wp-content/uploads/2018/12/14632.jpg
[Image]: https://www.constructionspecifier.com/wp-content/uploads/2018/12/00641.jpg
[Image]: https://www.constructionspecifier.com/wp-content/uploads/2018/12/17455.jpg
[Image]: https://www.constructionspecifier.com/wp-content/uploads/2018/12/ASU-Project_Completed-1-1.jpg
[Image]: https://www.constructionspecifier.com/wp-content/uploads/2018/12/Mineral-Wool-with-Basecoat-2.jpg
[Image]: https://www.constructionspecifier.com/wp-content/uploads/2018/12/08579.jpg
[Image]: https://www.constructionspecifier.com/wp-content/uploads/2018/12/05378.jpg
[Image]: https://www.constructionspecifier.com/wp-content/uploads/2018/12/Mineral-Wool-with-Fastener-2.jpg
[Image]: https://www.constructionspecifier.com/wp-content/uploads/2018/12/Mineral-Wool-with-Fastener.jpg
[Image]: https://www.constructionspecifier.com/wp-content/uploads/2018/12/Figure-1-1.jpg
KGalla@StoCorp.com: mailto:KGalla@StoCorp.com
Source URL: https://www.constructionspecifier.com/mineral-wool-and-the-building-exterior/
---