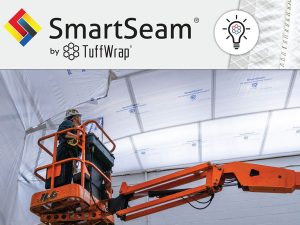 To be compliant with building and fire codes three things are needed: a recognized standard; impartial testing; and a periodic manufacturing plant audit to make sure the process and quality of the product is kept up to code (SmartSeam code specifications).
International Association of Plumbing and Mechanical Officials (IAPMO), the group behind Uniform Evaluation Services (ES), has been the premier code certification agency since 1926. Working with engineers at Uniform ES, TuffWrap® found the right acceptance criteria and conducted rigorous third-party testing to ensure SmartSeam® suspended cover met all the International Building Code (IBC) and International Fire Code (IFC) requirements.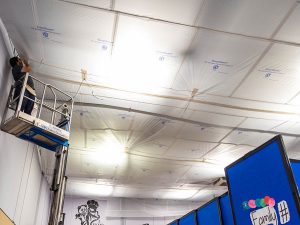 These tests included flame and smoke performance, stability, combustibility, and multiple installation types. They also made a manufacturing audit system and quality control procedure to ensure they remain up to these codes.
Many people like building officials, fire marshals, and contractors want to be sure the selected dust and debris barrier will not cause harm to people, products, or places. If they have questions, Uniform ES will have an answer for them when they need it now!
SmartSeam® is the only dust and debris barrier solution for installation beneath sprinkler systems that is compliant with code.
All information listed in this section was submitted by TuffWrap.
Kenilworth Media Inc. cannot assume responsibility for errors of relevance,
fact or omission. The publisher does not endorse any products featured in this article.