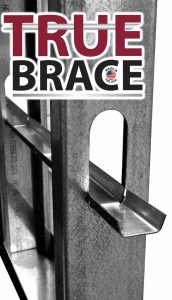 Telling Industries is an American owned and operated manufacturer of premium metal framing products and accessories. Telling is a leader in metal framing innovation and is actively developing leading-edge products to better serve the construction industry.
Available soon, True-Brace is used as mechanical bridging for studs. Typically, U-channel or CRC, is attached to studs via clips or a weld to eliminate stud rotation and bending under wind or axial loads. Around 30-mm (1 1/2  in.) True-Brace is passed through the stud knockout and snapped securely into place with Telling's patented technology saving valuable time and money.
True-Brace features an innovative, highly engineered design that securely locks the True-Brace into the stud slot hole without the need for clips or welding for most nonstructural applications.
Features
Its features are:
made of galvanized steel;
highly engineered for secure fit in stud knockout;
True-Brace locks into the stud without clips or welding; and
notches every 100 mm (4 in.) to accommodate 305, 406, and 610 mm (12, 16, and 24 in.) on center (o.c.) stud spacing.
Benefits
True-Brace offers many benefits including:
reduces installation time;
offers 10 percent savings on material and labor costs;
no clips or welding required; and
easy installation due to patented design.
Telling Industries offers innovative, responsive solutions for all your metal framing needs.
Contact
Call 866-372-6384 or e-mail sales.corp@tellingindustries.com.
All information listed in this section was submitted by Telling Industries.
Kenilworth Media Inc. cannot assume responsibility for errors of relevance,
fact or omission. The publisher does not endorse any products featured in this article.