New NFL stadium design offers modern take on iconic Buffalo venues
by arslan_ahmed | November 7, 2022 4:59 pm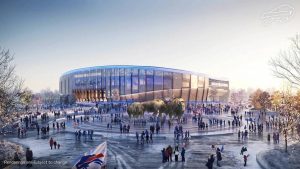 Architecture firm Populous' design for the Buffalo Bills' new NFL stadium in the team's home city reflects the monumentality of Buffalo's historic entertainment venues, with the use of modern materials and an awe-inspiring and personal building form.
The team of Buffalo Bills and Populous has selected the joint venture of Gilbane Building Company and Turner Construction Company to provide construction management of the project, while the firm Legends will offer project management services.
The exterior design highlights the team's desire for a visual identity reflecting some of the historical architecture of Buffalo, reminiscent in the grand scale of the iconic buildings of the city, and while also delivering a future-forward appearance. The initial interior design, which is subject to updates, features a stacked seating interior bowl to enhance crowd noise, as well as dynamic fan areas, including local food and beverage offerings, to foster fan culture.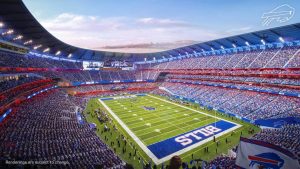 "The stadium will create a new place to foster the iconic culture of the Bills fan base, while creating an exciting vision for the future of the franchise and the community," said, lead architecture firm, Populous' senior principal Scott Radecic. "As we continue to work with the Bills, we look forward to creating an industry-changing stadium that reflects Buffalo's strong community and history."
"Our approach to the design takes its cues from historic architecture in Buffalo, such as 'The Rockpile,' 'The Aud,' and Kleinhans Music Hall, and merges their projection of strength with modern materials and a building form that is set to create an intimate and intimidating football-first environment," said Populous senior principal Jonathan Mallie. "We are thrilled with the progression of the design for the new stadium and all that lies ahead."
The stadium is set to open in fall 2026.
Endnotes:
[Image]: https://www.constructionspecifier.com/wp-content/uploads/2022/11/AA_BuffaloBillsStadium.jpg
[Image]: https://www.constructionspecifier.com/wp-content/uploads/2022/11/AA_BuffaloBillStadium_2.jpg
Source URL: https://www.constructionspecifier.com/new-nfl-stadium-design-offers-modern-take-on-iconic-buffalo-venues/
---