New Steven Holl-designed building opens at the Houston fine arts museum
November 23, 2020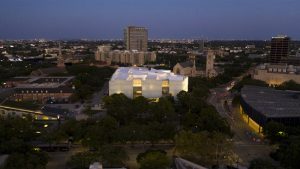 The Museum of Fine Arts, Houston[2], Texas, opened its Nancy and Rich Kinder Building to the public on November 21.
The Kinder Building is characterized by porosity, opening the ground floor at all elevations. Seven gardens slice the perimeter, marking points of entry and punctuating the elevations. The largest garden court marks a central entry point on the new Museum of Fine Arts, Houston campus. When standing in the new entrance lobby of the Kinder Building, one can see gardens and lush Houston vegetation in four directions.
The Texas sky opens 180-degree overhead above a luminous canopy covering the new building. Concave curves, imagined from cloud circles, push down on the roof geometry, allowing natural light to slip in with precise measure and quality, ideal for top-lit galleries. Organized horizontally on two levels, all galleries have natural light and are flexible with open flow. The undersides of the curved ceiling become light reflectors, catching and sliding the light across each distinct gallery experience. These curved slices of light shape the gallery spaces in a unique way related to the organic qualities of the vegetation and water that characterize the new campus. Rather than mechanical and repetitive, the light is flowing, echoing the movement through the galleries.
The open flow through galleries is punctuated by views into the seven gardens with green trellises offering shade from glare. The galleries are centered around an open forum. The central gallery atrium provides generous spaces for the exhibition of art and vertical circulation to the upper floors.
The 22,018-m2 (237,000-sf) Kinder Building adds a horizontal architecture in translucent glass to the museum's collection of stone (1924), steel and glass (1958, 1974), and stone (2000) buildings. Its innovative glass-tube façade has a soft, alabaster-like texture. The 762-mm (30-in.) tubes of glass open at the top and bottom, providing a "cold jacket" which reduces solar gain by 70 percent on the façades via the chimney effect of air circulation. At night, the glowing translucent façade is reflected in the water gardens.
The Kinder Building completes the master plan for the Museum of Fine Arts, Houston. Steven Holl Architects[3] led the multidisciplinary team for the expansion, shaping an integral experience with new landscapes and public plazas. In the center of Houston, the new master plan knits together adjacent historic elements, including a 1924 historic church, a Mies van der Rohe building, and an Isamu Noguchi sculpture garden.
Endnotes:
[Image]: https://www.constructionspecifier.com/wp-content/uploads/2020/11/Opener-24.jpg
Museum of Fine Arts, Houston: https://www.mfah.org/
Steven Holl Architects: https://www.stevenholl.com/
Source URL: https://www.constructionspecifier.com/new-steven-holl-designed-building-opens-at-the-houston-fine-arts-museum/
---