New suspended ceiling technologies
by brittney_cutler | December 29, 2021 11:38 am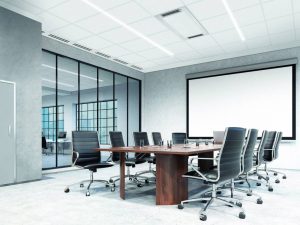 By Anne P. Jennings, PE
Although the risk of contracting COVID-19 has fallen, especially for the fully vaccinated, it has not disappeared entirely. The pandemic has spurred heightened awareness of how to stay healthy indoors, with many employees nervous about returning to their workplaces.
A critical part of re-entry is assuring employers are providing a safe, healthy environment with improved indoor air quality. To this end, employers need to take precautions and comply with guidelines to minimize exposure to not only COVID-19, but also the airborne transmission of other viruses and germs long present in indoor environments.
Science has learned much about the spread of viruses over the past year, and there are some clear evidence-based steps to be taken to protect workers. Since COVID-19 and other pathogens are spread via tiny airborne droplets, one such step is an upgrade to the ventilation and filtration systems before bringing workers back. It is important for employers to make decisions now to benefit the safety and health of workspaces into the future.
To combat the potential spread of viruses like COVID-19 and other airborne pathogens, safeguards need to be increased for the long-term to meet occupants' ongoing needs for indoor health and a sense of well-being.
Today's office environment
With a better understanding of today's workplace, the challenges facing a return are clear. Research from the World Health Organization (WHO) suggests heavily populated environments with poor or insufficient air flow raise infection rates[2]. The research also encourages good ventilation in all closed settings. It also notes outbreaks of COVID-19 in workplaces by aerosol transmission cannot be ruled out "where there are crowded and inadequately ventilated spaces where infected persons spend long periods of time with others."
Similarly, the U.S. Centers for Disease Control and Prevention (CDC) updated its "Guidance for Businesses and Employers Responding to Coronavirus Disease," suggesting employers seeking
to resume normal or phased business operations improve the building's ventilation system.
In addition to wearing masks, hand washing, and cleaning of surfaces, the CDC recommends "considering taking steps to improved ventilation" in buildings such as offices.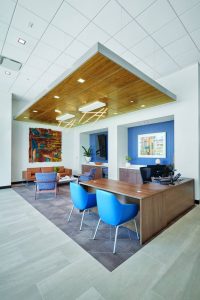 HVAC recommendations
In providing guidance on healthy workplace procedures for the return to offices, the CDC cites HVAC airflow recommendations from the American Society of Heating, Refrigerating and Air-Conditioning Engineers (ASHRAE). In its "Position Document on Infectious Aerosols," ASHRAE states while ventilation systems cannot address all aspects of infectious control, "changes to building operations, including the operation of heating, ventilating, and air-conditioning systems, can reduce airborne exposures."
The document lists several recommendations employers should consider to reduce occupant exposure to infectious aerosols. Among them are strategies to improve ventilation through dilution, airflow patterns, filtration, and pressurization.
Ceiling solutions
One solution to these issues is the installation of an upgraded HVAC system. A less costly, easier to install, and potentially more effective solution is utilizing suspended ceiling technologies in combination with improved filtration. Below are three ceiling solutions available today to provide a step in limiting the transmission of airborne pathogens.
Cleanability
Cleaning and disinfecting desks, keyboards, door handles, countertops, and other office surfaces is essential to providing a safe, healthy space. But what about ceilings, which can comprise 20 percent or more of total office surfaces?
While heavy contaminants may fall, aerosols can rise and cling to ceilings. Today, many smooth-textured acoustical ceiling panels can be cleaned and disinfected based on CDC recommendations by either wiping, spraying, or using a fogger to eliminate pathogens. Many are also bacteria, mold, and mildew resistant for extra protection.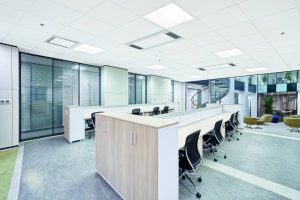 Structure and design
One of the added challenges facing a return to the office today is addressing the trend towards collaborative workspaces and larger, open-air industrial type settings with higher structural ceilings exposing duct and pipe work. This is possibly the least optimal environment to prevent transmission. The installation of a suspended ceiling allows for the easy configuration of permanent or modular individual offices, helping employees maintain social distance and lowering the potential spread of pathogens.
A metric used to measure the amount of air entering and exiting a room is air changes per hour (ACH). It is calculated based on the height of the structural ceiling in an open-air model. The incorporation of a suspended ceiling has the effect of reducing the ceiling height, and thus the volume of air needing to be exhausted. Installation of a suspended ceiling reduces room volume, effectively increasing ACH, and lowers the time it takes to clear a space of airborne contaminates.
Leakage control
Specially engineered suspended ceilings are a proven technology in patient rooms, clean rooms, and laboratories to help prevent the spread of contaminants. Today, acoustical suspended ceiling panels are available with a gasket in their design. When placed in a standard ceiling suspension system, the panels improve indoor air quality by forming a tight seal with the grid, to reduce airflow leakage through the ceiling plane and the potential spread of infectious particles into the plenum and other areas of the building.
Easily retrofitted into existing grids, these systems provide even more control over the volume of air in a room and have been proven to increase the effectiveness of in-ceiling air filtration by up to 40 percent. Increasing the effectiveness of HVAC systems is one of the keys to controlling the transmission of viruses such as COVID-19 and other airborne pathogens.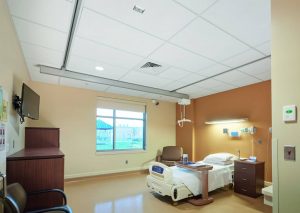 Some acoustical ceiling systems integrate an ultraviolet (UV) air purification system with their panels. The air panel purifier design uses UV light to deactivate pathogens. Test results show the system neutralizes 97 percent of infectious pathogens in aerosols during the first pass of air through the system. Each unit provides continuous air cleaning safely and directly from the ceiling plane through a shielded UV-C chamber. It also increases the number of air changes in the space.
Case study
The difference a gasketed ceiling tile system can make was recently demonstrated at
the Encompass Health Rehabilitation Hospital of Middletown, Delaware. The hospital is a provider of inpatient rehabilitation, contains 40 beds, and includes one patient room that functions as a negative pressure infection isolation room. The room is 5.79 x 5.79 m (19 x 19 ft) and conditioned using one constant volume supply box and one dedicated exhaust fan.
The room was designed to operate at a minimum differential pressure of -0.508 mm (-0.020 in.) w.c. (water column) in relation to the adjacent corridor. However, the exhaust fan for the space could not always achieve the required pressure, which caused nuisance alarms, and in some instances, a reversal of the room pressure when its doors opened. The actual exhaust air from the space was increased to the maximum extent possible for the exhaust fan.
Instead of replacing the exhaust fan to achieve the required room differential pressure and help eliminate the pressure variability, the facility replaced the existing ceiling panels with recently introduced gasketed ceiling panels. When placed in a standard ceiling suspension system, these panels form a tight seal and can reduce airflow leakage through the ceiling plane over four times more than panels without this newer feature.
Ceiling made a difference
Eastern Air Balance of Manheim, Pennsylvania, conducted tests before and after installation of the new panels. According to the company's president, Tim Roaten, the target was to maintain the minimum -0.508 mm w.c. under all conditions. By changing the ceiling panels in the hospital room, the pressure increased to 0.9347 mm w.c. (0.0368 in. w.c.), providing an 84 percent buffer above the design minimum. There were no measurable changes to the supply and exhaust airflow in the space. The only change was the replacement of the existing ceiling tiles.
The increase eliminated nuisance room pressure alarms and the need to replace the exhaust fan. It also brought the hospital room into compliance without any other costly upgrades to the HVAC system. In addition, replacement of the ceiling only took a day, so extended downtime for the room was eliminated. Labor costs involved in caulking ceiling panel edges, an action some facilities undertake to achieve desired pressure, were also eliminated.
"We knew the ceiling would make a difference but didn't know how much," states Roaten, "and it performed much better than we imagined, nearly doubling the pressure differential in the room. We simply weren't expecting that much of an increase."
Kevin McNeil, director of plant operations at the hospital, agrees with Roaten's assessment.
"It was a significant improvement," he says. "We are now able to maintain the required pressure throughout the day, which is especially important today because of the pandemic. If we need another room that requires negative pressure, I would recommend this system."
 Summary
As the nation's economy rebounds and workers return to all types of indoor commercial spaces, ensuring a safe and healthy environment is critical. The confidence of knowing systems and facilities have been implemented or upgraded to potentially reduce the transmission of COVID-19 or other viruses, bacteria, and germs is paramount to increasing a sense of occupant well-being before the return of many to their traditional spaces.
Suspended ceiling technologies can play an important role as stand-alone solutions or in conjunction with other products to reduce the spread of infectious aerosols and potentially help reduce the cost of other system upgrades. Employers should examine their facilities to determine whether suspended ceiling technologies could help prevent the spread of COVID-19 and other airborne pathogens.
Author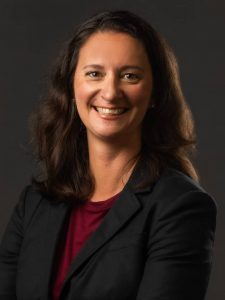 Anne P. Jennings, PE, is senior commercial segment manager of healthy spaces at Armstrong World Industries. She leads commercialization of innovative product solutions to create healthier spaces and improve indoor air quality in offices, schools, and healthcare environments. A graduate of Virginia Polytechnic Institute and State University, and a member
of ASHRAE, Jennings is skilled in specification writing, building automation, and energy management. She can be reached at apjennings@armstrongceilings.com[6].
Endnotes:
[Image]: https://www.constructionspecifier.com/wp-content/uploads/2021/12/Clg-Photo-1.jpg
rates: https://www.who.int/news-room/commentaries/detail/transmission-of-sars-cov-2-implications-for-infection-prevention-precautions.
[Image]: https://www.constructionspecifier.com/wp-content/uploads/2021/12/Clg-Photo-2.jpg
[Image]: https://www.constructionspecifier.com/wp-content/uploads/2021/12/Clg-Photo-4.jpg
[Image]: https://www.constructionspecifier.com/wp-content/uploads/2021/12/Clg-Photo-6.jpg
apjennings@armstrongceilings.com: mailto:apjennings@armstrongceilings.com
Source URL: https://www.constructionspecifier.com/new-suspended-ceiling-technologies/
---