NOMA announces 2020 Phil Freelon Professional Design Awards
by sadia_badhon | November 9, 2020 10:30 am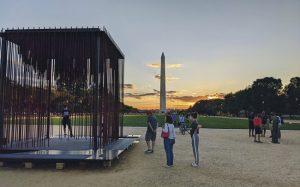 The National Organization of Minority Architects[2] (NOMA) announced the 2020 winners of the Phil Freelon Professional Design Awards at their first virtual conference.
"NOMA's awards ceremony is an annual highlight for NOMA members, when we step back, reflect, and take stock of accomplishments, from those beginning their architecture journey as students, to those completing licensure, and so many who are changing their communities through built work," said Kimberly Dowdell, NOMAC, AIA, NCARB, SEED, LEED AP, outgoing NOMA president. "With this being my last ceremony as president, the awards meant even more, acknowledging leadership, allied partners, and the NOMA family that has made the success of this unprecedented year possible."
The professional awards jurors included: Tonja Adair, AIA, NOMA, LEED AP, Splice Studios, Inc.; Nicole Hollant-Denis, AIA, NOMA, Aaris Design Studios, PLLC; and Edward Douglas Dunson, II, AIA, NOMA, NCARB architect/associate professor of architecture.
The Phil Freelon Professional Design Awards were presented to the following NOMA member firms.
Vision Category – Honor Award
Perkins & Will[3] for Resilient Planning at Multiple Scales, Puerto Rico.
Built Category – Honor Award
Moody Nolan[4] for the Columbus Metropolitan Library – Martin Luther King Branch, Columbus, Ohio.
Historic Preservation, Restoration & Renovation Category – Honor Award
Studio Figure[5] for Potters Craft Cider at Neve Hall, Charlottesville, Virginia.
Unbuilt Category – Honor Award
AECOM[6] Detroit for YMCA Flint, Flint, Michigan.
Small Projects Category – Honor Award
SmithGroup[7] for Society's Cage, Washington, D.C.
Endnotes:
[Image]: https://www.constructionspecifier.com/wp-content/uploads/2020/11/Opener-5.jpg
National Organization of Minority Architects: https://www.noma.net/
Perkins & Will: http://perkinswill.com/
Moody Nolan: http://www.moodynolan.com/
Studio Figure: https://www.studiofigure.com/
AECOM: https://aecom.com/
SmithGroup: https://www.smithgroup.com/
Source URL: https://www.constructionspecifier.com/noma-announces-2020-phil-freelon-professional-design-awards/
---