Notre Dame will be rebuilt just as it was
by sadia_badhon | July 13, 2020 1:17 pm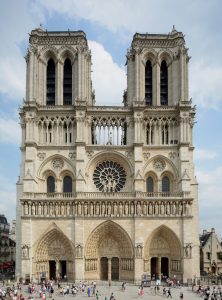 Paris' iconic Notre Dame Cathedral[2] will be rebuilt exactly as it was before the massive fire[3] destroyed much of the iconic structure last year.
The decision comes from French President Emmanuel Macron, the church's current architects, and the general in charge of the reconstruction project.
"No swimming pool or organic garden on the roof of the medieval Paris monument, or contemporary glass spire, or other modern twists. And to stay historically accurate, it will again be built with potentially toxic lead," Time[4] reports.
Macron approved the reconstruction plans for the historic landmark that were presented by the state agency overseeing the project last week. The new construction plans include recreating the 19th century spire designed by Eugene Viollet-le-Duc which had collapsed in the devastating fire, Time reports. The reconstruction plans also say the project will use original materials such as lead in order "to guarantee the authenticity, harmony, and coherence of this masterpiece of Gothic art."
Although, the landmark's restorations had stopped due to the COVID-19 pandemic, French officials are still hoping for a 2024 reopening[5] in time for the summer Olympics.
Endnotes:
[Image]: https://www.constructionspecifier.com/wp-content/uploads/2019/04/Opener-14.jpg
Notre Dame Cathedral: http://www.notredamedeparis.fr/en/
massive fire: https://www.constructioncanada.net/notre-dame-what-was-being-restored-before-the-fire/
Time: https://time.com/
2024 reopening: https://www.constructionspecifier.com/officials-say-notre-dame-will-reopen-in-2024-despite-covid-19-delays/
Source URL: https://www.constructionspecifier.com/notre-dame-will-be-rebuilt-just-as-it-was/
---