Officials say Notre Dame will reopen in 2024 despite COVID-19 delays
by sadia_badhon | April 20, 2020 2:29 pm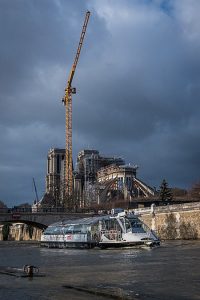 April 15 marked the one-year anniversary of the massive fire[2] that destroyed much of Paris' iconic Notre Dame Cathedral[3], considered one of the world's greatest architectural treasures. The fire broke out on the cathedral's roof and quickly consumed the more than 850-year-old building. Presently, the landmark's restorations have stopped due to the COVID-19 pandemic. However, French officials are still hoping for a 2024 reopening date.
"Notre Dame Cathedral stands crippled and isolated, locked in a dangerous web of warped metal scaffolding one year after a devastating fire gutted its interior, toppled its famous spire, and horrified the world," reports the Associated Press[4].
The cathedral's 13-ton bell in the south tower, Emmanuel, rang at 8 p.m. on April 15, approximately the same time as when the cathedral's iconic tower toppled a year earlier. "A man wearing a mask and white protective clothing pulled a rope attached to its enormous clapper," noted the Associated Press. "The sounding of the bell joined the nightly applause from balconies to honor overstretched health workers."
Although the landmark's restoration work was stopped due to France's coronavirus lockdown that started March 17, officials are confident Notre Dame will open its doors by 2024, just ahead of the summer Olympics as promised by French President Emmanuel Macron, the Architects Newspaper[5] reports.
Endnotes:
[Image]: https://www.constructionspecifier.com/wp-content/uploads/2020/04/Opener-17.jpg
massive fire: https://www.constructioncanada.net/notre-dame-what-was-being-restored-before-the-fire/
Notre Dame Cathedral: http://www.notredamedeparis.fr/en/
Associated Press: https://apnews.com/
Architects Newspaper: https://archpaper.com/
Source URL: https://www.constructionspecifier.com/officials-say-notre-dame-will-reopen-in-2024-despite-covid-19-delays/
---