Oklahoma arts center offers a creative commons for the community
by sadia_badhon | August 2, 2019 11:10 am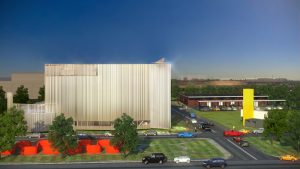 The Oklahoma Contemporary Arts Center[2] in Oklahoma City is relocating to a new building designed by Rand Elliott Architects[3]. The new campus seeks to create a place for the community to gather, create, and experience art.
The new arts education, exhibition, and performance center sits on a 1.9-ha (4.6 acre) land in the city's downtown. The main four-story building is named Folding Light because of the way the aluminum metal exterior is designed to reflect Oklahoma's ever-changing sunlight and sky. The 5009-m2 (53,915-sf) facility will create 743 m2 (8000 sf) of gallery space and nine classrooms.
The Studios, a remodeled 929-m2 (10,000-sf) historic warehouse will be located adjacent to Folding Light. It will include ceramics studios, a fiber arts classroom, and two sculpture studios, as well as an outdoor studio and garden.
The campus is planned to open in January 2020.
Endnotes:
[Image]: https://www.constructionspecifier.com/wp-content/uploads/2019/08/Opener-3.jpg
Oklahoma Contemporary Arts Center: https://oklahomacontemporary.org/
Rand Elliott Architects: http://www.e-a-a.com/
Source URL: https://www.constructionspecifier.com/oklahoma-arts-center-offers-a-creative-commons-for-the-community/
---