Planning for effective daylighting
March 2, 2015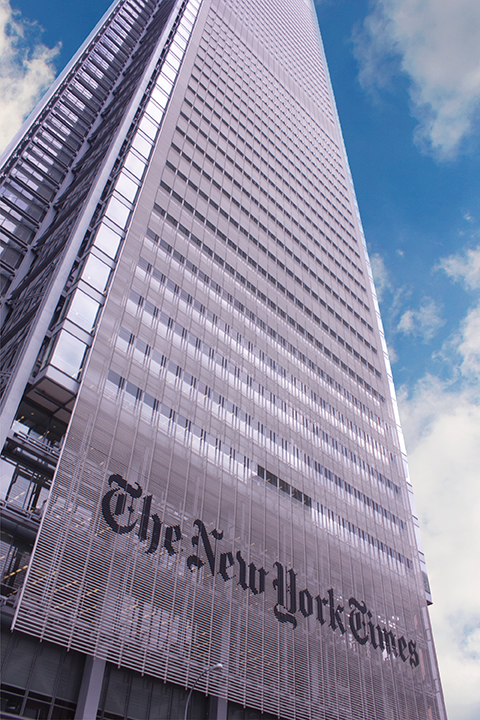 by William L. Maiman
Building owners, architects, lighting designers, and engineers must work together so a project's design can be maximized to bring in as much light without causing excessive glare or heat gain. While skylights work for a building's top floor, most of the daylight in commercial building comes through windows.
Architectural lighting design consultant Matthew Tanteri, principal of Tanteri + Associates (Austin, Texas), explained a climate analysis is conducted using typical meteorological data when creating a design.
"Two primary parameters we look at are global horizontal illumination and cloud cover," he said. "That gives us an understanding of the predominant sky condition, whether it is clear, overcast, or partly cloudy."
Once that information is available patterns of the key conditions over the day and the year is observed. This provides an understanding of the frequency and intensity of illumination values for the area. Solar angles are also studied and these directly relate to the site's latitude and the orientation of the building surfaces.
A property's location is also factored into the equation. Design teams should look at what is nearby the building—including obstructions such as other buildings or trees—as well as the structure's surrounding atmosphere.
"The surroundings can obstruct the solar path, but it is also a source of reflected light—a valuable resource, especially in dense, urban settings," Tanteri explained. "Putting location and climate information together determines what daylight is available to the site."
Daylighting analysis
If a building is already standing, how the sun and shadow plays on it will be analyzed to see if the fenestration is adequately shaded. The geospatial position of all façades will be analyzed for the desired solar penetration and to select proper shading to match existing glazing and the building's orientation, especially to the east/west orientation. The goal is to maximize the building's day-lit floor area from a half-hour after sunrise to a half-hour before sunset. The goal is to turn electric lights off as much as possible, while providing occupants with a view of the outdoor scenery, and meet and maintain expectations of visual and thermal comfort. Therefore, a key goal is also to keep shades up as often as possible, while still allowing for mitigation of glare and solar radiation.
Some systems work with predictive modeling and different sensors, including radiometers. The radiometers measure Btus and are then used in the building's immediate area to determine the clear sky or cloudy conditions requiring shades to be lowered to predetermined positions to intercept direct solar radiation or to manage excessive glare. An algorithm is used that interprets the American Society of Heating, Refrigerating, and Air-conditioning Engineers (ASHRAE) clear-sky model based on predetermined analysis of the building, it ensures the shades move to minimize solar radiation and improve occupant comfort.
From a daylighting designer's perspective, of first order are the building's siting, massing, fenestration, and orientation. Glazing selection, interior finishes, and the whole physical nature of the interior (including furnishings and the room geometry) are the next part of the equation. Following this, the lighting control system (i.e. sensors, controllers, control gear, and the intelligence linking them) must come together. Lastly, the system needs to be commissioned and verified by a third party and maintained on a periodic basis. Compliance with building codes and local laws also must be taken into consideration.
"As envelope components, windows have traditionally been prescribed energy performance parameters akin to a wall, with the most important factor being a low U-value," Tanteri said.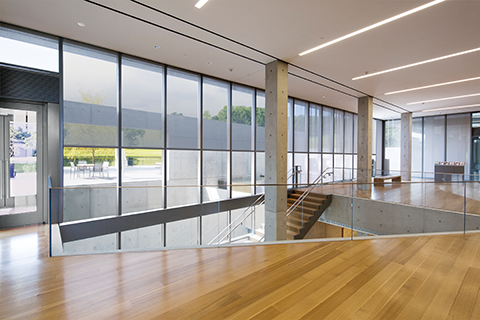 "On the light-delivery side, a window's solar heat gain coefficient (SHGC) trumps visual light transmittance (VLT), giving daylight a back seat. This conservative approach may have reduced energy exchange through the building envelope, but failed to address other critical functions of the window, namely daylight and view and all their non-energetic benefits (i.e. improved health, learning, or productivity)."
The design team and engineers associated with the building need to determine the criteria for installation of an automated shading system. Questions to consider include: Is the goal to minimize solar radiation or to maximize daylight integration? Is the entire building using automated shading or only a subtenant space?
Certainly, if the building is wired to provide sub-metering or demand-response on their power consumption, an automated shading system that reduces solar heat is desirable, as less HVAC will be needed.
While commercial office buildings of any size will gain from automated shading systems, managing glare and minimizing solar heat gain will have more impact in areas with bright sky conditions and strong sunlight. Building occupancy rates, hours of use, local utility energy rates, and Leadership in Energy and Environmental Design (LEED) certification, are some factors that must be considered when determining the return on investment (ROI) for a particular system.
Improving codes and evolving metrics
Spatial daylight autonomy (sDA) can help achieve maximum daylighted floor area. The building and climate data is combined, and a simulation is conducted. If 55 percent of the building hits the target daylight level, it is sufficient—however, the target preferred by designers is 75 percent. Then, a co-metric called annual solar exposure (ASE) is conducted that intends to determine whether illuminance levels are high enough that shading will be needed, or low enough they will be considered acceptable.
"If too high, we redesign and re-run both metrics to achieve the best balance between shading and daylight," explained Tanteri. "It is a means to optimize performance."
"Trying to combine a glare-controlled environment with flexibility is what most clients want," said George Loisos, LEED AP, and principal of Loisos + Ubbelohde (Alameda, California).
Controlling light through the window is the ultimate challenge; in addition to integrating electric lighting with daylighting as day time transitions to night time. How do these elements work together? Implementing a proper control system is the key to how electrical lighting responds to daylight.
In the U.S. Green Building Council's (USGBC's) LEED program, view is considered nearly as much as daylight. Therefore, to take advantage of both, lighting designers may use a simple approach often referred to as a 'dual-function' window. The top of the window is for daylight and the bottom of the window—up to about 2.1 m (7 ft)—is for view. Considering shading from the outset is critical to both daylight and view function. Generally, it is difficult to create a shade-free environment without numerous design elements.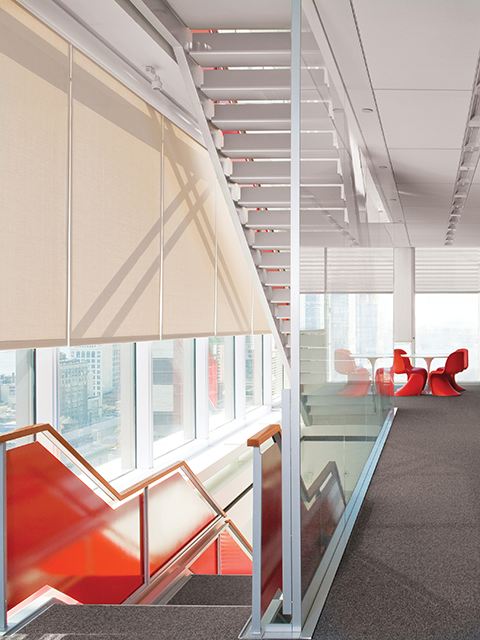 Additionally, there are code aspects. Certainly, energy and building codes have great influence
on the design process and the authority having jurisdiction (AHJ) will be scrutinizing plans for adherence to the regulations. In addition to LEED, many regulations will be relevant, such as:
energy performance simulation tools;
ASHRAE 90.1, Energy Standard for Buildings Except Low-rise Residential Buildings; and
ASHRAE 189.1, Standard for the Design of High-performance Green Buildings Except Low-rise Residential Buildings.
"There may be either performative (a space that can handle glare) or architectural parts of the building, such as a brise soleil, that can do some of the work," explained Loisos. "The main issue is static solutions usually cost a lot in both space and money and use up a lot of light."
If the responsibility of raising and lowering the shades is left to the occupant closest to the window, the concept of daylighting simply cannot work. The occupant will be bothered by the sun's glare or warmth, and will potentially pull the shade down. This ultimately defeats the whole design.
"Our experience has demonstrated manual shade control is a terrible way to control light as the failure mode is shades down, which will control glare, but not raising the shades means one loses a lot of light," Loisos said. "But, it does not become a problem if someone is willing to automate them."
With an automated shading system—such as the one installed in the New York Times Headquarters in 2007—up to 70 percent of lighting costs can be saved. The system adjusts to various shade positions on the window, which are correlated to the sun's position in the sky, and the building location, orientation, and geometry.
When the sun is bright, the shades are lowered to increase occupant comfort. But, when the windows are in shadow, the shades are raised to maximize both daylight and view.
The system calculates the sun's angle on each window in every zone. The program adjusts the shade bands to one of the specified positions on the window to manage the distance direct sunlight can enter a space, and the Btu load on the glass.
Meanwhile, three roof-mounted radiometers monitor the sky conditions in real time. The system uses proprietary algorithms, which translate raw solar-sensor data to determine whether the sky is clear or cloudy. When clear, the shade band positions are adjusted according to the sun's angle in the sky; on a cloudy day, the shades are raised.
These systems also reduce solar heat gain, which decreases the building's air conditioning needs. Additionally, the system alleviates brightness and glare, which provides a more comfortable environment, especially for those using computer screens.
"The New York Times building is a project that I'm glad happened, because it brought a lot of attention and a lot of information filtered through the lighting community," Tanteri stated. "Many white papers, articles and presentations followed that conveyed a lot of real experience with daylighting. It received this massive amount of exposure, generated dialogue, and brought attention to the concepts involved."
Fabrics are also a critical aspect of the design process. Since openness and reflectance are the two most important properties for view and shading.
"As a rule a rule of thumb, you want the higher reflectance (i.e. lighter) on the outside to reflect heat and the lower reflectance (i.e. darker) facing in to promote view," Tanteri explained. "Then, you want an openness factor that provides the desired view, but at the same time is capable of minimizing the brightness of the sun if it was in view. There is no ideal fabric."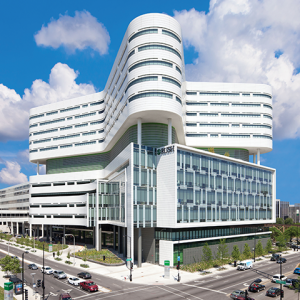 Case studies
An example of unique architectural design and daylighting is the Cleveland Clinic Lou Ruvo Center for Brain Health in Las Vegas. This medical center is dedicated solely to the pursuit of more effective treatments for brain diseases and to the provision of state-of-the-art care for patients affected by these diseases and their families.
Designed by Los Angeles-based Gehry Partners the building is dominated by exterior walls that appear bent, twisted, and unsettled—it was a challenge for the design team.
"Not only does the project showcase the ability of a shading system to accommodate unconventional architecture composed of curved surfaces and irregular apertures, but the shading system also dynamically adjusts the position of shades (open, closed, or halfway) in response to a preset allowable solar heat load—an appropriate responsive solution for a hot, dry desert climate," said Tanteri.
Roller shades were used to cover more than 200 windows in the building with some developed especially to cover the sideways traveling windows.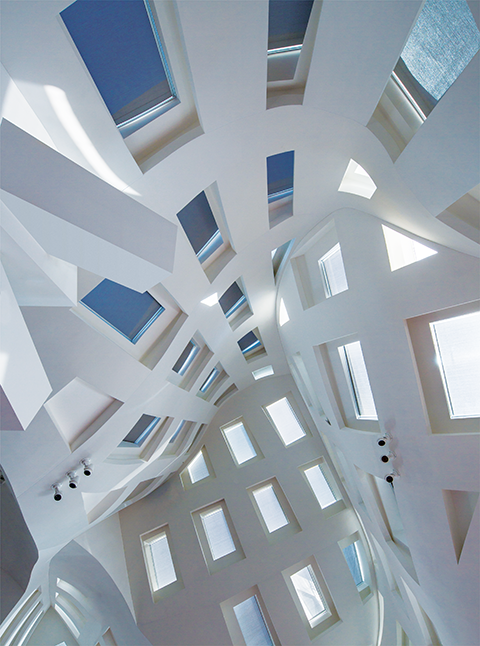 The new 195,096-m2 (2.1-million sf) Parkland Hospital in Dallas, Texas plans to open in the spring of 2015 and makes use of motorized and manual shades. The automated systems are used in public spaces of the hospital while manual solar and blackout shades are in each of the 865 patient rooms. The hospital features a glass façade and uses automatic lowering and raising shades for solar, thermal, and heat gain control.
The motorized shades are prevalent in all public spaces of the hospital such as the cafeteria, waiting rooms, and lobby. The $1.3-billion project was designed by Omaha, Nebraska-based HDR Inc., and Dallas' Corgan Associates.
Meanwhile, the University of Texas Southwest Medical Center, part of the Parkland Hospital complex, features a motorized system that can be controlled by patients.
An alternative shading system is one that completely covers windows to block out the sun. This system, which incorporates side channels to capture the zippered edges of a shadecloth, is generally used for tall, narrow windows and operates close to the window to prevent pressure and heat buildup.
The design allows the shade band to resist being pushed or pulled out of place by air pressure, and eliminates light leaks between the shadecloth and the channels for superior room-darkening needs.
Healthcare facilities typically use these shading types for neurological patients or those with migraine headaches.
Conclusion
Moving forward, designers and lighting experts are hoping for an increased understanding of how to balance glare and view using various multi-parameter window metrics,
said Tanteri.
"Closer on the horizon, as energy codes push construction toward greater levels of energy management, I see increasing acceptance towards the use of automated shades as means to reduce window solar heat gain coefficient to an acceptable value," he explained. "In this effort, the modeling of complex fenestration systems will become more commonplace and accurate in terms of predicting both light and energy performance."
William L. Maiman is marketing manager at MechoSystems, (Long Island City, New York), working to inform the architectural, lighting, and interior design communities of daylighting benefits. He has spoken at the American Institute of Architects (AIA) convention and is a National Electrical Manufacturer's Association (NEMA) Daylight Management Committee Council member. Maiman has also taught Lighting Design at the Fashion Institute of Technology (FIT). He can be contacted by e-mail at william.maiman@mechosystems.com.
Endnotes:
[Image]: http://www.constructionspecifier.com/wp-content/uploads/2015/03/NYTimes_2.png
[Image]: http://www.constructionspecifier.com/wp-content/uploads/2015/03/Clark_1.png
[Image]: http://www.constructionspecifier.com/wp-content/uploads/2015/03/NYTimes_1.png
[Image]: http://www.constructionspecifier.com/wp-content/uploads/2015/03/Rush-University-Medical-Center.png
[Image]: http://www.constructionspecifier.com/wp-content/uploads/2015/03/LouR.png
Source URL: https://www.constructionspecifier.com/planning-for-effective-daylighting/
---