Polyiso: more than just continuous insulation
by arslan_ahmed | September 12, 2022 4:02 pm
By Jen Frey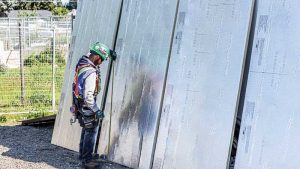 Preventing moisture intrusion in buildings is not a new challenge for owners, architects, specifiers and contractors, and manufacturers have developed many product solutions to meet this need. However, as the industry has advanced, so have changes to codes and materials, which have allowed innovative approaches to delivering some of the highest performing building envelope solutions, including water-resistive barriers (WRBs) and polyiso (polyisocyanurate or PIR, thermoset plastic foam) continuous rigid thermal wall insulation.
Foam insulation board, such as polyisocyanurate (polyiso), can perform both functions when properly installed as an exterior continuous wall insulation. Polyiso is a rigid insulation board consisting of a closed-cell, thermoset foam core sandwiched between two durable facers. Its versatility, superior thermal performance, and moisture resistance make it widely used in residential and commercial construction markets for both roof and wall applications. When installed on the exterior of the base wall, its multifunctional performance helps mitigate thermal bridging while providing an effective drainage plane that can reduce complexity in wall designs.
The proper specification of WRBs and polyiso can help offset the necessity for building managers to have to control water and moisture permeation within wall assemblies due to hurricanes and heavy rainstorms, slow leaks, precipitation, and condensation which can cause extensive damage, aesthetic impacts, poor indoor air quality (IAQ) and mold growth, that are proven to have harmful effects on the health and well-being of building occupants. In fact, according to the environmental consulting firm, OCCU-TEC, at least 45 million buildings in the U.S. have unhealthy levels of mold[2], and, many building lawsuits are related
to the building envelope[3]. Intrusion of water into buildings can happen slowly and can remain unseen for a long time.  Michael T. Kubal, who
has served as chief operating officer of A. J. Jones Construction Company, one of the largest construction firms in the U.S., noted in his Construction Waterproofing Handbook[4]: "As much as 90 percent of all water intrusion problems occur within one percent of the total building or structure exterior surface area."3
Building barriers: A look at WRBs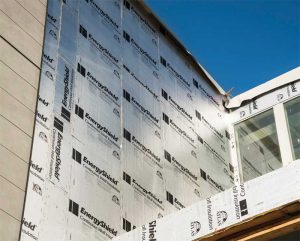 WRBs are critical components of exterior building envelopes and both the International Building Code (IBC) and International Residential Code (IRC) have required WRBs in most wall assemblies for decades to help prevent water from penetrating into the building's interior. Both the IBC and IRC define WRBs as not fewer than one layer of No. 15 asphalt felt complying with ASTM D226 (Standard Specification for Asphalt-Saturated Organic Felt Used in Roofing and Waterproofing) for Type 1 felt or other approved materials providing a continuous layer of protection behind the exterior veneer.
There are many WRB technologies available; however, not all are equal in performance and overall value. These materials—including plastic housewraps, liquid-applied barriers, certain types of sheathing, and rigid foam insulation—can serve as code-compliant substitutions for No. 15 asphalt felt. All have proven performance levels exceeding code required minimums in ASTM D226. Each offers unique features and benefits to the wall assembly as well as the architect and installer.
Choosing smarter building materials
While there are many WRB systems to choose from, most only fulfill a single job—resisting bulk water within the wall assembly. However, choosing a product which can provide added functionality can help simplify the wall assembly without sacrificing performance. These products can also help reduce installation time, as well as material and labor costs.
Polyiso continuous wall insulation is a perfect solution when expecting more from a single product. The thermally efficient rigid insulation boards consist of uniform closed cells created from a low impact chemical reaction of polymers and gas that is tightly pressed between two strong facers. The hydrophobic core resists moisture and air penetration achieving the highest insulation levels in a thin profile. Durable and chemical resistant surface options, foil, or coated glass facers, further enhance its thermal and moisture resistance.
The primary function of polyiso is thermal performance and provides one of the highest R-values on the market—up to R 6.5 in a 25.4 mm (1-in.) thick board. Its superior resistance to heat flow helps keep the wall assembly dry by maintaining the temperature above the dew point and mitigating condensation buildup inside the wall. Additionally, the higher R-value helps reduce strain on climate control mechanicals by keeping the conditioned air on the inside of a building, instead of allowing it to leak to the outside, thus providing long-term energy savings and occupant comfort year-round.
Polyiso is highly resistant to water as rigorous immersion tests have shown less than one percent water absorption per ASTM C209 (Standard Test Methods for Cellulosic Fiber Insulating Board). Its impervious closed-cell foam structure makes it an ideal choice as a moisture control layer in addition to its thermal benefit. When contractors properly install and seal polyiso insulation board with a compatible joint treatment product, polyiso is an approved and code-compliant WRB, showing resistance to water penetration as an installed system per International Code Council Evaluation Service (ICC-ES) AC71(Foam Plastic Sheathing Panels Used as Weather-resistive Barriers). In working as both a WRB and continuous insulation (ci), polyiso effectively eliminates the need for a separate moisture control layer, which saves time and money. By decreasing the number of products on a project, architects and contractors can reduce complexities and the chance for failures while improving overall performance and value.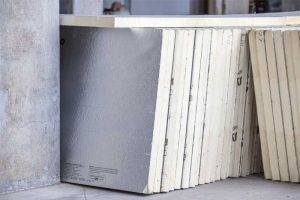 Testing to a higher standard
Building codes may require third-party materials' testing for consideration for use in wall applications. They recognize various WRB materials but not all are subject to such testing nor perform equally. For example, codes do not require materials like No. 15 felt and polymeric building wraps to undergo wall assembly water-resistance testing, such as in ASTM E331-Standard Test Method for Water Penetration of Exterior Windows, Skylights, Doors, and Curtain Walls by Uniform Static Air Pressure Difference, to understand and effectively compare actual installed performance. To demonstrate code compliance as a WRB system, manufacturers subject polyiso continuous wall insulation and respective joint treatments to the most stringent wall assembly water-resistance test requirements, while other WRB sheet materials only evaluate material water resistance without consideration for minimally lapped or unsealed seams.
The testing criteria for polyiso continuous wall insulation in ICC-ES AC71 for WRB system qualification includes testing as per ASTM E331, which exposes the installed assembly to a deluge of water under significant pressure differential. This is just one specific test standard called out as part of AC71 compliance for foam sheathing products. When using this test method for comparison, polyiso WRB systems withstand water leakage eight times longer than other WRB materials at more than double the pressure differential associated with wind-driven rain (Table 1, page 54).
The required testing for WRB materials also includes American Association of Textile Chemists and Colorists (AATCC) TM 127-Test Method for Water Resistance Hydrostatic Pressure, which imposes 548.6 mm (21.6 in.) of hydrostatic head pressure for five hours without exhibiting water leakage. Unlike housewraps, the test for a polyiso WRB system is conducted on top of a sealed, weathered joint which is a typical installation detail of primary concern. Other WRB materials are tested as a material-only sample without any code required consideration of installed laps or penetrations.
Providing exceptional resistance to water, polyiso offers multi-functional capabilities improving jobsite efficiencies, building performance, and long-term peace of mind.
Using Polyiso as a multi-functional solution
For many, the id0ea of eliminating a second layer of protection may be daunting. However, the use of polyiso insulation as a WRB is not a new practice. When NoHo West, a mixed-use community in North Hollywood, California, was undergoing revitalization construction in 2019, the building owner and architect decided to design and remodel the new development to comply with the 2020 California building code, which requires ci in new structures. The project design and budget required value engineering to reduce costs and improve the construction schedule.
Table 1: Assessment of Water-resistive Barriers (WRB) Water Penetration Test Criteria per ASTM E331
| | |
| --- | --- |
| WRB Material | Test Condition |
| No. 15 Felt, lapped seams | 13.7 kg/m2 (2.8 psf), 15 minutes |
| Polymeric housewrap, lapped seams | 13.7 kg/m2 (2.8 psf), 15 minutes |
| Polyiso foam sheathing, sealed joints | 30.4 kg/m2 (6.24 psf), 2 hours |
To reduce the project's overall carbon footprint, per the new code requirements, and still meet deadlines and budget constraints, the design and construction team considered alternative options for the wall assembly. The original design included a WRB membrane over the continuous wall insulation. However, when the exterior wall system subcontractor suggested using an exterior polyiso ci as the WRB, it eliminated the sheet applied WRB in favor of sealing the board joints of the polyiso boards. A third-party testing company's jobsite inspection confirmed that the use of polyiso as the WRB was acceptable and met all requirements.
In choosing a solution capable of serving as both ci and a WRB, the team effectively reduced material and labor costs while shortening the construction timeline. This multi-functional solution also helped to reduce the project's environmental impact by using fewer construction materials and creating less waste, and, by increasing the overall energy efficiency of the completed building, it helped to meet the project goal for building code compliance.
Achieving high-performance protection, efficiencies, and peace of mind
As budgets tighten and construction timelines shorten, building materials can help address these challenges effectively by being adaptable to project needs. In addition to being a practical and effective WRB, polyiso continuous wall insulation provides superior thermal resistance to help ensure long-term energy efficiency within the building envelope.
Long-term protection and safety are a priority for any project. Unlike other foam plastic insulations, polyiso is a thermoset material which chars in place if subjected to open flame, which helps to reduce the rate and severity of fire growth. Several manufacturers offer polyiso insulation products that the National Fire Protection Association (NFPA) has approved in many of its compliant wall assembly solutions in NFPA 285-Standard Fire Test Method for Evaluation of Fire Propagation Characteristics of Exterior Wall Assemblies Containing Combustible Components. This offers building professionals flexibility and certainty when designing fire-resistant structures.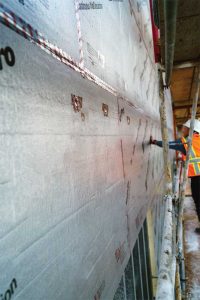 Not only does polyiso help the efficiency of a building's overall energy consumption, but it is also environmentally friendly in the production process. It was one of the first rigid foam insulations to be formulated using a blowing
agent without chlorofluorocarbons (CFCs), hydrochlorofluorocarbons (HCFCs), or hydrofluorocarbons (HFCs), and is manufactured with zero ozone depletion potential (ODP) and negligible global warming potential (GWP). Additionally, industry-leading polyiso manufacturers offer products with Underwriters Laboratories (UL) Greenguard Gold certification, which verifies those products meet or exceed the highest state and federal restrictions on volatile organic compound (VOC) emissions.
It is essential for architects and construction specifiers to review relevant codes and standards which apply to a project before selecting materials, including insulation and WRBs. As a high-performing, multi-functional product, polyiso continuous wall insulation can positively affect the overall function of any building, offering building owners and occupants greater comfort and peace of mind.
Author

Jen Frey is the senior product manager for Atlas Roofing Corporation's polyiso roof and wall insulation division. She has more than 15 years' experience in the building materials industry, representing brand leaders in high growth product categories, including roofing and building envelope. Frey has successfully launched innovative product solutions meeting customer needs and has been co-named in six patents.
Endnotes:
[Image]: https://www.constructionspecifier.com/wp-content/uploads/2022/09/Preparing-Atlas-EnergyShield-Polyiso-Insulation.jpg
mold: https://www.occutec.com/blog/2015/08/toxic-mold-moldy-the-movie
building envelope: https://technicalassurance.com/building-envelope-water-moisture-management/
Construction Waterproofing Handbook: https://technicalassurance.com/building-envelope-water-moisture-management/
[Image]: https://www.constructionspecifier.com/wp-content/uploads/2022/09/Atlas-EnergyShield-Continuous-Wall-Insulationjpg.jpg
[Image]: https://www.constructionspecifier.com/wp-content/uploads/2022/09/Atlas-EnergyShield.jpg
[Image]: https://www.constructionspecifier.com/wp-content/uploads/2022/09/Polyiso-Insulation.jpg
Source URL: https://www.constructionspecifier.com/polyiso-more-than-just-continuous-insulation/
---