Populous and C.T. Hsu to design $38M Florida convention center expansion
January 6, 2020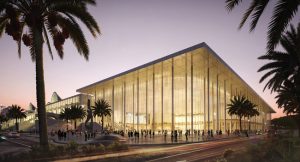 The Orange County Board of County Commissioners (BCC), Florida, has approved the architectural and engineering design services contract with Populous[2] and C.T. Hsu + Associates[3], a joint venture, for the Orange County Convention Center's (OCCC's) $38-million north-south building expansion.
In July 2018, BCC approved a $605 million capital improvement project for two proposed campus master plan projects—grand concourse and the multipurpose venue. The two projects will bring total exhibit space at the OCCC to 213,677 m2 (2.3 million sf).
The multipurpose venue brings an additional 18,581 m2 (200,000 sf) of contiguous exhibit space in the south building. Overall, the south building will have a total of 62,723 m2 (675,141 sf) of exhibit space for a grand total of 106,838 m2 (1.15 million sf) of exhibit space in the north-south building. The multipurpose venue will also incorporate connectivity between the north and south concourses.
The grand concourse expansion includes an additional 5574 m2 (60,000 sf) of meeting space and a 7432-m2 (80,000-sf) ballroom along with a new entry to the north-south building.
Kenneth Champion has joined the OCCC as its capital project administrator for the expansion. Champion will oversee the daily management of the project through its life cycle at the OCCC.
AECOM[4] will provide owner's representative services for the north-south building expansion.
The expected completion of both projects is the fourth quarter of 2023.
Endnotes:
[Image]: https://www.constructionspecifier.com/wp-content/uploads/2020/01/Opener-2.jpg
Populous: https://populous.com/
C.T. Hsu + Associates: https://www.cthsu.com/
AECOM: https://www.aecom.com/
Source URL: https://www.constructionspecifier.com/populous-and-c-t-hsu-to-design-38m-florida-convention-center-expansion/
---