Prefabricated wall panel system facilitates Passive House certification
by Carly Midgley | November 4, 2016 11:43 am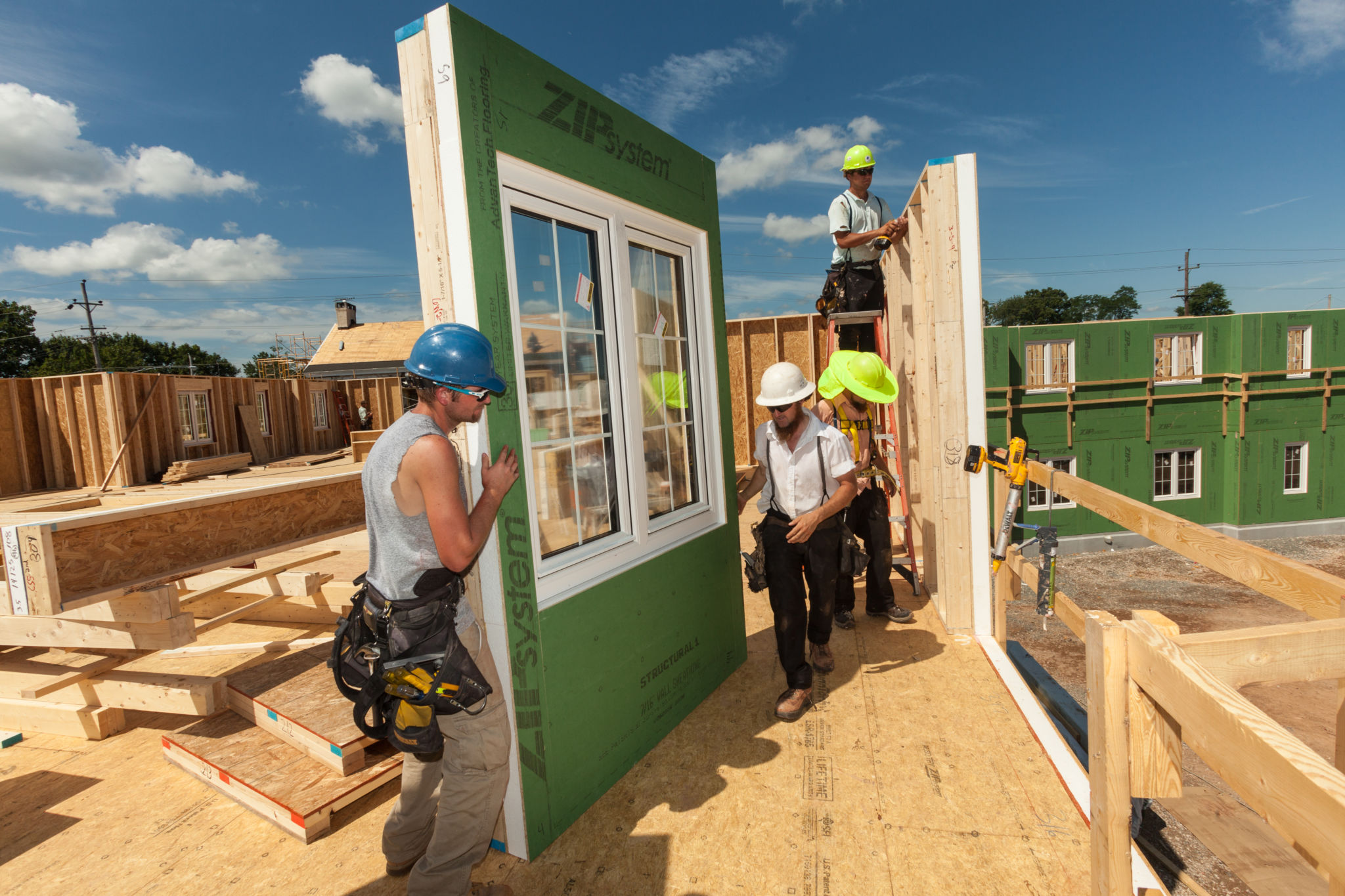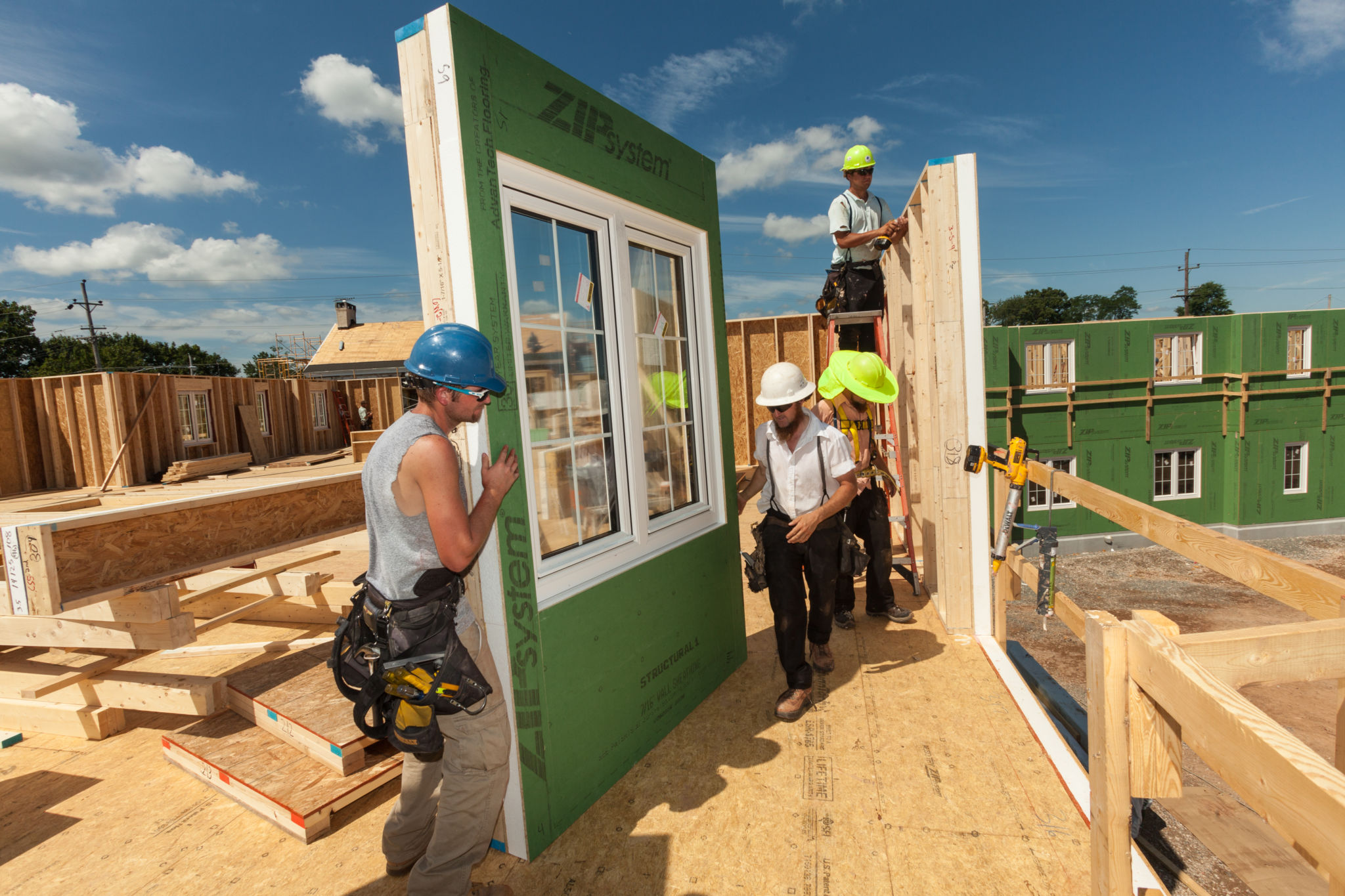 Whitehall, a new multi-family building owned by Mission First Housing Group, has been built to Passive House standards in Spring City, Pennsylvania. The structure was constructed using a prefabricated panelized wall system, which facilitated cost-effectiveness and simplicity of installation.
The prepressed wall panels have preformed corners, integrated water-resistive (WRB) and air barriers, and exterior insulation and nail base. They also feature Passive House-certified, factory-installed doors and windows. The completed 49-unit structure spans 4900 m2 (52,781 sf), and received a tax credit from the Pennsylvania Housing Finance Agency (PHFA).
The panel manufacturer provided training to general contractor Caldwell, Heckles & Egan and subcontractor King Builders, as neither the subcontractor nor the project superintendent, Joel Wunderlich, had worked with these panels before. Wunderlich stated it is likely his team will build with the panels again if they are given another project with Passive House aims.
Wunderlich also says framing of the first story and exterior wall would have taken two to three weeks with conventional framing, excluding the additional time for installing windows and doors. With the use of the panels, however, the 245 m (805 ft) of the first story's walls were completed in four and a half days (an approximate rate of 55 m [180 ft] per day). Much of this saved time can be attributed to the preinstalled windows and doors.
"If you're installing the windows onsite, you have to worry about those induced penetrations that have to be sealed perfectly," said Joe Andracchio, technical analyst for McGrann Associates and the project's energy rater. "If they're done in a factory setting, it makes an immense difference."
This speed did not come at the expense of efficiency, as demonstrated by a blower door test conducted on the shell in late September. Depressurization was completed with the use of only one blower door—an unusual circumstance according to Andracchio, who, based on past experience, expected to use at least two.
The test necessitated only minimal leak-chasing, and the small amount occuring was attributed to three windows that had been left open unbeknownst to the team. Once these were closed, the test showed results of 3550 cfm and 0.50 air changes per hour at a pressure difference of 50 Pascals (ach50), outperforming the Passive House standard being aimed for (i.e. 0.60 ach50) despite potential leakage from an old inn connected to the structure.
Tim McDonald, president of design-build firm Onion Flats and Whitehall's Passive House consultant, estimates it cost $1593/m2 ($148/sf) to construct Whitehall—lower than the $1776/m2 ($165/sf) estimated for PHFA's code-built developments. PHFA was also able to reduce Whitehall's HVAC tenant utility allowance from $160 to $7, helping developers obtain project financing.
On top of this, the energy efficiency inherent in the building design (thanks to the focus on Passive House standards) will allow energy-related costs to continue to be reduced. As an example, the Passive House Institute US (PHIUS) estimates buildings designed to its 2015+ Passive Building Standard consume 86 percent less energy for heating and 46 percent less for cooling than regular code-compliant buildings.
In addition to multi-family structures, this panel system may work well for senior and student buildings—and, of course, any aiming for Passive House certification.
Source URL: https://www.constructionspecifier.com/prefabricated-wall-panel-system-facilitates-passive-house-certification/
---