Presenting winners of the AIA 2021 Architecture Awards
April 28, 2021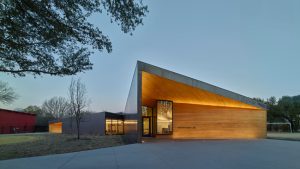 The American Institute of Architects[2] (AIA) recognizes ten projects with its 2021 Architecture Awards[3] celebrating the best contemporary architecture and highlighting the many ways buildings and spaces can improve lives.
A nine-member jury selected submissions demonstrating design achievement, including a sense of place, purpose, history, and environmental sustainability.
This year's recipients are:
● Fass School and Teachers' Residences (Fass, Senegal) by Toshiko Mori Architect[4];
● the Lamplighter School Innovation Lab (Dallas) by Marlon Blackwell Architects[5];
● Loghaven Artist Residency (Knoxville, Tennessee) by Sanders Pace Architecture[6];
● Martin's Lane Winery (Kelowna, British Columbia, Canada) by Olson Kundig[7];
● Northeastern University Interdisciplinary Science and Engineering Complex (Boston) by Payette[8];
● the Polygon Gallery (North Vancouver, British Columbia, Canada) by Patkau Architects[9];
● Salt River Pima-Maricopa Indian Community Justice Center (Scottsdale, Arizona) by Gould Evans[10];
● Sound Transit University of Washington Station (Seattle) by LMN Architects[11];
● TWA Hotel (New York) by Beyer Blinder Belle[12]; and
● Walker Art Center Expansion (Minneapolis) by HGA[13].
Endnotes:
[Image]: https://www.constructionspecifier.com/wp-content/uploads/2021/05/Opener-1.jpg
American Institute of Architects: https://www.aia.org/
2021 Architecture Awards: https://www.aia.org/awards/7511-architecture
Toshiko Mori Architect: https://tmarch.com/mobile-home
Marlon Blackwell Architects: https://www.marlonblackwell.com/
Sanders Pace Architecture: http://sanderspace.com/
Olson Kundig: https://olsonkundig.com/
Payette: https://www.payette.com/
Patkau Architects: https://patkau.ca/
Gould Evans: https://www.gouldevans.com/
LMN Architects: https://lmnarchitects.com/
Beyer Blinder Belle: https://www.beyerblinderbelle.com/
HGA: https://hga.com/
Source URL: https://www.constructionspecifier.com/presenting-winners-of-the-aia-2021-architecture-awards/
---