Pritzker Prize winner selected to transform South Florida landmark
by arslan_ahmed | September 12, 2023 11:15 am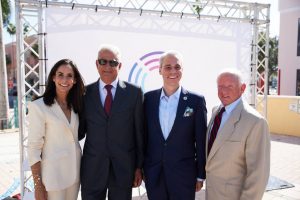 The Center for Arts and Innovation has selected Pritzker Architecture Prize-winning architect Renzo Piano to design its forthcoming multimillion-dollar creative campus, set to redefine downtown Boca Raton and establish a global hub for creative excellence.
With Renzo Piano only accepting two to three new commissions a year, this partnership is a testament of the center's mission to transform Boca Raton into an internationally recognized destination for culture and technology, create a tremendous point of pride for residents, and reinvigorate the city's rich history of innovation.
The extensive selection process for the center's architect was led by its building committee, chaired by board member Camilo Miguel, Jr., CEO of Mast Capital, one of South Florida's most prominent real estate developers. Following the interest of 22 privately invited internationally recognized firms, the committee selected 10 finalists to respond to a request for proposal (RFP).
Four firms were ultimately shortlisted: Ennead (New York City), Foster + Partners (London), OMA (Rotterdam), and Renzo Piano Building Workshop (Paris/Genoa).
The center will distinguish itself from any cultural venue across South Florida, encompassing versatile performance spaces, an innovation incubator lab, and educational spaces for STEAM programming. It will meet a diverse breadth of community needs, drive economic growth, and attract new, discovery-seeking visitors to downtown Boca Raton.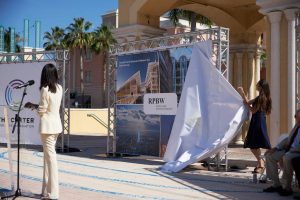 Renzo Piano's firm, Renzo Piano Building Workshop (RPBW), will commence work in late October 2023. The team plans to break ground in 2025, which is Boca Raton's centennial year. RPBW is the design team behind global monuments such as The Shard in London, the Centre Pompidou in Paris, the Whitney Museum and the New York Times building in New York, the Academy Museum of Motion Pictures in Los Angeles, and the Modern Wing at the Art Institute of Chicago, among other notable structures.
"Over the last five years, leaders in Boca Raton and the region have dedicated their time, effort, and resources to make today's historic announcement possible," says Andrea Virgin, chair and CEO of the center. "The international interest and ultimate selection of one of the world's greatest design architects underscores not only the global significance of this project, but the enormity of our supporters' courage, vision, and generosity."
Endnotes:
[Image]: https://www.constructionspecifier.com/wp-content/uploads/2023/09/pressconference-attendees.jpg
Source URL: https://www.constructionspecifier.com/pritzker-prize-winner-selected-for-south-florida-landmark/
---