Project delivery system study results published
August 15, 2014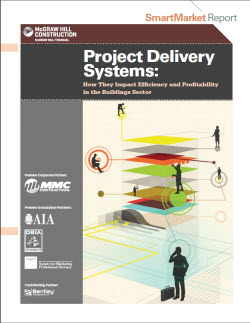 New research from McGraw Hill Construction suggests owners, architects, and contractors have varying perspectives on choosing project delivery systems for buildings.
The "Project Delivery Systems SmartMarket Report" indicates all parties involved recognize the choice impacts the cost, schedule, and client satisfaction of projects.
The three established systems are:
? design-bid-build systems: owners have separate contracts with design firms and contractors;
? design-build systems: one entity delivers both design and construction; and
? construction management at risk (CM-at-risk): a construction manager works with a project owner during design and offers a guaranteed price for the final project.
The findings in the report demonstrate the choice of system impacts how the project is delivered. For example, 60 percent of owners using CM-at-risk systems reported they were highly satisfied with the outcome of projects. For architects, there was a split between all three systems, and 43 percent of contractors indicated design-build as the best system.
For cost considerations, 33 percent of owners reported projects employing the CM-at-risk method came in under budget, while 38 percent of architects specified the design-bid-build system, and the same amount on contractors chose the design-build approach.
Finally, in terms of projects coming in on schedule, owners, architects, and contractors agreed the design-build system is the best choice.
"Architects and contractors definitely need to consider how their clients regard the performance of these delivery systems, but owners also need to factor in how the project team members regard the impact of delivery systems because their approach can impact the performance of projects in terms of cost, schedule, quality, and other benefits," said Harvey Bernstein, vice president of industry insights and alliances at McGraw Hill.
Overall, respondents think the use of design-bid-build projects will decrease, and as a result the others will increase. The highest increases were cited for design-build, with 63 percent of owners and 68 percent of contractors expecting to see a rise.
However, since owners select delivery systems, it is important for architects and contractors to understand the drivers behind these decisions. Owners indicate that maximizing the budget is the most important factor for all three delivery systems. However, architects and contractors cite reducing project cost at the most important factor in design-bid-build and design-build.
"Selecting the most appropriate project delivery system is one of the most critical decisions an owner can make to positively impact the success of a project," McGraw Hill's senior director, Stephen Jones told The Construction Specifier. "This new research provides an important perspective on efficiency, productivity and profitability aspects of both established systems and emerging alternatives."
Benefits and drivers of emerging delivery systems, such as integrated project delivery (IPD), are also examined in the study. Upward of 80 percent of owners reported IPD projects increased efficiency, improved construction and sustainable performance of buildings, and reduced costs.
Click here[1] to download the full report.
Endnotes:
here: http://www.analyticsstore.construction.com/ProjectDeliverySMR?sourcekey=PRESREL
Source URL: https://www.constructionspecifier.com/project-delivery-system-study-results-published/
---