Providing Acoustical Flexibility: Getting 'active' at Wartburg College
by Katie Daniel | December 30, 2015 9:52 am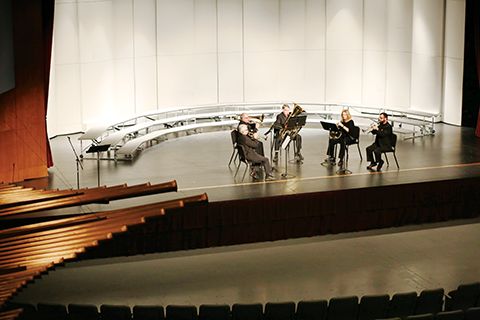 by Ron Freiheit, FASA
Superior musicians demand the best from themselves. Facilities with the proper acoustics can support musicians' artistry, helping to elevate performances to the highest level. To improve the sound quality of its chapel-auditorium, Wartburg College chose a new technological solution—an active acoustics system. The school, which is located in Waverly, Iowa, premiered the system in October 2015.
For Lee Nelson, director of the Wartburg College Choir, acoustical shortcomings meant his group had avoided the school's largest performance space—Neumann Auditorium. It opened in 1960 as a chapel-auditorium, intended primarily for convocations and religious services. However, as it was designed to host spoken-word events, its acoustics were dry and unresponsive for musical performances.
Unfortunately for the choir, a dry acoustical space is far from the reverberant, cathedral-like spaces for which most choral works, especially classical repertoire, were intended. The lack of aural feedback also hindered the choir and the director; it was difficult for musicians to hear each other, develop critical listening skills, and unite to form a cohesive sound.
This is a common problem at many colleges and high schools: no one venue is ideal for all types of musical performances.
"If it's good for the band, it's bad for the choir. If it's good for the choir, it's bad for the band," explains Nelson. "Neumann Auditorium was good for our instrumental ensembles, not great for the orchestra, and downright terrible for the choir. We didn't perform there because it was unusable."
"With singing or playing an instrument, so much of it is psychological. If the room's not helping you sing or project your sound, you start working harder and using poor technique," he added.
Flexible solution
The acoustics of a highly reflective, reverberant space can be tamed with traditional 'passive' sound-absorption solutions like acoustical panels or acoustical banners on the walls or ceiling. However, transforming a dry acoustical environment into a more reverberant space was impossible without physically altering the structure to add cubic volume. In the last 25 years, technological advances provided another solution: active acoustics.
This type of system uses microphones mounted near the stage to capture sounds, modify them with digital signal processor computers, and play them back through a network of speakers mounted on the auditorium's walls and ceiling. In real time, performers and audience members alike perceive the aural sensation of a digitally modeled, acoustically enhanced space. With the touch of a button, the system can easily adjust for different types and even sizes of ensembles—instrumental versus choral, for example—along with spoken-word events.
Active acoustics systems can also compensate for acoustical deficiencies caused by certain architectural elements in a performance space. For example, the area under a balcony often suffers from poor, or 'dead,' acoustics. With an active acoustics system, audience members sitting in these areas—or anywhere else—can enjoy optimal sound quality.
Technological improvements have reduced the number of microphones needed. This simplifies installation and improves system stability, as fewer microphones reduce the possibility of distracting feedback. By using passive loudspeakers instead of self-powered ones, installation is also more streamlined and cost-effective.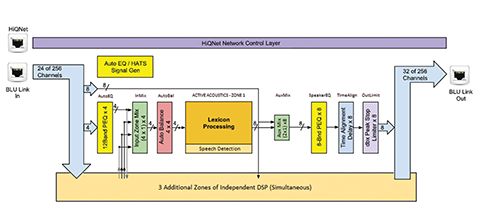 Site challenges
Before the active acoustic system could be installed, Neumann Auditorium presented a number of challenges. Background noise from the ventilation system and the pipe organ's air compressor had to be considered in system programming and fine-tuning. The facility's infrastructure was also carefully evaluated, which uncovered several complicating factors.
First, asbestos was found in the auditorium ceiling and under-balcony ceiling. The under-balcony ceiling asbestos was entirely removed, due to its relatively small size and easy access. However, the auditorium ceiling asbestos was left intact—this is because total abatement was prohibitively expensive, in part because of the 8.5-m (28-ft) ceiling. To minimize asbestos disruption, recessed speakers were not used in the auditorium ceiling. Instead, small holes were drilled in the ceiling for speaker mounts, with vacuums collecting any asbestos dislodged by the drilling.
Second, the auditorium's side walls were discovered to be non-structural—insufficiently strong to support the four mounted sub-woofer speakers required. The auditorium was designed as a room within a larger building shell—a fairly common acoustical situation. To overcome this limitation, the sub-woofers were suspended from structural supports above the ceiling.
Third, the building's electrical system needed an upgrade. The active acoustic system requires its own dedicated transformer with an isolated ground; this minimizes the potential for disrupting electrical noise. A motorized load-distribution center is also required to sequence nearly 20,000 watts of power to the signal processor and eight amplifiers with 64 channels of amplification. Sequencing helps prevent possible speaker damage from an electrical 'pop' or surge in the audio signal chain.
These electrical enhancements were made as part of a general upgrade to ensure Neumann Auditorium met current electrical codes.

Installation procedure
Before the speakers could be installed, the final preparation step was temporarily removing all the auditorium seats. Doing so enabled unrestricted access for the motorized, articulated one-man lift used to reach the 8.5-m (28-ft) ceiling for wiring and mounting speakers and microphones.
These pre-installation site preparations at Wartburg spanned approximately one month. While installing this beta-site system took longer, similar future installations would be expected to require approximately two weeks, plus another one to two weeks for tuning the system.
Before arriving onsite, the installation company configured all system components—including amplifiers and signal processor—into a standard 2108-mm (83-in.) high rack and performed preliminary testing. Once at Wartburg, technicians situated this rack in a pre-selected location—a storage room located under the balcony. They also pulled the thousands of feet of necessary wire before installing 84 speakers in the auditorium: four sub-woofers located near the ceiling, 37 speakers on the walls, and 43 speakers in the ceiling.
To determine the proper number and placement of speakers, engineers utilized CATT-Acoustic [5]software. By factoring in the auditorium's dimensions, along with speaker specifications and coverage patterns, the software created a model space that helped locate optimal speaker positions. The number of speakers, in turn, influenced the number of amplifiers required in the system.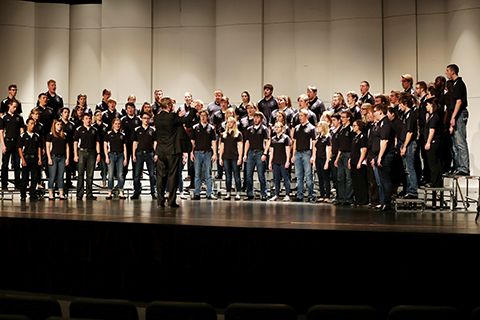 Microphone placement was also optimized for the auditorium's unique programming needs. Unlike most performances that happen only onstage, Wartburg's Christmas concert—the school's largest annual event—also utilizes vocalists in the balcony. To accommodate the large orchestra at this concert, the first four rows of audience seating are removed.
While previous active acoustic systems required up to 30 microphones, Wartburg's new-generation system only needs four—two above the stage and two over the balcony for the Christmas concert. All microphones are motor-controlled and drop into position when used; this eliminates possible visual distractions during projector use in the auditorium.
Initial skepticism
Nelson had been initially skeptical this active acoustic technology could deliver on its promises until visiting a rehearsal-room installation at Wayzata High School in Plymouth, Minnesota.
"In Wayzata's orchestra room, I expected to hear sounds coming from the speakers," explains Nelson. "That was my biggest fear—it would sound amplified. I didn't want that."
Once the Wayzata orchestra started playing with the system on, he stood as close as possible to a speaker, but could not hear it.
"I was blown away by the authentic sound," Nelson says. "You can make it as acoustically 'wet' or as 'dry' as you want. I became excited about the possibilities."
Nelson realizes the Neumann Auditorium's situation with the Christmas concert made the goals unique.
"Most auditoriums would concentrate solely on the stage, but we truly use the entire space," he notes. "[The team] rose to every challenge during the project and came up with some really creative ideas."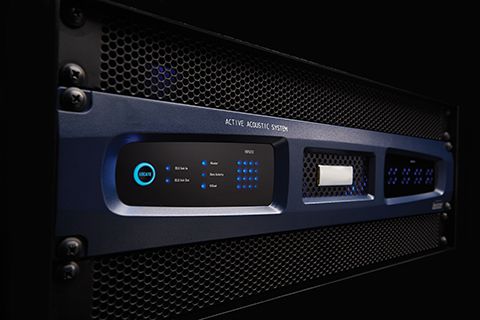 Technology at fingertips
Although the active acoustics technology at Wartburg is sophisticated, users operate the system with either a full-featured touch-screen interface in the control booth or a simplified eight-button control near the stage. The system is designed to provide easy, intuitive operation. The automatic voice-detection capability—optional for each preset setting—creates the proper amount of reverberation when speech or singing is detected.
For this particular proprietary assembly, between six and eight different settings are programmed by system engineers; settings are fine-tuned to meet customer satisfaction and to maximize acoustical flexibility. Once programmed, the settings are inaccessible to users to help ensure proper system performance. When a user selects any preset setting, more than 5000 parameters are activated, including gain, equalization, input from active microphones, active acoustics parameters, and information on delays and routing for each of the 32 output channels wired to amplifiers.
New possibilities
With this active acoustic system installed, Neumann Auditorium has been transformed from a dated, problematic facility to a showplace for Wartburg College's music programs. For the first time in years, the band, orchestra, and choir can put on shows like their annual homecoming and Christmas programs together in the same venue.
The active acoustic system also makes it possible to perform classical pieces composed for choir and orchestra, which were avoided in the past due to concerns about sound quality. Further, unlike traditional, passive acoustical treatments, this new system provides the flexibility to creatively embrace new music programming options.
"You can create a choral/orchestral performance setting, a choral setting for cathedral performances, and a setting for a piano concerto—all within the same concert if you wish," explains Nelson. "And all settings can be stored and recalled at any time."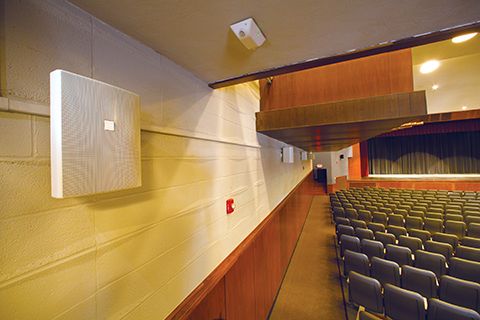 It is now possible to create a choral/orchestral performance setting, a choral setting for cathedral performances, and a setting for a piano concerto all within the same concert, with the settings stored for later recall.
This new system has also become a selling point in the battle to attract talented student performers, events, and concerts. Prior to the installation, Neumann Auditorium's less-than-ideal acoustics were a drag on recruiting efforts, and made it impossible to host concerts by certain artists and bands.
"We'd rarely show our prospective music majors the space," said Nelson, "because it wasn't a good place to perform."
After the installation, Nelson is eager to show off the system's capabilities.
"Before, we had ensembles, festivals, and competitions that didn't look at Wartburg simply because there wasn't an appropriate performance venue," he said. "One of our biggest competitors has a great performance venue. Now, we can compete with that. It puts Wartburg in a different league."
Ron Freiheit, FASA, is director of design engineering at Minnesota-based Wenger Corp., a manufacturer of specialized products for music education, performing arts, and athletic markets around the world. Freiheit is a fellow of the Acoustical Society of America and has presented at ASA meetings nationally and internationally. He is also a member of the Audio Engineering Society (AES) and the Institute of Noise Control Engineers (INCE). Freiheit received a U.S. patent for acoustic virtual environments. He led Wenger's creation of an anechoic choral recording to support auralization demonstrations; these free recordings are provided to research groups and institutions globally. Freiheit holds a bachelor's degree in electrical engineering from Southern Polytechnic Institute and completed graduate studies in acoustics at Penn State. He can be contacted at ron.freiheit@wengercorp.com[9].
Endnotes:
[Image]: http://www.constructionspecifier.com/wp-content/uploads/2015/12/acoustics_1M9A3015.jpg
[Image]: http://www.constructionspecifier.com/wp-content/uploads/2015/12/acoustics-edit1.jpg
[Image]: http://www.constructionspecifier.com/wp-content/uploads/2015/12/Transcend-DSP-Block-Diagram-Condensed.jpg
[Image]: http://www.constructionspecifier.com/wp-content/uploads/2015/12/acoustics_Wartburg-AV-Drawings-7.jpg
CATT-Acoustic : http://www.catt.se
[Image]: http://www.constructionspecifier.com/wp-content/uploads/2015/12/acoustics_1M9A3117.jpg
[Image]: http://www.constructionspecifier.com/wp-content/uploads/2015/12/1a_Transcend_DC.jpg
[Image]: http://www.constructionspecifier.com/wp-content/uploads/2015/12/acoustics_1j_Transcend_DC.jpg
ron.freiheit@wengercorp.com: mailto:ron.freiheit@wengercorp.com
Source URL: https://www.constructionspecifier.com/providing-acoustical-flexibility-getting-active-at-wartburg-college/
---