Quick cure coatings with PMMA/PUMA technology
March 13, 2020
by Stephanie Lengel and Maha Nagra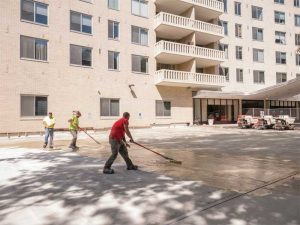 Protection of concrete decks, foundations, and other surfaces against damage that is caused by water infiltration, abrasion, and chemicals, can be accomplished with a range of coating and waterproofing technologies.
Gaining attention in this space in recent years are polymethyl methacrylate (PMMA) and polyurethane methacrylate (PUMA)-based solutions. For projects with tight timeframes and stringent performance requirements, PMMA/PUMA technology coatings and membranes are appealing due to its ultra-fast cure time, even in extreme weather conditions, and long-term durability.
Old is new again
The adage holds true for PMMA, a polymer that was initially discovered and commercialized in the 1930s as plexiglass by German chemists seeking to develop safety glass. A U.S.-based manufacturer had later produced its own version. PMMAs have been used in a variety of applications for more than 40 years, including acrylic nails, medical technology such as bone cements, musical instruments, and photovoltaic (PV) roof shingles for solar energy consumption. A transparent thermoplastic resin, PMMA offers a cheaper, more environmentally friendly option to polycarbonate.
Though often characterized as a new technology in construction, it has been used in roofing since the 1990s in Europe and for the last 12 to 20 years in the United States. It is now gaining recognition across North America for below-grade waterproofing and coating applications.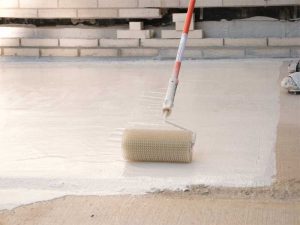 Differences between PMMA and PUMA
Both PUMA and PMMA technologies are rapid curing, meaning full cure in one hour or less after application. They require an activator to catalyze and initiate curing. PUMA and PMMA systems share many characteristics. PUMA is a polyurethane over polymethyl base and offers some advantages over PMMA, most notably its elongation properties and its ability to bridge cracks even at very low temperatures. PUMA technology coatings can pass ASTM C1305, Standard Test Method for Crack Bridging Ability of Liquid-applied Waterproofing Membranes, with elongation of up to 400 percent at 21 C (70 F) and closer to 300 percent at colder temperatures. With this much elongation, additional reinforcement should be avoided as it prevents the coating from stretching to its full capacity. This is important to note in cases where there is substantial movement, as in climates experiencing extreme temperature fluctuations throughout the seasons.
Versatility in construction
PMMA/PUMA's molecular structure makes it suitable for fluid-applied applications in construction. Its bond strength is superior to alternative coating technologies because it is not a superficial adhesive bond, but rather a covalent or chemical bond that involves the sharing of electron pairs between atoms. The formation of bonds at the molecular level occur even when the catalyzed liquid is applied over an existing cured membrane, such as with a lap or tie-in, and is unaffected by the passage of time. This means, for example, a PMMA/PUMA system can be installed in a parking garage and recoated in an hour, or many years later with the same level of cohesive bond.
PMMA/PUMA coating systems can be used in pedestrian, under-tile, vehicular, and other heavy-duty, traffic-bearing applications experiencing significant wear and tear such as helipads, parking garages (especially around ticket spitters and turn lanes), bridges, loading docks, garbage, and chemical facilities. It is also used on roofing, balconies, terraces, walkways, plaza decks, planters, and because it can be fully immersed in water, in pools and fountains installed over occupied space. As a cold-applied waterproofing system, the below-grade applications are horizontal split slab and asphalt overlay.
Substrates suitable for PMMA/PUMA applications are numerous and include concrete, wood, masonry, gypsum board, and metals such as steel, copper, and aluminum, as well as existing roofing systems, provided the proper testing is completed to verify the roofing system is sound.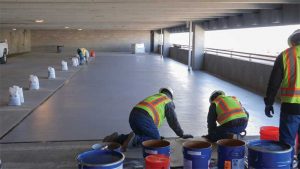 Speeding the construction cycle
Top among the reasons cited for going with a PMMA/PUMA system is the fast cure. Though a multicoat system, the layers need only 45 minutes to an hour for cure between coats. A parking garage often can be coated and returned to service in a day or less, depending on job and crew size.
Cold weather tolerance is another key feature of PMMA/PUMA-based coatings—it can be applied in temperatures as low as –18 C (0 F) with the use of a cold-weather catalyst at temperatures below –6 C (20 F). Unlike urethanes, PMMA/PUMA system cure time is unaffected by temperature or humidity because cure is activated by a catalyst alone.
Durability is key
PMMA/PUMA systems are also durable and have tenacious adhesion to most substrates. Some systems have recorded values as high as 1730 kPa (251 psi) when tested on concrete, according to ASTM D7234, Standard Test Method for Pull-off Adhesion Strength of Coatings on Concrete Using Portable Pull-off Adhesion Testers. They are more chemical resistant than other waterproofing membranes and do not deteriorate when exposed to petroleum products, grease, animal fat, and similar materials. PMMA and PUMA have tear strengths up to 445 N (100 lbf) and tensile strengths up to 11,721 kPa (1700 psi), depending on the manufacturer. The durability and strength of these systems translate to longer warranty terms, with some manufacturers offering more than 20 years for certain applications, including a guarantee against wear under normal conditions.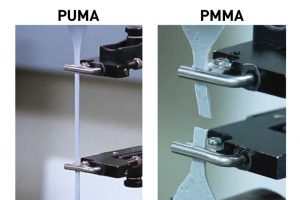 Compared to standard overburden options such as pavers, tile, and/or concrete, PMMA/PUMA systems are lightweight, even for the most toughest vehicular applications. A heavy-duty system with aluminum oxide as the aggregate weighs about 1 kg (2.5 lb) per square foot, less than concrete pavers, for example, that average more than 9 kg (20 lb) per square foot.
For those concerned with aesthetics, strength does not preclude beauty with PMMA/PUMA systems. They can be customized by adding any color to a tint-able base to create the desired topcoat hue. Quartz or color flakes can also be added under a clear topcoat for a decorative look.
A fast flashing alternative
A PUMA system offers advantages as a flashing for use with hot rubberized asphalt waterproofing. The PUMA primer and basecoat are easier to work with than hot rubber, especially when flashing low heights and detailing penetrations. They cure quickly, and no reinforcing fabric or protection course is used. Contractors can detail the whole job the day before they bring in the hot rubber, without additional priming.
Drawbacks
Odor may be considered a drawback of PMMA/PUMA systems. Although they are environmentally friendly with zero volatile organic compounds (VOCs), they emit an odor until the product has cured. However, cure time is short, and smell can be controlled with good ventilation practices. Odor is nonexistent once the product cures.
PMMA/PUMA technology systems can be up to five times more expensive (depending on the manufacturer and specific system) than standard urethane coatings. However, contractors save money on labor with jobs turned around in a fraction of the time and without the need for kettles and safety equipment required for hot-applied applications. Property owners and managers also appreciate the ability to quickly repair and reopen areas like parking garages to traffic, often the same day, as well as the considerable reduction of maintenance and repairs down the road.
Additionally, owners can expect to double the length of their warranty with a PMMA/PUMA system. While warranties for standard urethanes are around five to 10 years depending on the manufacturer, PMMA/PUMA warranty terms can extend up to 25 years—again, this depends on the manufacturer, specific application, and system used. PMMA/PUMA system warranties for below-grade applications include guarantees for watertightness and vehicular traffic coating applications. Some manufacturers even warrant wear of the system, which is unheard of for traffic coatings.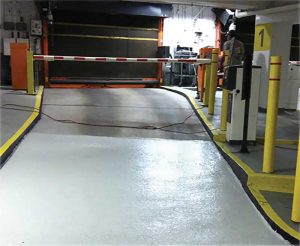 For projects where PMMA/PUMA seem ideal, but costs exceed the budget, an option would be a hybrid system that includes a combination of urethane and PMMA/PUMA coatings. In a parking garage, this could mean PMMA/PUMA in the highest wear areas such as helical turns, ramps, and ticket spitters and urethane for drives lanes and parking stalls. The hybrid approach provides optimal performance, and some manufacturers would provide a longer-term warranty than for a straight urethane system.
Installation protocol
One-hour cure times translate into shorter working times for PMMA/PUMA technology coatings. Due to this reality, they should be installed by trained contractors with experience handling these materials, as the ability to work quickly is paramount. The good news is that some manufacturers also offer labor and material warranties on systems installed by applicators they have trained and approved.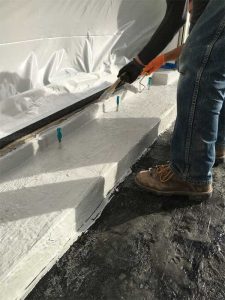 The basic installation procedure (following substrate moisture validation and surface preparation) is the application of PUMA primer and basecoats and the topcoats. For vehicular and heavy-duty traffic applications, at least one additional wear coat is needed prior to applying the topcoat. Each layer requires the mixing of the catalyst with the wet material to ensure proper curing. Spiked rollers are used to de-train air from the thick system layers (typically the base and/or wear coats where applicable) that may have been created during the mixing process. The final step is to broadcast aggregate into the wet wear or topcoat to ensure a skid-resistant surface. The area can be opened for normal use (including vehicular traffic) one hour after the topcoat is installed and the system is fully cured.
For PMMA/PUMA waterproofing applications, substrate moisture validation and surface preparation is followed by primer and then the waterproofing membrane. PMMA systems require a layer of fleece at this stage and an additional resin coat.
A case in point
Plaza Park is a large parking garage located in a busy section of downtown Indianapolis serving the nearby JW Marriott, Lucas Oil Stadium, and the Indiana Convention Center. An existing polyurethane coating system had degraded more quickly than expected, and the owner was looking for a solution that would hold up better to the constant abuse associated with heavy traffic as well as the effects of deicing salts and other road contaminants, particularly in the areas of the main entrance ramp and ticket spitter. Since it is a revenue-generator for the owner, the garage could not be completely shut down during work.
Looking for a solution offering extreme abrasion resistance, proven long-term performance, better elongation properties, and quick turnaround, the engineer chose a PUMA technology system. A job that otherwise would have taken several days to complete was finished in just a day. The installing contractor was able to shift traffic to one side while the other was being coated so the garage remained open during work.
Conclusion
For projects where quick turnaround is a must for the owner or contractor and/or where superior durability and abrasion resistance are desired, the specifier should consider a PMMA or PUMA system. It is pertinent to keep in mind a PUMA technology system will always outperform PMMA in projects where exceptional crack bridging is needed or a high degree of movement is anticipated. As the cold weather approaches, signaling the end of construction season for urethane and other liquid-applied coating technologies, it is worth pointing out contractors can continue to install PMMA and PUMA systems that can retain their fast-cure property even at low winter temperatures.
Endnotes:
[Image]: https://www.constructionspecifier.com/wp-content/uploads/2020/03/PUMA-Under-Asphalt-Waterproofing.jpg
[Image]: https://www.constructionspecifier.com/wp-content/uploads/2020/03/PUMA-close-up.jpg
[Image]: https://www.constructionspecifier.com/wp-content/uploads/2020/03/PUMA-Catalyst-Health-Parking-Garage.jpg
[Image]: https://www.constructionspecifier.com/wp-content/uploads/2020/03/PUMA-Elongation-Side-by-Side2-.jpg
[Image]: https://www.constructionspecifier.com/wp-content/uploads/2020/03/PUMA-cold-weather-application.jpg
[Image]: https://www.constructionspecifier.com/wp-content/uploads/2020/03/PUMA_Parking-Garage-Ticket-Spitter.jpg
[Image]: https://www.constructionspecifier.com/wp-content/uploads/2020/03/PUMA-flashing2.jpg
[Image]: https://www.constructionspecifier.com/wp-content/uploads/2020/03/Lengel-Headshot.jpg
slengel@tremcoinc.com: mailto:slengel@tremcoinc.com
[Image]: https://www.constructionspecifier.com/wp-content/uploads/2020/03/Nagra-Headshot.jpg
mnagra@tremcoinc.com: mailto:mnagra@tremcoinc.com
Source URL: https://www.constructionspecifier.com/quick-cure-coatings-with-pmma-puma-technology/
---