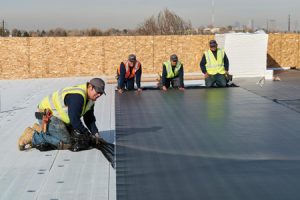 RapidLock roofing systems
The roofing season never really ends—even in the cold winter months, projects continue and deadlines loom. Roofers have always dreaded winter jobs, as they are cold, difficult, and often require modified installation techniques and special material storage methods. Adhesives take longer to flash-off in cold weather, making a miserable job even more time-consuming.
Until now. Carlisle SynTec Systems' RapidLock™ (RL™ ) technology is revolutionizing wintertime installations by replacing adhesives with VELCRO® Brand Securable Solutions. RapidLock systems' adhesive-less, hook-and-loop attachment system provides an easy-to-install, labor-saving option for wintertime projects.
Wintertime benefits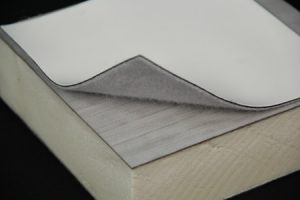 RapidLock's wintertime benefits include:
can be installed in any temperature;
repeatable, consistent installation;
no odors or volatile organic compounds (VOCs) and ideal for occupied buildings (e.g. schools, hospitals, offices);
no need for heated storage on the jobsite;
no adhesives to mix, apply, and store;
no guessing or waiting for adhesive flash-off or string times; and
minimal end-of-job cleanup.
Performance benefits

In addition to cold-weather and labor-saving benefits, RapidLock roofs provide performance on par with traditional fully adhered single-ply systems. RapidLock systems are tough and durable, provide excellent resistance to hail, punctures, and wind uplift, and are eligible for up to 20-year warranties.
Some of its benefits are:
have Factory Mutual (FM) 1-90 approvals – up to 111 kPa (225psf);
offer 50-mm (2-in.) hail coverage;
excellent resistance to hail and punctures;
Underwriters Laboratories (UL) 790, Standard for Standard Test Methods for Fire Tests of Roof Coverings, Class A over noncombustible decks;
up to 20-year total system warranty; and
warranty of 145 km/h (90 mph) peak gust wind speed.
Productivity-boosting benefits

RapidLock roofs use ethylene propylene diene monomer (EPDM) or thermoplastic polyolefin (TPO) membrane with an optimized fleece backing as the 'loop' coupled with a specialized facer on the top side of the polyiso insulation as the 'hook,' providing up to 80 percent rooftop labor savings over traditional bonding adhesives and up to 25 percent labor savings over low-rise urethanes.
Additional benefits include:
labor savings of 25 percent over traditional fleece back system;
labor savings of 80 percent when compared to single-ply membrane and bonding adhesive; and
simple, easily repeatable, consistent installation.
RapidLock product offering
Carlisle offers two RapidLock membrane options: 3-mm (115-mil) fleece back RL EPDM featuring factory-applied tape for quick, consistent, high-quality seams, and 3-mm (115-mil) fleece back RL TPO, which offers a wide window of weldability and an enhanced weathering package. The membrane is applied to one of two RapidLock underlayment options: 50-mm (2-in.) InsulBase RL Polyiso and 12-mm (1/2-in.) SecurShield HD RL, a high-density insulating cover board. RapidLock insulation products have a special RL facer that is designed to work with RL membranes.
This unique system provides major time and labor savings, uses no adhesives, has no application temperature restrictions, odors, or VOCs. There is no need to mix, apply, or store adhesives or to wait for flash-off or set-up. RapidLock installations are quick and simple, which can help keep roofers motivated and quality-focused in harsh conditions. For more information about RapidLock, visit the Carlisle website or call 1-800-479-6832.
All information listed in this section was submitted by Carlisle SynTec Systems.
Kenilworth Media Inc. cannot assume responsibility for errors of relevance,
fact or omission. The publisher does not endorse any products featured in this article.