'Raumfachwerk' wins Swiss airport design contest for inventive use of mass timber
by brittney_cutler | June 20, 2022 6:55 pm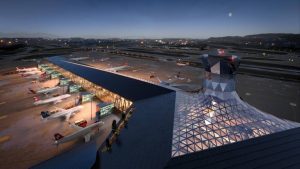 Switzerland's Zurich Airport will soon be replacing its Dock A with a new mass timber structure, based on a winning design submission from Team BIG+HOK.
"Raumfachwerk" won out against 10 other entries in a global competition held by the airport, thanks to its sustainable, economically efficient, and unique architectural features. Led by global firm Bjarke Ingels Group (BIG)—including its New York office—the design team included Missouri-based firm HOK, local firm 10:8 architects, global engineer Buro Happold, local timber experts Pirmin Jung, and Netherlands Airport Consultants (NACO).
Based on the team's concept of the "Raumfachwerk"—a robust, yet flexible structural framework—the design proposal celebrates the passenger experience and movement through the airport. Located adjacent to the existing Airside Center and Terminal 1, the new Dock A is defined by two main areas: the central hub, with shopping, airport services for arriving and departing passengers, and vertical circulation; and the pier, with the gates, waiting areas, and the fixed links connecting to the planes.
"The 'Raumfachwerk' proposal was the most convincing from a sustainable, operational, and economic point of view, but also from an urban planning and architectural point of view" says Andreas Schmid, chair of the board of directors of Flughafen Zürich AG.
A contemporary, pared-back material palette, the structure, floors, and ceilings of Dock A are envisioned with timber as the main material. As a renewable local resource, this material choice allows for efficient prefabrication during the construction process while paying homage to the long-standing local tradition of wood construction in Switzerland. The main loadbearing system of the building is based on V-shaped timber columns—providing a structural function while also serving as a reference for both the iconic Swiss alpine landscapes and the centuries-old tradition of timber construction and traditional pitched roofs. Arriving passengers will be welcomed by this distinctly local architecture which showcases high-quality craftmanship while underscoring the airport's pledge to sustainability.
Endnotes:
[Image]: https://www.constructionspecifier.com/wp-content/uploads/2022/06/TM_ZurichAriport.jpg
Source URL: https://www.constructionspecifier.com/raumfachwerk-wins-swiss-airport-design-competition-for-inventive-use-of-mass-timber/
---