Rejuvenating Detroit's historic downtown
by Carly Midgley | May 29, 2017 11:02 am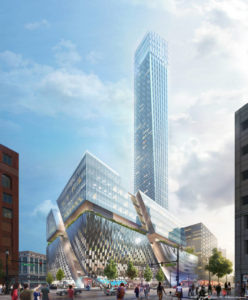 One of Detroit's historic areas—the former J.L. Hudson's Department Store (Hudson's Site)—is due for a facelift, with a redesign from Hamilton Anderson Associates[2] (HAA) and SHoP Architects[3] currently in the works. The reimagined site will feature a 224-m (734-ft), 52-story mixed-use building that will be the tallest in the city.
One of Detroit's largest construction projects in several decades, the design's preliminary plans were presented to the Downtown Development Authority[4] (DDA) by Bedrock[5] and approved for groundbreaking by December 1. The design incorporates commercial, office, technology, arts, and parking space, as well as 41,017 m2 (441,500 sf) of residential space across 250 units. The mixed-use areas will span a nine-story podium comprising 69,196 m2 (744,823 sf). When combined with the residential tower, this brings the building to a total of 111,484 m2 (1.2 million sf).
The project delves below-grade as well, with 700 parking spaces taking up two of three below-grade stories and commercial space comprising the third. The goal is for the redevelopment to prompt economic growth within Detroit and the surrounding region by creating jobs and attracting both business and visitors. The project's website[6] states Bedrock and economic analysis firm WSP Parsons Brinckerhoff[7] estimate the redesign will create 5800 construction jobs, 3000 permanent ones, and $560 million in annual economic output.
"In its heyday, Hudson's was a premier destination in the heart of downtown," said Sandra Laux, project architect with HAA. "After the flagship store closed in 1983, the structure would bring back fond memories of a vibrant Detroit. We now have the opportunity to be a part of creating unique, new architecture in one of the few vacant sites downtown."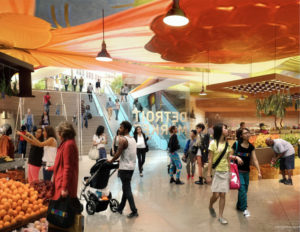 HAA's suitability for the project stems from the varied experience of its professionals, along with its work on other Detroit projects, including:
City Modern Brush Park;
the District Detroit;
Orleans Landing; and
Paradise Valley.
Endnotes:
[Image]: https://www.constructionspecifier.com/wp-content/uploads/2017/05/Hudson_Tower_Shop.jpg
Hamilton Anderson Associates: http://www.hamilton-anderson.com/
SHoP Architects: http://www.shoparc.com/
Downtown Development Authority: http://www.degc.org/about-degc/city-of-detroit-downtown-development-authority
Bedrock: http://www.bedrockdetroit.com/
website: http://hudsonssitedetroit.com/
WSP Parsons Brinckerhoff: http://www.wsp-pb.com/en/WSP-au-nz/
[Image]: https://www.constructionspecifier.com/wp-content/uploads/2017/05/marketplace.jpg
Source URL: https://www.constructionspecifier.com/rejuvenating-detroits-historic-downtown/
---