Reviving San Francisco's historical Filbert Cottages
by brittney_cutler | November 12, 2021 4:00 pm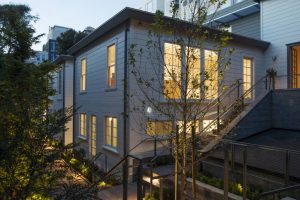 San Fransisco's historic Filbert Cottages are now open after a lengthy revitalization project that expanded the sites living space while maintaining its existing character. The Filbert Cottages revitalization project began when a San Francisco couple bought the site in 2007.
It took five years of planning and another five years of construction from Buttrick Projects Architecture+Design, the firm who tackled the job. But in the end, the cottages, now four condo units totaling 1115 m2 (12,000 sf), have been preserved for a new generation of residents. After renovations wrapped up, the owners put the condo units on the market, where they sold quickly—proof that there is an avid market in the city for unusual properties like this.
During the construction, the team aimed to preserve much of the remaining historic siding, single-paned wood windows, brick pavers, and original framing. Despite all the changes required to meet current codes and provide desired enhancements, the original character of the cottages and landscaping remain intact.
The work on the property included removing a collection of additions at the back of the cottages and replacing them with a three-story zinc-clad addition, made possible by the construction of a tieback-reinforced gunite retaining wall running the entire depth of the lot and rising to 12 m (40 ft) at its highest point. A zinc rainscreen envelope on the addition provides a maintenance-free skin in visual contrast to the wood siding of the cottages themselves. Though taller than the original buildings, the addition remains tucked beneath the uphill neighbors' views and barely visible from the street.
Beneath the cottages and the addition, a new concrete podium foundation houses an underground garage with eight new parking spaces, accessible via a car lift.
Within the cottages, each main living space grew to three stories, connected by steel-and-oak stairways, with three bedrooms and four baths. The living rooms have cathedral ceilings and fireplaces. Details include shiplap paneling, wide plank French white oak flooring, Venetian plaster walls, and cabinetry. The kitchens, by German manufacturer Bulthaup, are lit by split skylights that bring natural light into the main bedroom above.
Endnotes:
[Image]: https://www.constructionspecifier.com/wp-content/uploads/2021/11/BC_Filbert-FF.jpg
Source URL: https://www.constructionspecifier.com/reviving-san-franciscos-historical-filbert-cottages/
---