Introducing the D-Max wall system: a game-changing approach to construction that redefines efficiency. By enabling interior spray foam insulation installation, D-Max overcomes weather barriers and boosts project progress.
Utilizing our closed-cell Heatlok HFO Pro or Heatlok HFO High Lift spray foam, D-Max simultaneously acts as insulation, air barrier, and vapor barrier in one application. This revolutionizes building envelopes, slashing costs, and time.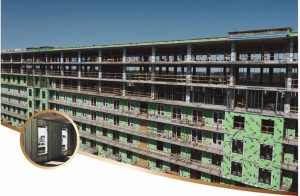 D-Max conquers thermal bridging by filling and eliminating energy-wasting gaps between exterior sheathing panels and interior walls. Engineered with Z-bars, D-Max aligns with NFPA 285 and engineering standards.
The advantages of the D-Max Wall system are far-reaching:
Swift installation
Triple efficiency
Winter heating savings
Enhanced safety
Weather-independent application
Simultaneous insulation
Optimized electrical installation
Fire safety-compliant
Temperature tolerance
Sound superiority
The D-Max wall system is more than an innovation; it's a construction revolution. By fusing efficiency, versatility, and sustainability, it transcends the limitations of conventional methods and paves the way for a future of smarter, faster, and safer construction practices.
For more information on the D-Max Wall system, go to https://huntsmanbuildingsolutions.com/en-US/sites/en_us/files/2023-01/21.00180-HBS_D-Max_Wall_EN_Bifold-V8-DIGITAL.pdf or contact the HBS Building Science Department at buildingscience@huntsmanbuilds.com.
All information listed in this section was submitted by Huntsman Building Solutions..
Kenilworth Media Inc. cannot assume responsibility for errors of relevance,
fact or omission. The publisher does not endorse any products featured in this article.