Searching for North America's best copper projects
December 22, 2016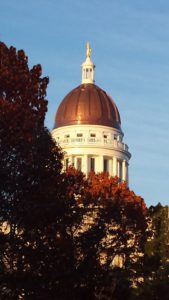 Until January 31, U.S. architects and sheet metal contractors are encouraged to submit their building projects for consideration in the North American Copper in Architecture (NACIA) awards program. Projects can be new or restored structures falling under any of the competition's three categories: restoration/renovation, new construction, or ornamental applications.
The Copper Development Association[1] (CDA) and Canadian Copper and Brass Development Association[2] (CCBDA) have used these awards to recognize a wide variety of projects in the past, including government buildings, educational facilities, museums, libraries, firehouses, single-family homes, and places of worship.
Previous winners include:
the Harvard Law School Langdell Hall roof replacement[3] in Cambridge, Massachusetts (2016);
the Maine State House Dome restoration[4] in Portland, Maine (2015);
the Building 52 Clock Tower[5] in Fort Leavenworth, Kansas (2014); and
the Museum of American Art–Crystal Bridges[6] in Bentonville, Arkansas (2013).
This year marks the 10th anniversary of the NACIA awards. To celebrate, a public vote[7] is being held to determine the top 10 winners of the past decade. These will be announced alongside this year's winners at the NACIA awards ceremony in Orlando this April.
Award submission can be made via online form[8]. Those interested in submitting must provide information regarding their project's name, location, consulting architects, general contractor, roofing and/or sheet metal contractor, and copper manufacturer.
Endnotes:
Copper Development Association: https://www.copper.org/
Canadian Copper and Brass Development Association: http://www.coppercanada.ca/
Harvard Law School Langdell Hall roof replacement: https://www.copper.org/applications/architecture/awards/2016/?launchAJAX=https://www.copper.org/applications/architecture/awards/2016/harvard-law/homepage.html
Maine State House Dome restoration: https://www.copper.org/applications/architecture/awards/2015/?launchAJAX=https://www.copper.org/applications/architecture/awards/2015/maine-state-house/homepage.html
Building 52 Clock Tower: https://www.copper.org/applications/architecture/awards/2014/?launchAJAX=https://www.copper.org/applications/architecture/awards/2014/building-52-clock-tower/homepage.html
Museum of American Art–Crystal Bridges: https://www.copper.org/applications/architecture/awards/2013/?launchAJAX=https://www.copper.org/applications/architecture/awards/2013/Museum-of-American-A/homepage.html
vote: http://www.copper.org/applications/architecture/awards/ten-year-nacia.php
online form: https://www.copper.org/applications/architecture/awards/form/
Source URL: https://www.constructionspecifier.com/searching-for-north-americas-best-copper-projects/
---