Seattle office's adaptive reuse revision breaks down silos
by arslan_ahmed | August 22, 2022 2:37 pm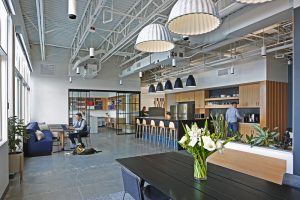 Cushing Terrell's architecture and design teams reconfigured the existing floor plan of the company's new Seattle office to allow for greater workforce flow and opportunities for collaboration by motivating employees to break free from quieter, focused workspaces.
The firm recently relocated from Lower Queen Anne to the 836-m2 (9,000-sf) penthouse of the Agen Warehouse building—listed on the National Register of Historic Places—at Seattle Waterfront. The penthouse was added to the building in a 1980s renovation. It offers beautiful views of the Puget Sound and the Olympic Mountains.
The renovation employed the services of the contractor Abbott Construction. The emphasis of the renovation was to optimize the existing space to create an efficient flow of employees and activities, and to designate areas where team members could hold conversations without regard to organizational hierarchies.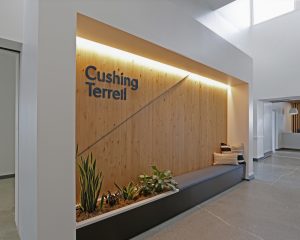 As guests come from the elevator bay to the office floor, they see a welcoming company sign which leads them into a series of meeting places, including a living room, a private 111-m2 (1,200-sf) rooftop deck, dining room, and open kitchen space.
The open kitchen and dining room have replaced the small, private offices. Floor-to-ceiling windows have taken over the separating walls to maximize the scenic views of the building's surroundings.
One of the key areas in the office is the design lab, which lies, encased in large, sliding glass doors, adjacent to the open-layout break room. It serves as a crucial gathering space for the community, fostering an environment conducive to collaborative, creative problem-solving.
The motivation behind relocating to an old warehouse building was to make adaptive reuse of a site with historical value. Moreover, conference tables and workspace caddies were considerately brought from the previous office.
A repaint on a series of workstation storage units from the previous office allowed them to blend with the new desks. Some of the furniture was resold, while material samples received from industry partners were returned. Reuse also extended to some of the new furniture items and fixtures as well. For instance, the dining table was saved from a decommissioned showroom closed during the pandemic, and a Living Product Challenge-certified woven rug made from 100 percent-recycled plastic water bottles was spread in the dining room.
Endnotes:
[Image]: https://www.constructionspecifier.com/wp-content/uploads/2022/08/SeattleOffice_2.jpg
[Image]: https://www.constructionspecifier.com/wp-content/uploads/2022/08/SeattleOffice_1.jpg
Source URL: https://www.constructionspecifier.com/seattle-offices-adaptive-reuse-revision-breaks-down-silos/
---