Selecting aluminum finishes for coastal areas
by Catherine Howlett | March 1, 2013 3:30 pm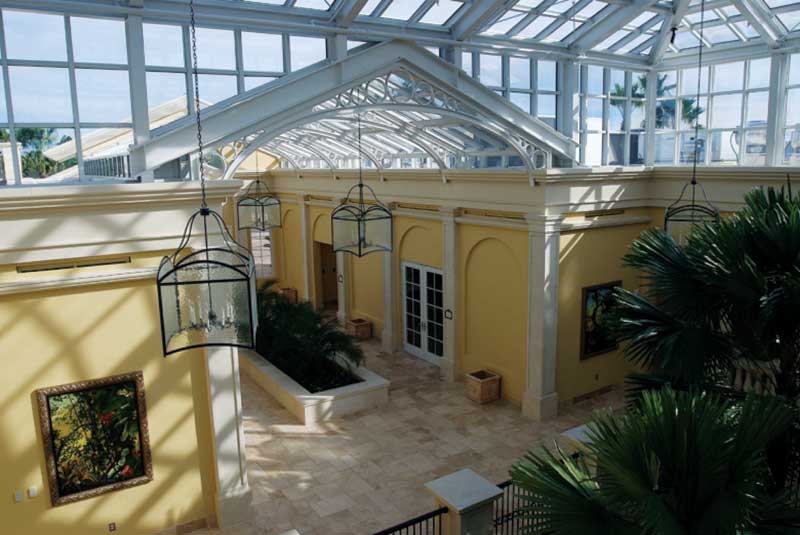 by Tammy Schroeder
Coastal areas are beautiful locations for commercial and residential buildings, but also pose the greatest challenges in protecting exterior-facing architectural aluminum products from corrosion. Aluminum windows, storefronts, entrances and curtain walls, sun shades, canopies, skylights, column covers, rainscreens, and exterior panels all integrally connect to a building's façade. Without proper precautions and finishes, corrosion to these components can damage the building envelope's structural integrity, leading to systemic failure.
Specifiers can successfully select a painted coating or anodize finish meeting a project's required performance and long-term durability by carefully considering the building's location and function, the owner's desired visual appearance and environmental attributes, and the architectural aluminum products' proximity to dissimilar metals.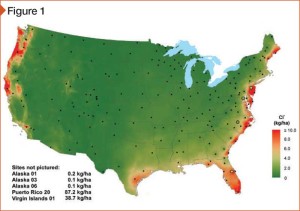 What defines a 'coastal' environment has been debated for decades. The American Architectural Manufacturers Association (AAMA) Coastal Corrosion Task Group continues to discuss the definition for sites far from saltwater, but still with high atmospheric alkaline concentration (e.g. Detroit and Dallas). The Qualicoat Standard, the specification for coated architectural aluminum in the United Kingdom and Ireland, defines coastal as within 5 km (2.8 mi) from any coast or tidal estuary.
According to the Aluminum Association, their namesake material remains resistant to corrosion unless it is exposed to some substance or condition that destroys the protective oxide coating. Aluminum is highly resistant to weathering, including many industrial and harsh atmospheres that often corrode other metals.
Location, location, location
Even at substantial distances from the ocean, structures are susceptible to corrosion from salt. Various sources use 457.2 m (1500 ft), 2.4 km (1.5 mi), or "within eyesight of the ocean" as definitions. In an effort to have a more technically sound basis for definition, AAMA's Coastal Corrosion Task Group uses the definition of a "coastal" exposure as shown on the National Atmospheric Deposition Program (NADP) maps from 2010. The map, shown in Figure 1 is referenced showing a threshold level of 4.5 kg of chlorine ion wet deposition per 1 ha (9.92 lb per 2.47 acres).
NADP monitors precipitation chemistry. The program is a cooperative effort between many different groups including federal, state, tribal and local governmental agencies, educational institutions, private companies, and non-governmental agencies. One of the most aggressive outdoor environments for aluminum is the seacoast as illustrated in the map, which compares wet chloride ion concentrations throughout the United States. (The amount of time exposed surfaces remain wet, and the temperature and frequency of temperature cycles [from cooling unit cycling] are likely to be relatively higher in many coastal applications.)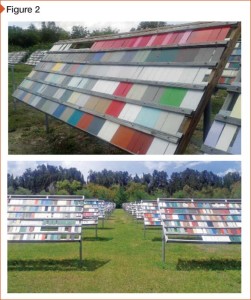 Florida's coastal regions represent the most corrosive in the continental United States, with Cape Canaveral cited as the most corrosive atmospheric environment. A coating evaluation testing site was established at the Kennedy Space Center in the 1960s. Thousands of coated test panels have been evaluated in the high-salt, high-humidity and high-ultraviolet (UV) exposure of Florida's seacoast environment (Figure 2).
In addition to obvious coastal zones near seawater, buildings located inland in cold climates may also need to consider protecting their architectural aluminum products when salt is used as a de-icing agent. These chemicals attack aluminum and its coating when allowed to dwell on the surface.
Aluminum corrosion
A corrosive environment can consist of various corrosive elements, besides the most common, salt. Not all corrosive pollutants are found in a single corrosive environment; however, a corrosive environment seldom contains only one pollutant. The more severe the atmosphere, the more critical an appropriate protective coating becomes.
Within each corrosive environment, levels of severity have been established. To classify the severity of an environment, rainfall, air temperature, NADP monitored pollution and other factors. No two environments are precisely alike. Figure 3 can be used as a general performance guideline.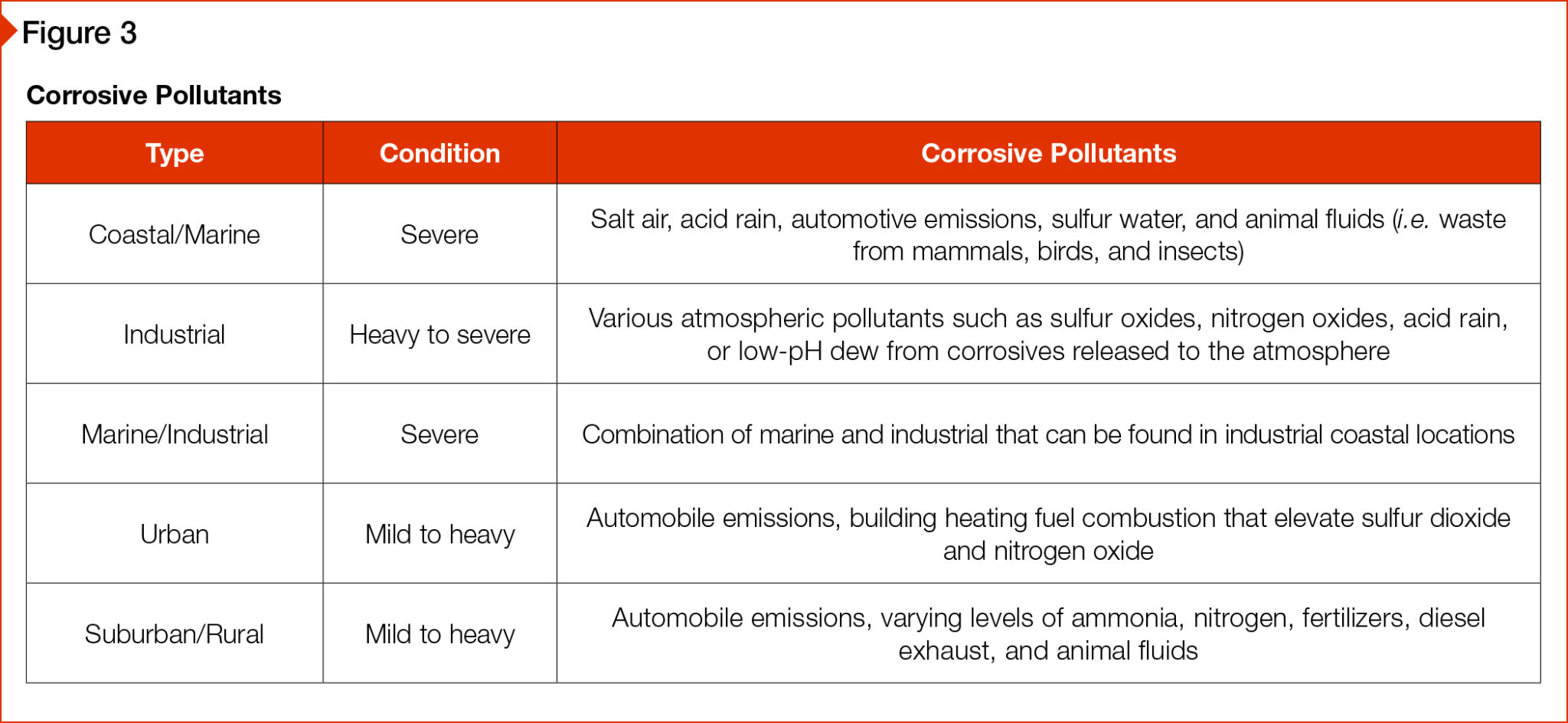 [4]
Atmospheric corrosivity
There are several forms of corrosion that can occur to metal, but the most common associated with coatings protection of aluminum on buildings is referred to as atmospheric or galvanic corrosion.
Corrosion to aluminum can be defined as the deterioration of a substrate because of a reaction with its environment. This must occur in the presence of an electrolyte—a water solution that can conduct an electric current because it contains chemicals, such as chlorines. The water could come from rain, sea spray, condensation of humidity, or fog.
The three factors that have the most influence on the corrosivity of the atmosphere at a given site are:
time exposed surfaces remain wet at the site;

amount of chloride from the sea reaching the surfaces; and

amount of industrial pollutants (mainly acids) that reach the surfaces.
In all atmospheric environments, there is an excess of oxygen. As a result, the corrosion of most metals in atmospheric environments is not limited by the amount of oxygen present and can rapidly proceed when the electrolyte is present.
[5]Dissimilar metal corrosivity
Metals are ordered in what is known as the galvanic series—a list or table describing how reactive or noble (i.e. less reactive) different metals are likely to be (Figure 4). The metal closer to the noble end acts as the cathode, and the metal nearer the active end acts as the anode. The farther away the two metals are from each other in the series, the larger the voltage potential, and the more intense the reaction.
To complete a galvanic cell, metal-to-metal contact and an electrolyte solution are needed. Unfortunately, salt is a very effective and abundant electrolyte. Mix it with water (the ocean) and a permanent electrolyte solution is created.
Galvanic corrosion is common and a real concern for most metals in coastal applications. In this environment, all it takes is contact between two dissimilar metals to initiate a galvanic reaction. This reaction results in galvanic corrosion for one, and effective corrosion protection for the other. The severity of corrosion primarily depends on where the two metals in contact fall in the galvanic series, contact area, and the anode to cathode ratio. The further apart the materials are located on the galvanic series chart, the more likely the one on the anodic end corrodes when they are both immersed in any fluid considered to be an electrolyte.
Defensive measures
Due to its inherent resistance to more natural forms of corrosion and a lack of preventative measures taken, the galvanic process is the most common cause of aluminum corrosion. (For differing varieties, see "Other Types of Corrosion") In most cases, when aluminum comes in contact with other metals, it acts as the anode and begins to corrode.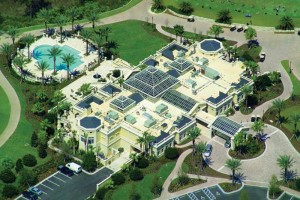 As a defensive measure, aluminum should be pretreated, whenever possible, with chrome phosphate followed by a primer and a high performance fluoropolymer paint or anodized in a Class I Architectural finish and then isolated from other metals with non-absorbent, non-conductive, insulate or polymer sleeves and washers. (Class I anodize, with a minimum thickness of 18 µm (0.7 mil), can be a suitable choice for coastal climates as it possesses exceptional resistance to corrosion, discoloration, and wear; however, its natural beauty can be marred by harsh chemicals, rough conditions, or neglect. These conditions only may affect the surface finish and not reduce the service life of the aluminum, but mortar, cement, and other alkaline materials will quickly corrode an anodize finish if allowed to dry on the metal surface. Class I anodize meets or exceeds all requirements of AAMA 611, Voluntary Specification for Anodized Architectural Aluminum.) Neoprene washers, roofing felt, paint, or other insert materials or coatings are effective barriers in exterior architectural products.
The Aluminum Association highly recommends stainless steel fasteners for use with aluminum structures in coastal environments due to its superior corrosion resistance and durability. Hidden and exposed stainless steel fasteners with neoprene or other inert washers are regularly used in aluminum applications. The inert washer separates the metals in case water is frequently present or infiltrates under the head of the fastener.
Special considerations
When selecting aluminum coatings to withstand corrosive environments, special conditions may apply.
Especially wet or dry climates tend to be less corrosive, but there are exceptions. When surfaces are regularly damp due to small amounts of moisture, and corrosive deposits are on the surface, an aggressive environment can exist. Small amounts of moisture do not wash deposits from the surface; instead, they combine with them to create a corrosive solution. Heavier rains dilute the electrolyte and provide a washing action to remove potentially harmful deposits.
Localized pollution and the direction of prevailing winds can cause differences in the corrosiveness of sites only a few miles apart.
Air temperature also has differing effects. Corrosion proceeds more hastily with increasing temperatures. However, when higher temperatures are related with low humidity, the water quickly evaporates and the corrosion risk is reduced.
In addition to isolating dissimilar metals and understanding local climates, pollution, and temperatures, the shape and machining of the architectural aluminum products may also facilitate or deter corrosion.
Machined holes and cut ends of factory-finished aluminum components are protected by thin, naturally forming aluminum oxide. This oxide, while tenacious in its bond to the underlying aluminum substrate, may be susceptible to attack from strong cleaners or heavy salt deposits. This can be problematic not only in coastal environments, but also when products are installed near sidewalks and roads where large quantities of salt are used for de-icing in the winter.
 Hems and seams on aluminum components may be formed in a way that collects sand. With movement, this sand can eventually erode the painted coating or anodized finish.
Components may be shaped with areas able to hold pooling or ponding water. This often becomes a major issue for corrosion.
Specific to curtain wall and window systems' aluminum framing, one must ensure the weeps are large enough to avoid becoming plugged by salt deposits.
In historic buildings with solid masonry construction, renovation and remediation teams may discover water infiltration has been a problem for decades. For example, a 26-story office building in San Francisco (450 Sutter Street) showcases a Mayan-inspired terra cotta façade with large windows, many of which wrap its corners. Completed in 1928, water seeped through the terra cotta tiles and mortar, and dripped into the windows' steel framing and side jambs, corroding the units from the inside out and causing structural failure.
Helping protect the future of this Art Deco landmark with modern performance, more than 2500 windows were replaced with custom, aluminum-framed units, finished in a two-coat 70 percent polyvinylidene fluoride (PVDF) painted coating. The finish was carefully colored to match the building's terra cotta surround and to resist atmospheric corrosion (Figure 5).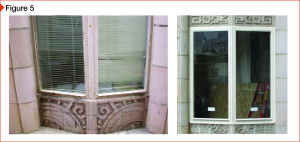 Durable finishing options
Painted coatings and anodized finishes are among the most durable finishes for exterior-facing architectural aluminum products. Along with long-lasting performance, surface appearance is an important characteristic of aluminum extrusions for architectural applications.
Painted coatings
As a prominent part of the buildings' exterior, the coated aluminum adds color and design to the project; this coating also protects the building from unsympathetic surroundings. When selecting a coating to stand up to harsh corrosive environments, one should specify either:
the highest-performing organic paint coating that meets AAMA 2605-11, Voluntary Specification, Performance Requirements and Test Procedures for Superior Performing Organic Coatings on Aluminum Extrusions and Panels; or
a Class I anodize coating that meets AAMA 611-12, Voluntary Specification for Anodized Architectural Aluminum.
These two options continue to set the highest standard for architectural coatings, especially in a coastal or highly corrosive environment.
High-performance 70 percent PVDF coatings give architects, specifiers, and building owners the capability to select nearly any conceivable color or combination of colors, while shielding the building against weathering, pollution, and aging.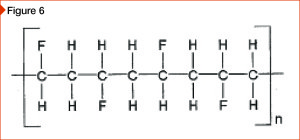 The resin system incorporated into the paint determines the characteristics and performance properties of the coating. PVDF is known for its exceptional chemical stability and resistance to UV radiation. It is used in architectural applications as a coating on aluminum where it provides resistance to environmental exposure. The chemical structure of PVDF is shown in Figure 6.
The carbon-fluorine bond, used in the 70 percent proprietary PVDF coating is one of the strongest known. (For more on PVDF, see Great expectations: Evaluating the performance of UV-durable coil coatings[9].) These paint coatings have the ability to withstand enduring and intense UV radiation, attributed to long-term color- and gloss-retention, and chalk-resistance.
The first and one of the most important defenses against a paint failure is proper pretreatment of the aluminum. Without proper pretreatment, premature failure of the finish is almost guaranteed. Paint systems are designed to be applied over clean metal that has been properly pretreated. Pretreatment of the aluminum building components to be used in a severe corrosive or coastal environment is crucial.
The most time-tested, proven pretreatment system for architectural aluminum products is a chrome phosphate conversion coating. This process conforms to Type B, Method 5 of ASTM D1730-309, Standard Practices for Preparation of Aluminum and Aluminum-Alloy Surfaces for Painting, as required by AAMA 2605-11.
The aluminum is subjected to a multi-stage immersion or spraying process. The first stage cleans the aluminum to remove any organic/inorganic soils, oils, and grease. It also removes aluminum oxide and other metal oxides, rendering a clean and active surface for the next treatment steps. Stage two is a clean-water rinse. The third stage is the application of the amorphous chromium phosphate coating, applied in a uniform coating greater than 40 mg per 0.093 m2 (0.0014 oz. per sf) per ASTM B449, Standard Practice for Chromate Treatments on Aluminum. Stages four and five are rinse stages. The pretreatment process is highly corrosion-resistant and provides excellent coating adhesion.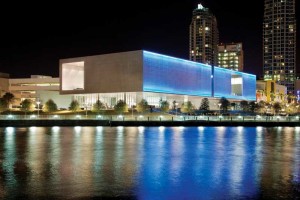 Offering the longest lifecycle and true sustainability, chrome phosphate conversion coatings continue to be recognized by coating manufacturers as one of the most effective, robust pretreatments for aluminum. As a result, products installed along the seacoast and in other harsh industrial environments may not be warranted—or the warranty length and coverage could be compromised—when a chrome pretreatment system is not employed.
After the aluminum has been pretreated, a primer coat is applied before the paint coating application. The paint coating is then sprayed to meet the AAMA 2605 of a 0.03-mm (1.2 mil) total film thickness (TFT).
These highest-performing 70 percent PVDF coatings meet the most stringent, exterior, architectural specification AAMA 2605-11. This specification requires paint coatings to meet rigorous testing performance standards, including more than 4000 hours of salt spray, and heat- and humidity-resistance.
Section 8.8 of AAMA 2605 refers to the corrosion resistance requirements of all coating that must pass these stringent guidelines:
humidity—the sample is exposed in a controlled heat and humidity cabinet for more than 4000 hours at 3.33 C (38 F) and 100 percent relative humidity (RH); no blister formation to extent greater than a few, as defined by ASTM D714-02, Standard Test Method for Evaluating Degree of Blistering of Paints;
salt-spray resistance—the sample with a scored film exposing bare metal is exposed to five percent salt solution for 4000 hours (the sample must score a minimum rating of '7' on scribe or cut edges and a minimum blister rating of '8' per ASTM D714-02, where '10' represents no blistering and '8' represents the smallest size easily seen by the unaided eye);
South Florida exposure—the coating must maintain its film integrity, color retention, chalk resistance, gloss retention, and erosion resistance properties for a minimum of 10 years on the South Florida on-fence testing site;
color retention—maximum of 5ΔE Hunter units of color change following the minimum 10-year exposure test (A ΔE Hunter unit is the variance or color difference measured on a vector scale from a specific reference point in the color space.);
chalk resistance—chalking shall be no more than that represented by a No. 8 rating for colors and No. 6 for whites after 10 years of test fence exposure (per ASTM D4214-07, Standard Test Methods for Evaluating the Degree of Chalking of Exterior Paint Films), and be measured on a numerical scale with higher numbers representing better chalk resistance;
gloss retention—minimum of 50 percent after the 10-year exposure testing, as described by ASTM D523-89, Standard Test Method for Specular Gloss; and
resistance to erosion—less than 10 percent film loss after the 10-year exposure testing.
Anodized finishes
When extreme hardness is required for the aluminum building components, such as in high-traffic areas like entranceways and railings, an AAMA 611-12 anodized aluminum finish should be specified. The hardness of anodized aluminum rivals that of the diamond. (On the Moh scale of hardness, a diamond is 10 and anodize aluminum is 9.)
As the first finishing technology developed, the anodize process provides corrosion protection, abrasion resistance, and translucent color to aluminum surfaces. Architectural anodize is specified for its natural beauty, but also for its long-life and low maintenance.
Anodize is created from the substrate itself, integral to the part on which it forms. It is achieved by artificially thickening the naturally occurring oxide layer. The process passes a direct electric current between the aluminum and the electrolyte, with the aluminum acting as the anode. The procedure mimics the naturally formed oxide film, but results in a thicker, more controlled formation of a durable oxide film.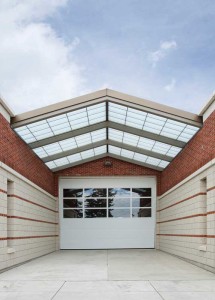 Architectural anodize provides excellent wear and abrasion resistance with minimal maintenance in most environments. It resists the ravages of time, temperature, corrosion, humidity, and warping. Anodize should meet the Class I specifications of AAMA 611-12, including a minimum oxide coating thickness of 0.018 mm (0.7 mil).
Section 8 of AAMA 611 refers to the corrosion resistance requirements necessary for passing these stringent guidelines:
corrosion resistance—five or more Class I coating samples are exposed to five percent salt solution for 3000 hours with a maximum of 15 isolated spots or pits, none larger than 1 mm (0.04 in.);
South Florida exposure—coating must maintain its color retention properties for a minimum of 10 years on the South Florida on-fence testing site;
color retention—maximum of 5ΔE color change (per Color Measurement Committee) after the minimum 10-year exposure test; and
abrasion resistance—anodize coating to be harder than the specified grade abrasive paper (Abrasive type–Glass, Grade-Flour), known as the Michael Clarke Abrasion Test.
Copper anodize is available for architectural aluminum products that want the rich look of the material without the design issues of dissimilar metals or copper runoff. (Rainwater from copper roofing or flashing can quickly damage anodized aluminum.) Aluminum and copper are far enough apart in the galvanic series that using them together in a coastal or corrosive environment is not good practice.
This anodize process is a unique, consistent, and repeatable process that involves using actual copper to color the aluminum, while isolating the copper in the coating. The copper color observed is actual copper that does not patina and remains stable to provide many years of service. The copper anodize described here meets all AAMA 611 Class I specifications.
Green building considerations
A coastal building envelope endures some of the most rigorous, daily durability challenges. Selecting an exterior architectural finish preserving the longest lifespan can be an immense undertaking.
Since the inception of the U.S. Green Building Council's (USGBC's) Leadership in Energy and Environmental Design (LEED) rating program in 1998, awareness of the various finishing options and performance criteria has increased. The finishing technologies and processes are extremely important to a building's longevity and sustainability.
Construction damage repair and restoration of architectural products originally finished in 70 percent PVDF coatings can be refinished onsite by professional applicators using the same type
of high-performance coating in an air-dry system.
For the health and safety of occupants and the environment paint coatings containing heavy metals—lead, mercury, and cadmium—should be avoided. Heavy-metal paint should never be used on any project that involves a school, daycare, playground equipment, or any building surfaces with which children are in contact. These are often banned or restricted by federal, state, and local laws, regulations, and ordinances.
Secondary billet can be anodized or painted and can contribute to recycled material content criteria by green programs such as LEED. (While any amount of recycled content can be used in anodized aluminum without change in performance, there could be variation in aesthetics. To minimize visible imperfections in higher percentages of recycled content, some prefer to specify less than 20 percent post-consumer recycled content to achieve the desired look. Others are comfortable specifying higher post-consumer recycled content percentages when a uniformly smooth, matte, aluminum finish is not required for the end-project.)
Anodized aluminum is 100 percent recyclable, lending itself to post-consumer recycled content during demolition or restoration of a building.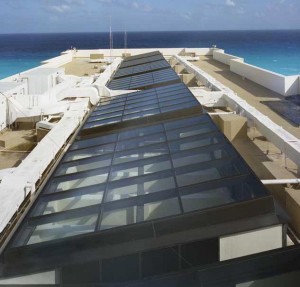 Cleaning and maintenance
Studies have shown increasing levels of atmospheric pollution can have a negative effect on finish longevity in the absence of periodic maintenance.
Runoff from adjacent site materials must be considered in a corrosion prevention plan. For example, mortar, cement, and even gypsum dust can accumulate as alkaline deposits on aluminum surfaces and must be promptly rinsed. This is especially true of mill finish or anodized surfaces. While somewhat more resistant to alkaline attack than anodized surfaces, high-performance paint finishes can be managed by rough attempts to remove such buildup.
AAMA 609 and 610-02, Cleaning and Maintenance Guide for Architecturally Finished Aluminum, and AAMA CW 10-12, Care and Handling of Architectural Aluminum from Shop to Site, are general guides for these precautions and cleaning activities.
These precautions are also necessary when diluted acid 'wash' solutions are used on new masonry and brick, or when fungicide and mildew removal solutions, such as bleach, are employed by building maintenance crews. Runoff must be promptly and thoroughly rinsed to prevent attack, including those areas concealed from view in hardware tracks or deep reveals.
Conclusion
Galvanic corrosion of architectural aluminum materials is a fact that must be recognized; proper steps must be taken to minimize the potential for its occurrence. With these building considerations and preventive measures in place, finished architectural aluminum retains its intended look and long life, while providing the desired performance in the harshest environments. These qualities reduce the need to replace materials and components, conserve resources, optimize labor, and save money.
Tammy Schroeder serves as the senior national marketing specialist for Linetec, an applicator of all architectural finishing technologies—paint, powder coat, and anodize. With a decade of experience in paint and anodize finishing, she develops and maintains the company's American Institute of Architects/Continuing Education System (AIA/CES) and other educational presentations. Schroeder is a Leadership in Energy and Environmental Design (LEED) Green Associate under the U.S. Green Building Council (USGBC) program. She can be contacted via e-mail at tammy.schroeder@linetec.com.
Endnotes:
[Image]: http://www.constructionspecifier.com/wp-content/uploads/2013/03/FL_Conservatory-Interior2_SuperSky-skypics.jpg
[Image]: http://www.constructionspecifier.com/wp-content/uploads/2013/03/coastal_figure1.jpg
[Image]: http://www.constructionspecifier.com/wp-content/uploads/2013/03/coastal_figure2.jpg
[Image]: http://www.constructionspecifier.com/wp-content/uploads/2013/03/coastal_figure3.jpg
[Image]: http://www.constructionspecifier.com/wp-content/uploads/2013/03/coastal_figure4.jpg
[Image]: http://www.constructionspecifier.com/wp-content/uploads/2013/03/FL_Conservatory-Aerial_SuperSky-skypics.jpg
[Image]: http://www.constructionspecifier.com/wp-content/uploads/2013/03/coastal_figure5.jpg
[Image]: http://www.constructionspecifier.com/wp-content/uploads/2013/03/coastal_figure6.jpg
Great expectations: Evaluating the performance of UV-durable coil coatings: http://www.constructionspecifier.com/great-expectations-evaluating-the-performance-of-uv-durable-coil-coatings/
[Image]: http://www.constructionspecifier.com/wp-content/uploads/2013/03/FL_TampaArtMuseum_RichardBarnes.jpg
[Image]: http://www.constructionspecifier.com/wp-content/uploads/2013/03/WA_FtLewisReadiness_Major-Lemke.jpg
[Image]: http://www.constructionspecifier.com/wp-content/uploads/2013/03/Mexico_MarriottCancun_SuperSky-WmLemke.jpg
Source URL: https://www.constructionspecifier.com/selecting-aluminum-finishes-for-coastal-areas/
---