Shining Bright Outside: Design and applications of exterior systems
May 8, 2015
by Robert Svensson
In many ways, exterior lighting is an integral aspect of any design; it often has a transformative and dynamic impact on the role a building, landscape, or façade plays in its community. When employed skillfully, an exterior lighting system can amplify architectural creativity without any significant structural consequences.
The first step in developing an architectural lighting system is to partner with the right experts to become aware of the vast choices and considerations from sustainability to color range, and from performance to compliance. A lighting design professional must demonstrate the true value of lighting to partner architects, showing how it significantly enhances a design, allowing for improved aesthetics with minimal structural compromises.
Close collaboration between lighting and construction professionals is critical in ensuring a mutual understanding of roles, rules, and compliance standards. In the same spirit, partnering with sustainability consultants is essential to the design and implementation of a lighting system that meets a project's green initiatives and manages power consumption rates at an acceptable level.
Additionally, the experience, expertise, and creativity of the lighting designer can help with the ultimate decision, providing valuable insight on budget, equipment, maintenance costs, power consumption, and aesthetics. With this in mind, architectural professionals should also be aware of the fundamentals of exterior lighting.
Overcoming challenges
Exterior lighting presents an array of additional challenges that do not apply to the standard issues faced when specifying an interior lighting system—weather is the most obvious challenge, but placement/access, durability, and lamp lifetime follow closely behind.
Since weather-readiness and general robustness impact performance and reliability, product design, and build quality will be major considerations for architectural professionals. The impact of just one light failing due to humidity, heat, cold, dust, or windblown debris is a massive detriment to overall effectiveness. Even the smallest dark spot is immediately noticeable and detracting.
As exterior architectural lights are understandably placed in areas difficult to access, it is important to ensure they do not require expensive maintenance. Remote diagnostics allowing issues to be diagnosed without product dismantlement can be especially helpful in determining the cause of failure before an expensive lift is required. Additionally, the lamp life of a fixture is an important factor to consider. A fixture's output will deteriorate over time, leading to a loss of lumens and less effective light.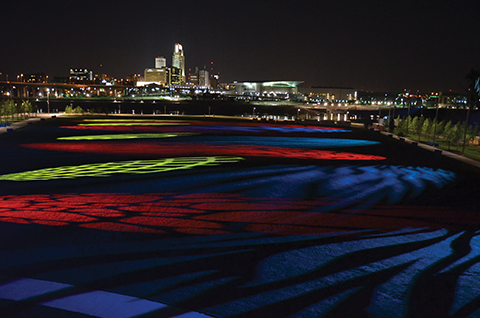 Scale, on the other hand, may be the most compelling opportunity—with an entire building façade (and in some cases, a purpose-designed façade or landscape) as one's canvas, architects have been empowered to create ambitious notable works. Look no further than the New Orleans Super Dome (Louisiana), the Confederation of Danish Industry (Copenhagen), or the iconic Fort Saint Jean (Marseille, France) as examples of how exterior lighting strategies have been integral parts of the overall design and have immediate, notable, and attractive results.
Depending on the neighborhood, building use, and owner's brand position, architects may consider static approach or dynamic assemblies that feature moving lights (known as moving heads) to create automated, synchronized, or even variable shows complementing the building design.
Technology
With exterior lighting systems on display 24/7, selecting lighting technology that is high-performing, reliable, and backed by comprehensive support is critical. The advent of light-emitting diode (LED) technology allows architects to deploy lighting for wash or underwater effects, uplighting walls and columns, as well as illuminating façades and landscapes without compromising sustainability initiatives or architectural integrity. A wide range of lighting hardware and technologies can meet the needs of a dynamic or static environment, depending on design requirements.
Moving head
This type of luminaire is an automated and intelligent lighting fixture that employs a motor to enable physical movement. Moving heads feature a lens train attached to a yoke for quick movements, such as panning and tilting.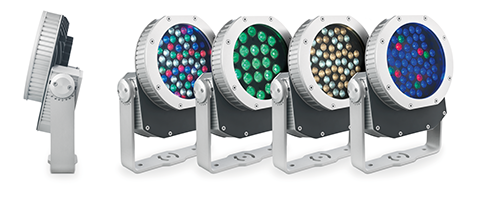 Projectors
Fixed luminaires that provide various outputs from color shadows and beams to color washes over short and long distances. Typically, these fixtures utilize LEDs and are ingress-protection (IP)-rated for exterior installations at a minimum level of 65,1 where the first digit dictates "no ingress of dust; complete protection against contact" and the second digit dictates "powerful water jets from any direction shall have no harmful effects."
Image projectors
These fixtures are powerful tools for integrating textures, patterns, and graphics in outdoor lighting designs. Image projectors often feature customizable gobos—physical templates often placed in front of the light source to control the shape of emitted light—for bright and dynamic logo projection, as well as precision framing.
Uplights
Uplights are a discreet installation, buried and level with the ground to create dramatic accentuated lighting or dynamic illumination of façades, columns, structures, and landscapes.
Control console
Dynamic lighting designs are controlled via a lighting control console, used for sending signal data to the lighting fixture. This control signal provides data via Digital Multiplex (DMX)—the industry's standard control protocol. The central lighting control console transmits data via DMX, which the fixture can interpret as color, focus, pan, tilt, and rotation speed adjustments.
LED strips
Architects and their design partners can also choose from LED strips—bars of small, bright lights that can be combined into designed and programmed on and off and in different hues—pre-configured LED shapes, wash lighting to bathe large areas in light of varying color and intensity or spot lights on building features.
Creative LEDs
Designers and architects can deploy LEDs as pixels in a picture, running video on the side of a building that effectively creates a media façade, as an alternative to projection. Applying any of these approaches can enhance the look and appeal of older buildings or new construction.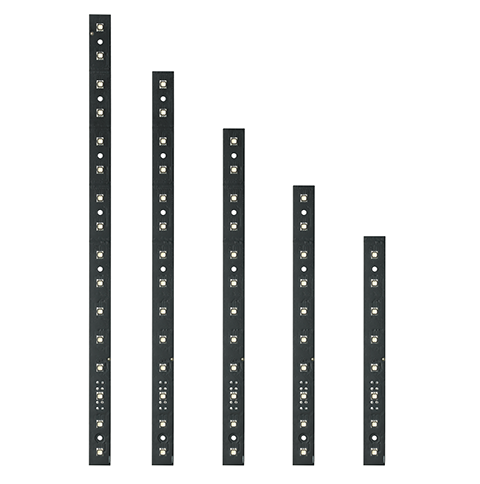 Specification factors
With the look determined and the technology selected, the three main factors to be considered when specifying an exterior lighting design include color range, output, and installation/maintenance costs. Just as these variables are important determinants of the look and feel of interior lighting, the selection of color, range of depth, and general performance will be important contributors to the project's aesthetic and visual impact.
Color
Proper selection of color temperature and range of depth are critical elements that add nuance to any architectural design. If a color scheme is involved in the selection, its continued exactness will be especially important.
By specifying LEDs versus traditional lighting methods, the use of color filters is eliminated. To achieve a desired color output, lighting designers can mix color with multi-color LEDs. Some fixtures use individual diodes that emit three primary colors in RGB (i.e. red, green, and blue) or four primary colors in RGBW (adding white) to obtain a pure white output and create better pastel colors; other fixtures instead use premixed LEDs. The disadvantage of utilizing a fixture with individual LEDs is the color mixing can appear uneven when the structure is on close distance or the structure is casting shadows.
However, due to production limitations, not all LEDs emit light at the same range of wavelengths. This eventually means the colors will not match from fixture to fixture, even at the same setting. To eliminate this issue, the use of color-calibrated fixtures ensures everything emits the same appearance, resulting in perfectly smooth and even colors across the illuminated object, such as a façade or a landscape.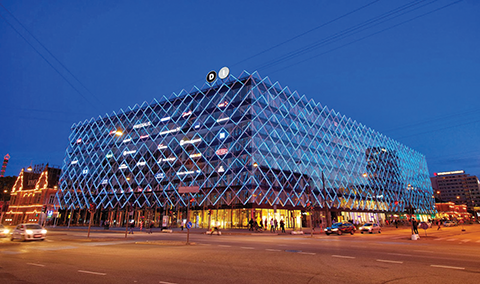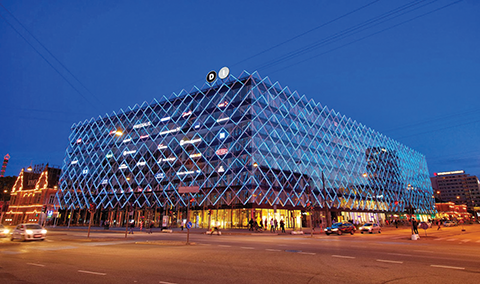 Output
Advances in LED technology has allowed for an increase in light output while maintaining high-efficiency and reliability. When compared with the delivered light output of conventional luminaires that waste significant amountsof light, LEDs often perform better while consuming less energy.
Lumen measurements of fixtures are performed on the entire system—including the light sources (i.e. LEDs) and the housing—and already account for the loss of light due to the housing and lensing. Since LEDs inherently produce saturated color, they do not require gels or color filters to produce colored light, which can significantly decrease a fixture's light output. The efficacy (lumen per watt) output of colored lights is typically superior on LED fixtures. Additionally, LEDs emit their light output in one desired direction (rather than in all, as traditional lighting methods often do)—this allows for greater control and minimal effects on the desired light intensity.
Overall cost of ownership
An accomplished lighting design partner will look for innovation leadership and production quality on the lights as key performance indicators because in addition to system performance, they will also be thinking of overall cost of ownership.
There are several factors to consider when determining the total cost of owning, operating, and maintaining a lighting system. While initial costs might be higher for an LED solution, the lifetime of fixtures is long—often tens of thousands of hours that translates to significantly lower maintenance costs following the initial installation. LEDs consume less energy, saving on power costs and contributing to a building's Leadership in Energy and Environmental Design (LEED) certification status or other green initiatives. (While there are no specific LEED credits earned through exterior lighting, the energy consumed by a lighting design is a major factor in the overall building energy performance on which LEED certification is granted.)
Compliance
All lighting fixtures must comply with regulatory compliance standards, including CE (Europe), UL (United States), and CSA (Canada) approvals. Fixtures approved by safety standards such as UL 1598, Luminaires, will ensure not only legal, but also safe lighting installations. Further documentation such as wind load and IK (i.e. rating of protection for electrical equipment against external mechanical impact) rating for external mechanical impacts is also of importance for safe installations.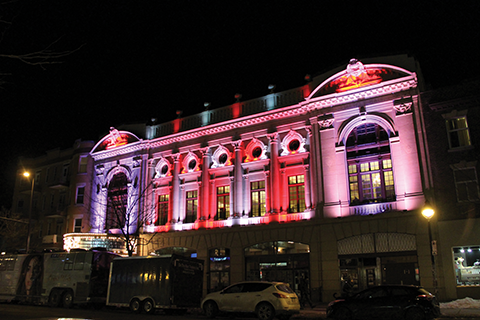 When specifying an architectural lighting solution it is important to be aware of global and local compliance regulations to minimize light pollution. Dark sky requirements may vary depending on state or regional regulations—however, the International Dark-sky Association (IDA) is the recognized industry authority on light pollution. Using snoots or glare shields can be simple but effective methods to control any unintended glare.
Sustainable trends in exterior lighting designs
While lighting generally contributes to the majority of energy consumption and costs, advances in LED technology have made lighting solutions increasingly more efficient and sustainable. Trends suggest the architectural lighting community is utilizing LED technology in new ways to improve its sustainability by integrating lighting into their initial designs, such as a media façade created by using LEDs as pixels rather than traditional means of wash/flood illumination. The industry will see improved efficiency and reduced costs, as LED technology continues to advance and architects continue to push the boundaries of traditional lighting methods.
Increasingly, though at varying levels, architects are integrating exterior lighting into new build plans and for existing buildings, exterior lighting can afford a new look. With an exciting array of digital and LED technologies on the market from a host of proven and emerging technology providers, members of the architectural community have a new opportunity to shed light on their best work.
Robert Svensson is a product manager for the lighting and video install market at Martin Professional. He also has experience with marketing and product management for Johnson Controls and Emerson Climate Technologies, where he has been working in the field of remote monitoring and management of refrigerated containers. Svensson earned his bachelor's of science degree in electronic engineering from Aarhus Teknikum (Denmark) and Fachhochschule Kempten (Germany). He can be reached by e-mail at robert.svensson@harman.com.
Endnotes:
[Image]: http://www.constructionspecifier.com/wp-content/uploads/2015/05/Rialto-Theatre-Install-2.png
[Image]: http://www.constructionspecifier.com/wp-content/uploads/2015/05/Rivers-Edge-Park-Iowa.png
[Image]: http://www.constructionspecifier.com/wp-content/uploads/2015/05/Exterior-400-Range.png
[Image]: http://www.constructionspecifier.com/wp-content/uploads/2015/05/VC-Strip.png
[Image]: http://www.constructionspecifier.com/wp-content/uploads/2015/05/Danish-Industry-Building-Denmark.png
[Image]: http://www.constructionspecifier.com/wp-content/uploads/2015/05/Rialto-Theatre-Install-5.png
Source URL: https://www.constructionspecifier.com/shining-bright-outside-design-and-applications-of-exterior-systems/
---